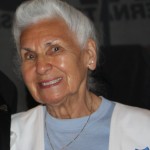 Women motorcycle riders are far more common today than ever. But like any situation in which a minority population ultimately becomes accepted, there were trailblazers. One of the best-loved female riding pioneers, Gloria Struck, turned 90-years-old in 2015 and she's still riding. That means there's no better time than now to appreciate her. And if you don't know Gloria Struck, it's time you did.
Gloria celebrated her 90th birthday on July 7th in New Brunswick, Canada during the Motor Maids Annual Convention. Those two events have overlapped for years; she joined Motor Maids in 1946 so the celebration has become a tradition of sorts. Explained Gloria, "Me and Betty Fauls, (Motor Maids Founder) Dot Robinson's daughter, were the first to reach 60 years as a member and still riding, then 65. Betty joined when she was 14. I was 21." Both Gloria and Betty are on track to receive recognition at next year's convention for reaching 70 years as members, "and, God willing, still riding," said Gloria.
The Motor Maids convention moves locations each year but no matter where it's held, from Oregon to South Carolina, Gloria rides there from her home in Clifton, New Jersey. She still rides to Daytona and Sturgis, too. It was in Clifton that Gloria's father started his motorcycle shop in 1915, selling Excelsior-Hendersons and bicycles. "All businesses at the time were storefronts with little apartments above or behind, so that's where I was born, behind the motorcycle shop," she said.
When her father passed away unexpectedly in 1928, Gloria's mother took over the shop, operating as an Indian dealer through the 1930's and '40s. Gloria recalls typing the bills at the age of 12. "I was a serious child, very shy very quiet. Now I'm more juvenile!" she said, laughing.
Her brother Arthur started working in the business from age 16 and when their mother retired in 1947 he established Tramontin Harley-Davidson, which still operates in Hope, NJ. "2015 is the 100th year in the motorcycle business for my family," said Gloria.
It was her brother who made her learn to ride when she was 16 in 1941 and it wasn't an option it was a foregone conclusion. "When I said I wasn't going to learn because I didn't want to, he insisted, he changed my mind," said Gloria emphatically. If you know Gloria at all, you know that changing her mind would come easy.
But she took to riding naturally and spent the next 12 years exploring, often riding on her own to distant locations, until she married in 1954. "I always acted like a lady and was treated like a lady," she said. "I dressed appropriately and I still do."
Did she ever run into trouble? "I was a very naïve person. I didn't realize you could get into trouble. On my long distance trips I'd sometimes meet up with other riders and ride with them until our paths went different directions. I never had any fear about it because I didn't know I should."
For example, when she was about 26, she met a man from Lima, Ohio, on Main Street in Daytona. It was nighttime and he told her that since she was alone she should be very careful. "By that time I had wised up, but I thought that was very nice," she said. "I felt like other riders looked after me. Even now, men will want to take my arm to help me, but I'm better on my feet than they are."
Speaking of Daytona, Gloria has been riding there since 1951 and has lots of pictures from the days they raced on the beach, but she didn't hang out with racers. Not until now. "I was there twice when Klamfoth won on the beach," she said. "I took pictures of him but I never knew him. I only really know the racers just since we're all old."
Gloria's constant and trusted riding partner is her daughter, Lori Struck DeSilva, who says she can't keep up with her mother in any way. But, justified Gloria, "It's not safe to go by speed limits, you have to keep up with the traffic."
Lori is also a Motor Maid and has accompanied Gloria to conventions since 1996. Something that made this year's convention even more memorable was the presence of Gloria's 25-year-old granddaughter Kathy, Lori's daughter. "She was just determined," said Gloria. "Kathy bought a bike the Wednesday before we left, practiced two and a half days and rode with us to New Brunswick, 1735 miles round trip. That's a long way for a new rider," said the woman of 90 who did the same trip on her 2004 Heritage! "My goal is to ride cross-country at 100. On two wheels! Just two!"
Gloria was an Avon Lady for 44 years and she is still radiant. She credits consistent good habits, soap and water, and the avoidance of chemicals. Remember, this comes from a woman who has traveled many miles on a motorcycle in harsh conditions. She plans to write a book on healthy living and how to live to be 120. Who wouldn't read that?
Positive and down to earth, Gloria has a sense of how lucky she has been but there's no attitude or entitlement whatsoever. On her recent birthday, the Wheels Through Time Museum posted the event on their Facebook page and it went viral. "I beat out Jay Leno!" she said, clearly delighted. She couldn't even get through the 1700+ comments posted in response before she had to leave for Sturgis.
It's Gloria's warmth, her gumption and her perpetual authenticity that endear her to so many, and she feels the same about the riders she's met. "I'm thankful for all the wonderful motorcycle people I have met throughout the years and I hope to still keep meeting more in the years ahead!" she said. "They really feel like family to me."
Gloria, we feel the same about you.