Picking up a spanner from the tool kit, the Le Pera seat was installed on the Harley Iron Sporty and the stock seat put up like a pentioner. Now, how does it look. Fits to a slicker profile, lightly but comfortably padded, pleated, leather and fits the style of the motorbike. It looks bloody "Tricked-out".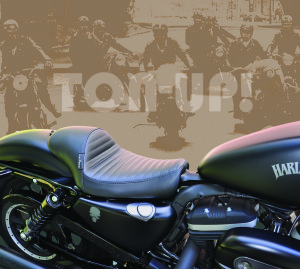 The time has come, a proper seat installed, motor taken to a Screamin' Eagle stage one and the bike is not trashed. Lets see if it will do the "TON!" As I turn onto a local dual carriage way that has a really long, straight, stretch of smooth, uninhabited pavement, the gear box is slipped into gear and off we went. With the motor wound up tight, and the Le Pera seat holding me firmly in position, I punched thru the gears, the speedo winds up past 70 then 80 and finally struggling up to the TON (hundred MPH).
After returning home, I grabbed a refreshment and began to wonder about those early days at the Ace Café, sitting around with a few blokes, telling exaggerated stories of slender birds and past events. After faffing around for a bit, we grabbed our kits and decided to go to the Busy Bee Café just north of London.
As we ambled into the car park to get our motors, we began wondering which of us had the bigger bollocks and be the first one to reach the Busy Bee Café. As one would expect, our lot headed onto the carriage way, the motors started to scream and the Ton was achieved by us all. Yeah, we all made it to the Busy Bee Café, Who won? We all did. We are the Ton Up Boys!
Get the Le Pera Café Seat, wrench up your motorbike and go Ton-UP! – Don Bashline
Resource
LePera
http://www.lepera.com/