It was a dazzling evening in Orlando in mid-October when the AMA inducted their 2014 class of Hall of Famers. In a change from past years, the AMA worked with the organizers of the AIMExpo at the Orange County Convention Center to bring this festive event to Florida during the AIMExpo.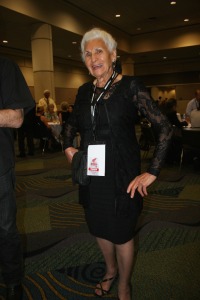 According to a news release: The seven members of the Class of 2014 were recognized for their achievements and contributions to motorcycling during the 2014 American Honda AMA Motorcycle Hall of Fame Induction Ceremony, presented by Harley-Davidson Motor Company, at the Chapin Theater.
During a ceremony hosted by actor, motorcyclist and American Motorcyclist Association board member Perry King, the new inductees are: race tuner and innovator Byron Hines; motocross pioneer Pierre Karsmakers; Tom White, acclaimed motorcycle collector, former nationally ranked racer and founder of White Brothers Cycle Specialties; George Barber, founder of the Barber Vintage Motorsports Museum and the Barber Motorsports Park; national off-road racing champion Scott Summers; AMA motocross champion and current Supercross/motocross team manager Mike LaRocco; and legendary tuner, engine builder and team owner Rob Muzzy.
Also honored was AMA Motorcycle Hall of Fame Legend William "Willie G." Davidson. Willie G. is the grandson of Harley-Davidson founder William A. Davidson and is responsible for many of the innovative motorcycle designs that ushered in a new era for the iconic company.
"There's really something extraordinary about motorcycling, something that absolutely transcends its description as a 'sport' or a 'lifestyle.'" King said. "It's as if motorcycling captures the essence of who we are: The exhilaration we feel when we ride, the competitive spirit we tap into when we race, and the unbreakable bonds of lifetime friendship forged with other motorcyclists."
Willie G. Davidson echoed King's remarks. "Freedom is everything," he said. "When I write 'Ride Free, Willie G.,' that's everything.
The evening concluded with a roll call for the dozens of attending Hall of Fame members to join the class of 2014 on the stage. The tribute drew a standing ovation.