If you're a fan of Biketoberfest, that kinder, gentler version of a bike rally that happens each Autumn in Daytona Beach, you also might want to put the AIMExpo in your GPS. That's because the AIMExpo, a motorcycle trade show that offers an up close look at what's next in motorcycling, overlaps with Biketoberfest and it's an easy ride over to the Orange County Convention Center in Orlando from Daytona.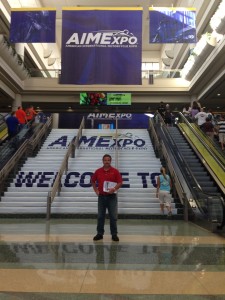 This was the second annual AIMExpo and we noticed substantial growth since last year's inaugural event. Yes, it's configured as a business trade show and the first two days are for qualified shop owners and franchised dealers only. But the second two days are open to bikers of all stripes, any rider who's interested in new models, new gear, and new technology that applies to biking. It's a huge opportunity to not only see the latest products from hundreds of vendors but also to quiz the manufacturers, touch the products and even ride the bikes.
There were tons of giveaways, swag to collect, a free concert by the Stray Cats' Lee Rocker and his band, Q&A sessions on the stage with industry luminaries like racer Kevin Schwantz and TV's Cristy Lee – and that's just inside the hall. At AIM Outdoors, OEMs such as Ducati, EBR, H-D, Zero and Kawasaki offered demo rides on their 2015 models.
So yes, there's a party at Biketoberfest and there's noting wrong with that. But since you're close by, why not take a pleasant ride in the sweet Florida fall weather over to Orlando one day? There's a world of biking fun on tap that just might make your riding next Spring a whole lot better. There's nothing wrong with that, either.
About American International Motorcycle Expo
The American International Motorcycle Expo's (www.aimexpousa.com) purpose is to serve as the catalyst to bring together industry, press, dealers and consumers in a single arena that creates a grand stage for motorcycling and powersports in the U.S. and North America, and delivers an efficient and energetic market-timed expo platform for B2B and B2C in the motorcycle industry. AIMExpo is the single most important event of its type in the North American market and will have international impact within the motorcycling and greater powersports community. AIMExpo is produced by Marketplace Events Motorcycle Group, a division of Marketplace Events. (www.marketplaceevents.com)