Post and Images by Polina Krasnova of Bikers Insider,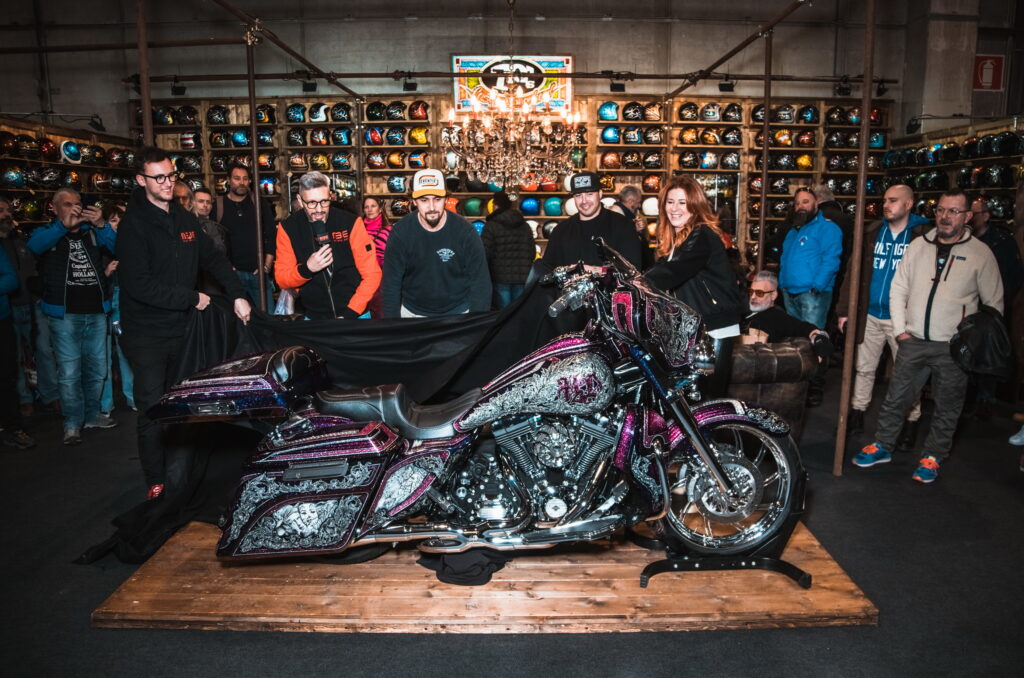 This years MBE event had a huge number of visitors, exhibitors and guests from abroad.
The show, held from Friday 27 to Sunday 29 January in Verona (Italy).
The 15 th anniversary edition is bigger and stronger than before. Gathered 720 companies on 100,000 m2 of
Veronafiere, 7 pavilions, 5 outdoor areas, over 100 meetings and sporting events and performances.
Thousands of enthusiasts arrived at the fair, riding their motorbikes.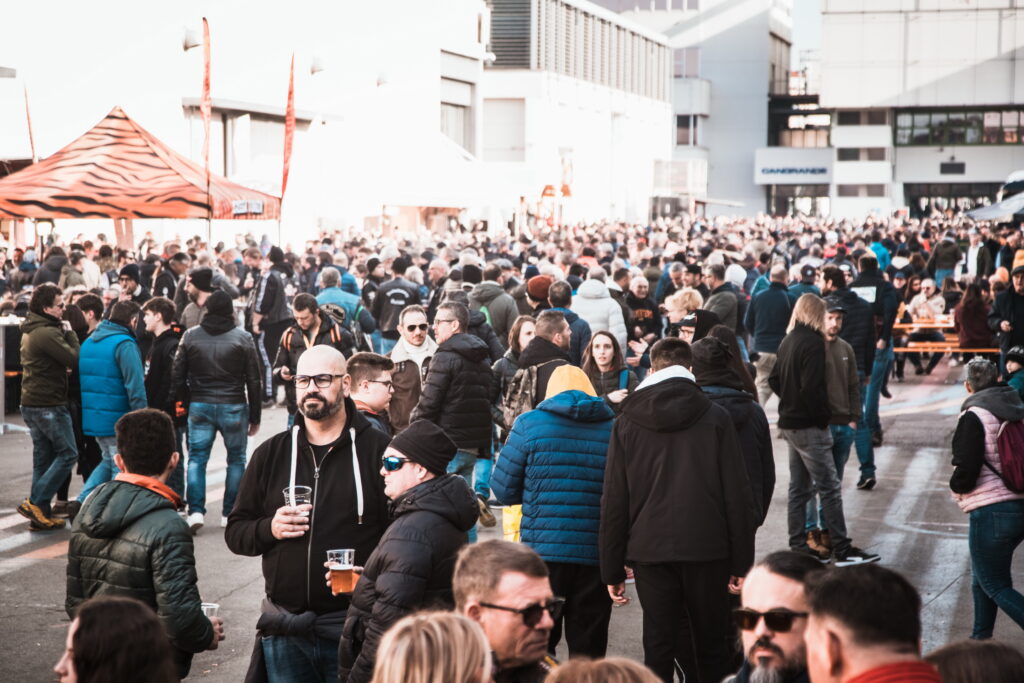 An event that brought together the large community of motorcyclists, the main world brands, emerging
companies, the art of custom motorcycles, accessories, clothing, costumes, tour offers and everything
moto industry.
Opening of event start with Vernice Benzina. The Gala in Palazzo Gran Guardia has become a
tradition, in the presence of the authorities and special guests, officially inaugurated the event.
During all days of the show people can visit «MBE Talks» and listen to various speakers.
Also at the outdoor areas visitors could enjoy: Stunt riding competition, drifting, trial and freestyle show,
polizia stuntman show, Jeep experience and test .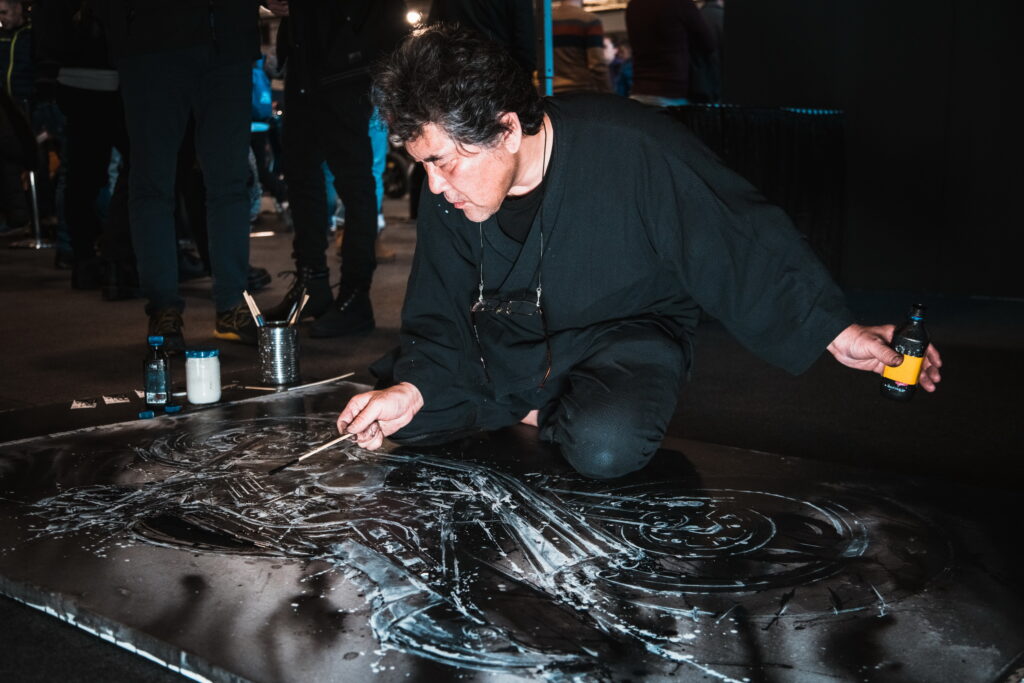 Main highlights of Friday:
Midday Official opening of event
Presentations of new custom bikes
Welcome greeting to international exhibitors
Main highlights of Saturday: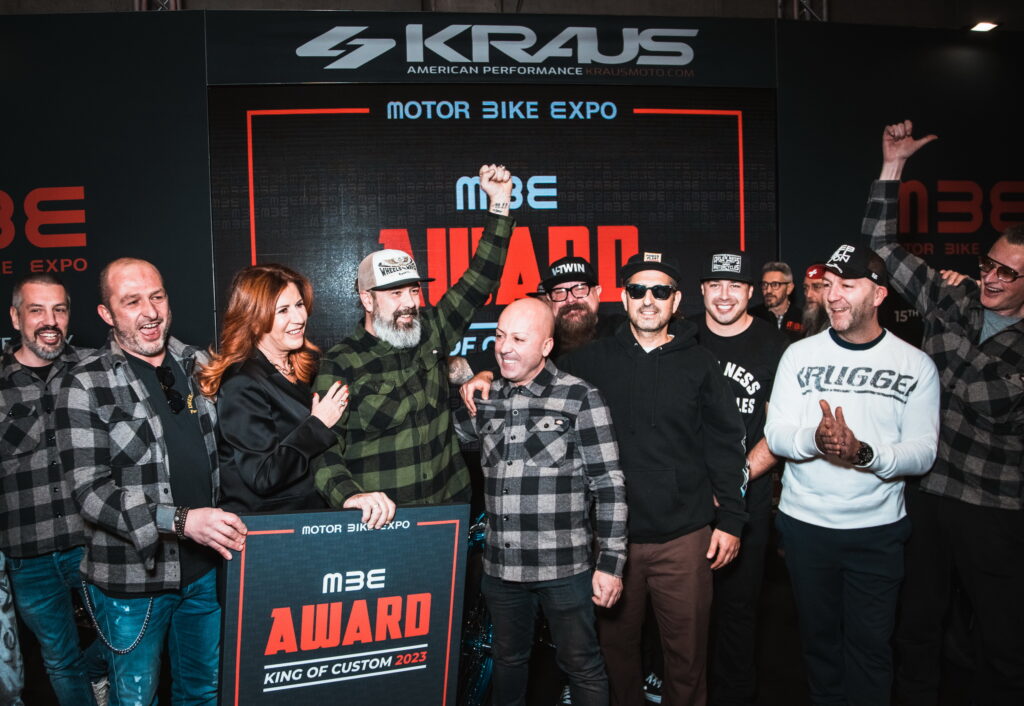 -Award King of Verona: winner Matteo Fustinoni Hazard Motorcycles
The most coveted prize goes to Hazard Motorcycles, winning the title of "King of Custom" and thus
being able to raise the MBE AWARD 2023 plate thanks to its "Ghisarama", a very stylish and very refined
dragster that Matteo Fustininoni has built in more than three years, leaving inspired by the iconic Riva
Aquarama motorboats.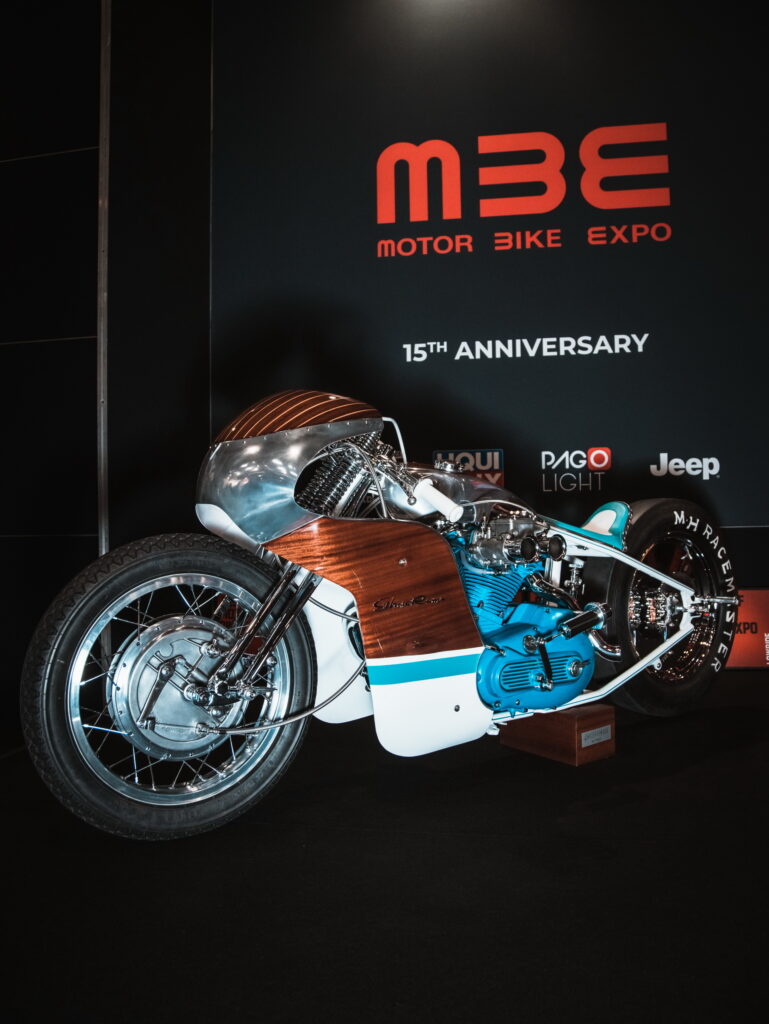 The four super guests of the international jury – made up of Zach Ness, Fred Krugger, Jeff Holt and Yaniv
Evan – deliberated the verdict after a long consultation, awarding Hazard's custom bike as "most
beautiful bike of MBE 2023".
In addition, Matteo was awarded a super-performing twin-cylinder engine by Ultra, worth €10,000,
offered as a prize by Custom Chrome Europe and silver bracelet handcrafted by Silverbone. 15 stones
set to celebrate 15 years of Motor Bike Expo in Verona.
-Awards MBE Pick
Some of the exhibiting companies have decided to dedicate a special prize to their personal "best of
MBE 2023", confirming that all the exhibitors are attentive and interested in the customization's
presented at the fair by the preparers.
Carbon Visionary rewards the Road Glide of RCK Roll Chop, which wins a bundle of three precious
carbon accessories and also wins the nomination of the American magazine Choppers Magazine
Eternal City chooses the incredible Surui bagger, which arrived by plane at the Motor Bike Expo directly
from Indonesia.
Arlen Ness Enterprises names Luca Mancini and his 93 H-D FXR.
Devil's Garage wins the coveted prize of Custom Show Emirates – arrived in Verona for the occasion
from the United Arab Emirates.
The French of Punta Bagna choose the creation of DMC Toys 4 men, also preferred by the Dutch
Madness Photography.
Hard Rock Cafe appoints PDF Motociclette's BSA as "the rockiest bike at Motor Bike Expo".
The award in memory of MBE's great friend Giovanni di Pillo – is presented by his wife Cristina Siani to
Ruote Celeri, for their beautiful BMW R75/5 replica.
-Metzeler Award: winner Roberto Pellegrino R.P. Motorcycles
The traditional Metzeler Award goes to the Carbon Bluster, born from the collaboration between Asso
Special Bike and RP Motorcycles, after a careful selection by the jury of accredited journalists, made up
of Aldo Ballerini, Andreetto and Micke Persello.
-Magazine Award: the motorcycles chosen by magazines and the media
If we had to symbolically elect the motorcycle most appreciated by specialized magazines, it is
undoubtedly the 1949 Panhead Chopper by Boccin Custom Cycles, which won 3 nominations: Kopteri
Magazine (Finland), Bikers Insider (Russia) and CRP (Holland).
The German magazine CustomBike and Virgin Radio – official partner of the event – choose the "Baba
Jaga" by Gallery Motorcycles.
Dream Machine (Germany) confirms the verdict of the MBE Award awarding Hazard Motorcycles.
The Italian newspapers reward they preferred…
The BMW R 18 of XTR PEPO for Federico Aliverti and Aldo Ballerini of Motociclismo. Motosprint and
InMoto have selected the Kawasaki GPZ 900 "Top Gun Tribute" by FTG Moto (Filippo and Giacomo
Tagliabue). A BMW also for Bikers Life which rewards the R 100 RS by VM Cycles. Motoblog promotes
the Street Glide of America Specialist, Duecilindri the Sportster Sueca Iron of Performance Cycles and
Andrea Perfetti of Moto.it chooses the American Dream sidecar.
-Clubstyle Contest:
Dyna – RP motorcycles
Softail – Fred Kodlin
Bagger – Asso Special Bike
FXR and Best of Show – BKB
Main highlights of Sunday:
Custom chopper lottery by Eternal City (motor show in Rome)
Simpson Helmet contest- winner Eleonora Tiezzi
-Lowride magazine Awards :
The custom bikes awarded by the traditional Lowride Bike Show
Rain of prizes also in this edition of Motor Bike Expo for the Lowride bike show which crowns the Harley-
Davidson Early Shovel by DMC Toys 4 Men as "Best in show".
Mention as "best chopper" for Niko Bikes, "best freestyle" for Nedz Designz, "best bobber" for Soul Ship
Bobber, "best paint" for 70's Helmets, "best bagger" for Surui Motor Garage, "best club style" for BKB
Boman Kustom Bikes, "best modified" to RCK Roll Chop.
Satisfaction also for Massimo Carracino and Guareschi Moto with the "best cafe racer" award, while the
"best scrambler" is won by Bottega Bastarda. Double mention for the Sporty Awards given to Marc Torrent and Luca Torresini. Enjoy the images below.