Tag Archives: Steve McQueen
Big bucks were flowing at the recent Mecum Auction in Las Vegas where the EJ Cole Motorcycle Collection was sold. Prior to the auction experts believed that an ultra rare 1907 Harley would take top honors with a projected winning bid of over $1,000,000. Ultimately it was bested by a 1915 Cyclone once owned by Steve McQueen which went for $775,000, a World Record for a Cyclone. If you look at the Top 10 results it seems like there were a lot of bidders with deep pockets spending freely:
No 1: 1915 Cyclone Board Track Racer Ex-Steve McQueen Sold for $775,000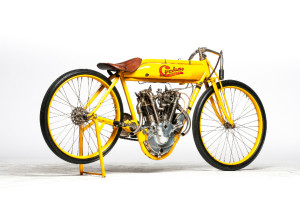 No 2: 1907 Harley-Davidson Strap Tank Sold for $650,000
No 3: 1911 Flying Merkel Board Track Racer Sold for $385,000
No 4: 1942 Crocker V Twin Big Tank Sold for $350,000
No 5: 1928 Indian Altoona Hillclimber Sold for $225,000
No 6: 1912 Harley-Davidson Model 8A Twin Sold for $215,000
No 7: 1912 Henderson 4 Sold for $205,000
No 8: 1917 Henderson 4 Ex-Steve McQueen Sold for $190,000
No 9: 1930 Harley-Davidson Factory Hillclimber Sold for $165,000
No 10: 1907 Indian Tri-Car With Sedan Chair Sold for $165,000
Source and image: Mecum Auctions
Posted by Sam Kanish
Mecum Auctions will present the E.J. Cole Collection at auction this March 20-21, 2015 at South Point Casino and Exhibit Hall in Las Vegas. Representing 50 years of collecting what any motorcycle enthusiast would consider American Treasure, the collection today stands at more than 220 strong and is considered by many to be the finest, most diverse single collection of American-made machines.
"It is the largest single grouping of American-built motorcycles ever offered to the public from one person's collection," commented Ron Christenson, president of Mecum's Motorcycle division. "We are confident that the entire collection could fetch as much as $15-20 million at auction. It's an amazing group of motorcycles and its proportion is truly epic. It's already being dubbed 'The Antique Motorcycle Auction of the Century.'"
There are several bikes that will headline the offering including many that were previously owned by Steve McQueen as well as two of Cole's personal favorites, his 1907 Harley-Davidson Strap Tank (Lot S62)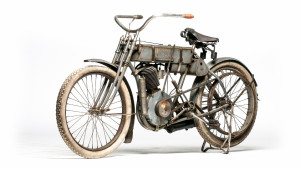 , and his 1910 Flying Merkel Board Track Racer (Lot S79)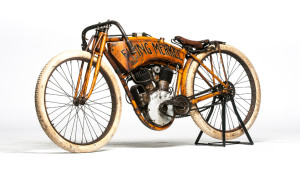 , both in original and unrestored condition. Other headliners, to name just a few, include Cole's 1915 Cyclone Board Track Racer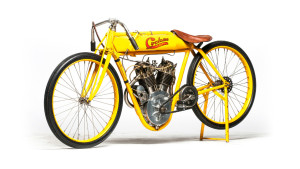 , formerly owned by Steve McQueen (Lot S57), his 1907 Indian Tri-Car (Lot S67), 1942 Crocker Big Tank (Lot S69)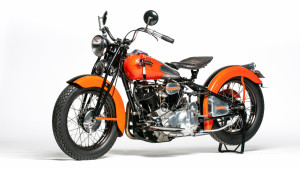 , and his 1912 Minneapolis Big 5 Single (Lot S89).
A number of Cole's motorcycles have been proudly displayed at museums in South Dakota and Iowa. These motorcycles will be gathered up and presented for auction in Las Vegas, but Cole is hopeful the new owners will lend, as he has often done, their newly acquired antique motorcycle to one of the fine motorcycle museums around the United States.
Cole recognizes the unique variety in his collection saying, "I didn't really have a preference [among makes]. As long as it was a motorcycle and American-made and I didn't have one, I went after it. I just mainly tried to buy one of everything there was, and that's about it. I just went for everything." He also acknowledges his reluctance to let go of what he's spent more than 50 years putting together. "If my age hadn't gotten ahead of me, why I'd still be out trying to add to it, but being that I'm 89, I feel like it's time to quit." He adds that, "Here at my place nobody gets to see them and they need to be out where people can enjoy them."
The entire E.J. Cole Collection consists of 239 lots, 231 of those being offered at no reserve. With production years ranging from 1903 to 1991, the collection will be offered at a stand-alone auction this March 20-21. Some of the bikes have never before been seen by the public, let alone offered up for sale, making this offering one of the most unique of its kind.
For more information on the E.J. Cole Collection or to register as a bidder, visit Mecum.com or call (262) 275-5050. Mecum.com is updated daily with the latest consignments including detailed descriptions and photographs of the motorcycles and more to be offered at upcoming auctions.
Event Schedule: March 20-21, 2015
E.J. Cole Collection Auction at the South Point Casino and Exhibit Hall located at 9777 Las Vegas Blvd. S., Las Vegas, Nevada
Admission: $20 per person, per day; children 12 and younger receive complimentary admission.
Preview: Gates open on Friday, March 20 at 10 a.m. and on Saturday, March 21 at 8 a.m.
Auction: Friday, March 20 from 4-6 p.m. and Saturday, March 21 beginning at 11 a.m.
(All times Pacific)
Source and images: Mecom Auctions
Posted by Sam Kanish