We've all heard it hundreds of times, the reference to the biker "community," that circle of motorcycle riders we feel we belong to by virtue of our common passion. It's how we recognize each other and how we feel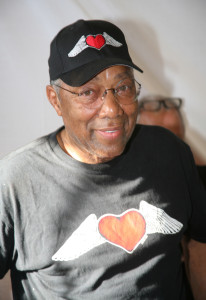 part of something distinctive and special. If it's true, if riders genuinely are a community of people united for the common good, then taking care of any one of us is good for the rest of us.
But it distresses me and it certainly puts a strain on my sense of community when I encounter injustice in biking; such as when one person takes credit for another's work, or when arrogance gets more attention than dignity. I don't have any room in my life, not one dang second, for things like that.
Oddly enough, these thoughts surfaced at a super happy event I was honored to attend recently, the 75th birthday of a man I respect and admire, Sugar Bear. There's no where else I would have been that fine day in late September than Sugar Bear's shop in Los Angeles, along with others he had specifically invited to his party. It was a moment to celebrate and appreciate.
I had called on Sugar Bear a few years before, to visit with him for a story in IronWorks. Then, as now, the shop walls contained framed drawings and thank-you letters from some of the school children he's visited, using a bad ass chopper to get the kids' attention to emphasize the importance of learning math. The walls of the shop also hold pictures from Bear's 70th birthday party and it was fun to scan them looking for repeat guests and industry friends. And there's a banner from Sugar Bear's speaking engagement at the Harley-Davidson Museum in 2008, an event I regret missing.
This day, as last time, I wandered into the next room where dozens of framed images chronicle a segment of motorcycling that has been largely neglected by mainstream motorcycling; African American riders from the 1970's, '60s and '50s. Several pictures feature builder, fabricator and rider Benny Hardy, Sugar Bear's mentor and the go-to guy in L.A. for decades. Benny built some of the feature bikes that appeared in the pages of Easy Rider in its heyday. He also built the two most famous motorcycles in American motorcycling: Captain America and the Billy Bike for the film Easy Rider. But as I learned a couple years ago—and it bears repeating—Benny Hardy was never given credit for his work, recognition he both earned and deserved. Benny was treated differently—unjustly—due to the color of his skin.
Sugar Bear went a long way to repair this breach by revealing in 2007 in a segment on Jesse James's Discovery Channel program, History of the Chopper, that Benny had indeed built the bikes for the film and that another black builder, Cliff Vaughs, has been instrumental in their creation as well. But looking at the pictures of Sugar Bear's friends and mentors, the people he rode with who formed the building blocks of his memorable life, it still rankles with me that Benny, who passed away about 20 years ago, never got his due. That's no way to treat anyone. But especially for people who frame themselves as a community of people who care for and respect each other as bikers do, it's inexcusable. No hedging about it, it's just plain wrong.
I hesitate to shadow a happy occasion by getting on my soapbox about this and I hope Sugar Bear forgives my detour. But along with honoring a happy occasion and reconnecting with industry friends, these are some of the thoughts that surfaced that day. By my estimation we still have a long way to go in recognizing Ben Hardy. So since I can, I'll take the opportunity here.
You'll see from the pictures that accompany these words that negative thoughts did not permeate the party atmosphere. It was a joyful occasion and Sugar Bear's all day, ear-to-ear smile was infectious, mirrored plentifully by those present. As we gathered around the birthday cake and got quiet, he offered a few words:
"It's been a long road and I've lost a lot of friends along the way. To those of you here, my friends, one way or another each of you has touched my life and I thank you."
And we, his friends, said: "No, WE thank YOU!" followed by applause and hugs all around.
Then Sugar Bear made us a promise: "For the 50th anniversary of my 30th birthday, we'll do this again!"
That's a plan everyone agreed to. And until then I intend to be extra vigilant about giving credit where it's due. Happy 75th Birthday, Sugar Bear!