By Shell Reinish
When I bought my Cyron Retro Fit H4 LED headlight bulb I really had no idea what I was getting. I had shopped around for an LED headlight and they were out there, but they were out of reach, priced from $200 to $700.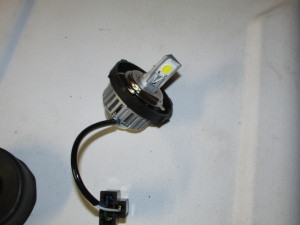 Then I heard about the Cyron Retro fit, a standard replacement for the normal H4 bulb with the high and low beam set as LEDs. When I saw it was priced at less than half of even the lowest one I'd seen so far it sounded too good to be true. All the advantages of LEDs without the huge price tag and none of the install hassles.
In addition to the great price, I learned the Retro ran cooler, was brighter, lasted 30,000 hours and used almost no power. That convinced me to give it a try.
The bulb installed easily in my existing light housing, pretty much plug and play. I only needed a Philips screwdriver to open the housing.
When I rode with this new headlight for the first time I was amazed. I will never forget the very first street sign I came to; a one way sign. At first I thought, like in downtown L.A., they were now back-lighting signs for added visibility. Then I realized it was my headlight's reflection that was shining like daylight back at me.
On the freeway the low beam lit up the road from the right lane to the left over a four-lane spread. I could see road signs a half-mile away, too.
This thing was awesome. I'd never had such great night vision. On dark roads it's like daylight, you have to see it to believe it. All these features for such a small price? Worth every penny.
Shell Reinish is V.P. of Sales for Cyron and an avid rider.
Resource:
www.cyron.com
Available from Tucker Rocky / Bikers Choice Dealer domestically or any Zodiac dealer in Europe.