Made to expand your options, not limit them
Story by Vincent Stemp
Photos by Marilyn Stemp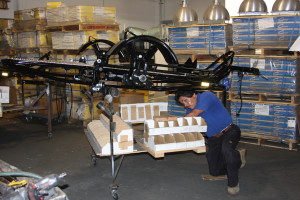 As motorcyclists, our pride and our passion is to ride. From custom builds to weekend tourers and daily commuters, our motorcycles are at home on the pavement. But life has a way of throwing us curveballs, situations where safety, convenience or plain old common sense dictate taking a deep breath and recognizing that you need to tow your motorcycle at times instead of riding it.
For some of us, being in a position where we can't ride the machine we love leaves a sour taste. This can lead to rash decisions, like buying a cheap foreign-made trailer that we don't want to admit we need. "But would you buy a cheap parachute?" asks Frank Esposito, president of Kendon Industries. He makes an interesting point—if you do need to tow your bike because you're moving, need to take it in for service or transporting your bike long distance, do you really want that fine piece of American machinery riding on a no-name trailer?
Of course not. And that's why Kendon builds lifts and trailers the way they do: in America, out of American materials, handcrafted by American workers. They start with American made steel tubing with correct wall thicknesses for each part of the trailer, which is precisely cut, bent and welded on jigs specific to each model of trailer. But why steel instead of lighter aluminum? Simple: Kendon realizes that buying something as substantial as a trailer is a long-term investment that should last. Steel is more forgiving of abuse than aluminum, easier to weld and paint, and overall a better material for a piece of equipment that you're going to want to keep for years and years to come. Considering features such as torsion axles with independent suspension and the convenience of their fold-up designs, that's just what you can expect. Kendon doesn't offer a 5-year axle warranty just for kicks!
Kendon's facility in Anaheim, California lies in one of the busiest parts of the country, surrounded by many small fabrication and steel forming shops to which Kendon could potentially job out its processes. But the logistics are more complex and less efficient, and Kendon's biggest cornerstone might be put in jeopardy: quality. "It's a serious piece of equipment. The structure, the assembly, the quality of the steel all affect the integrity of the product," said Frank. There's simply no room for error when your valuable motorcycle is in tow.
And they go the extra mile when it comes to details. For example, the fender mounts have bent edges, for a stronger design that takes advantage of the properties of steel. While forming the mounts in three planes is more time consuming, it also makes a stronger product. And that's really the idea behind purchasing a piece of Kendon equipment: when you're putting something between your bike and the road, you want it to be as well made and durable as the bike itself.
Kendon's Stand-Up motorcycle trailers are purpose built; like us, the folks at Kendon ride, and they know what riders need when it's time to tow. They make single- and dual-rail versions plus they're always improving the product line by adding elements like adjustable wheel chocks and LED taillights. A variety of accessories are offered, and the product line is always growing. Two newer ride-up models recognize that more women are riding while also addressing older riders who may need help with loading. "It's a new attitude: trailers don't limit us, they expand our ability to keep riding," said Frank.
"Whoever said that America doesn't make anything anymore is just wrong," Frank added. "The motorcycle industry is a shining example." Given the quality evident in Kendon's products, and having towed a bike on a Kendon myself, (yes, I admit it,) I can't help but agree.
Kendon products are sold through Tucker Rocky/Biker's Choice, J&P Cycles, and foreign outlets in China, Saudi Arabia, Canada and Australia. A quality American-made product being exported? What's not to like about that?
Resource
Kendon Industries, Inc.
Anaheim, CA
800-847-8618
www.kendonusa.com