SAILOR JERRY and HARLEY-DAVIDSON are CALLING ALL ARTISTS: 
 THE "MY WORK SPEAKS FOR ITSELF" CONTEST
WITNESS YOUR WORK RIDE ACROSS THE U.S.
IN THIS CELEBRATION OF TWO AMERICAN ICONS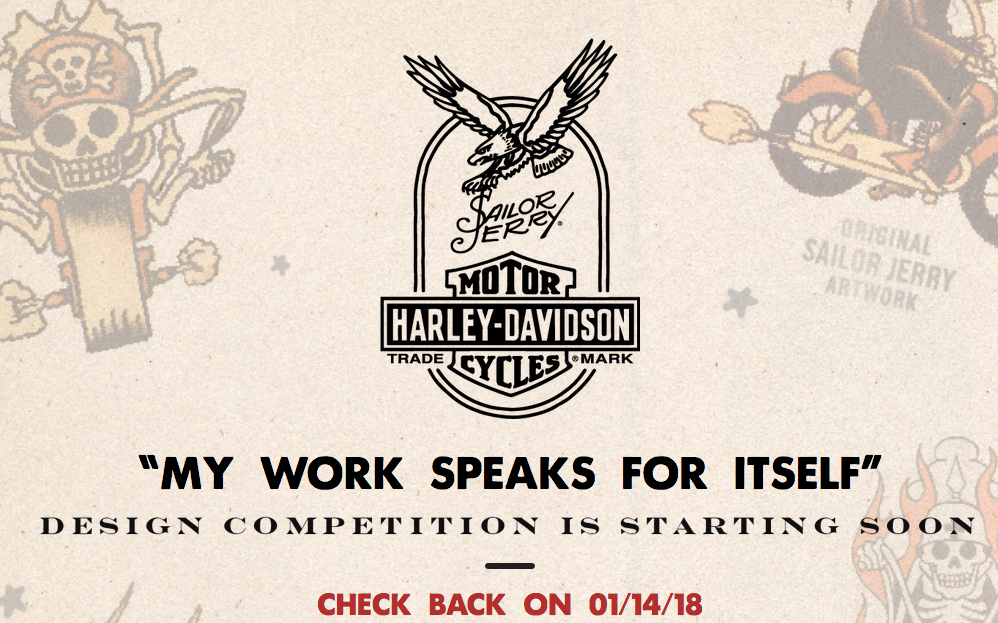 Sailor Jerry Spiced Rum, a brand born to honor the father of American old school tattooing, Norman "Sailor Jerry" Collins, continues its multi-year partnership with the iconic motorcycle manufacturer Harley-Davidson in the "My Work Speaks For Itself" contest. This first-of-its-kind design competition invites old pros and fresh faces to submit their boldest sketches and bravest concepts for a shot at becoming one of six lucky winners to have their artwork emblazoned on 2018 Harley-Davidson® Street Bob® motorcycles.
Artwork submissions will be hand-chosen by a panel of rebel-raisers themselves – celebrity tattoo artist Megan Massacre, Spike TV's "Ink Master" star Oliver Peck, Sailor Jerry Spiced Rum Ambassadors Ashley Marsh and Daniel "Gravy" Thomas and the Harley-Davidson Design Team. So, pull out those sketch pads and tattoo guns and let your imagination run wild. The design competition kick-starts January 14, 2018, and runs through February 15, 2018, with winners scheduled to be announced February 28, 2018 via Sailor Jerry Spiced Rum's Instagram and Facebook feeds.  To enter the design contest or for additional information, visitwww.SailorJerry.com/MyWorkSpeaksForItself.
Not only will contest winners' artwork be seen on Harley-Davidson® motorcycles across the United States, they will also receive:
An exclusive, behind-the-scenes VIP experience at the Harley-Davidson Museum, hosted by Megan Massacre and Oliver Peck.
Complimentary enrollment into the Harley-Davidson® Riding Academy to hone their riding skills and learn to ride a Harley® like the pros.
The opportunity to meet the Harley-Davidson Design Team painting the metal beasts with the winners' sketches.
In exciting events taking place starting mid-April, these custom painted motorcycles will be unveiled and begin their tour across the nation. After Labor Day, each motorcycle will be awarded to lucky winners through a separate fan-driven sweepstakes, letting the artwork live on infinitely.
"Sailor Jerry Spiced Rum is thrilled to give artists and designers a platform to showcase their creativity in connection with Harley-Davidson," said Sailor Jerry Spiced Rum Senior Brand Manager Josh Hayes. "With both Sailor Jerry and Harley-Davidson sharing deep Americana roots, we encourage artists to take this challenge and run with it – find freedom in your inspiration."
Harley-Davidson and Sailor Jerry Spiced Rum fans and winners of the "My Work Speaks for Itself" design contest are in for an action packed 2018. The custom Harley-Davidson® motorcycles and Sailor Jerry Spiced Rum cocktails will be popping up for viewing and responsible tasting at events such as Fleet Week New York, Sturgis Motorcycle Rally, Daytona Bike Week and Laconia Motorcycle Week.
"There is no better 'metal' canvas to showcase one's creativity and spirit of personal freedom than a 2018 Harley-Davidson® Street Bob® motorcycle," said Scott Beck, Harley-Davidson Director of Marketing. "We can't wait to see what fans come up with for this once-in-a-lifetime design competition."
Both Sailor Jerry Spiced Rum and Harley-Davidson are deeply rooted in rich American history, iconic legends with genuine values and living outside the lines to honor the traditional values, passions and purposes of the men for whom they are named. After serving in the U.S. Navy during WWII, Norman Collins dedicated his life honing the art of tattooing out of his shop on Hotel Street in Honolulu. Collins' shop became the must-stop destination for sailors on their shore-leave. His unique flash-art style started a movement that endures to this day.
Harley-Davidson, named after founders William S. Harley, Arthur Davidson, William A. Davidson and Walter Davidson, has been an American icon dating back to its establishment in 1903. Since its first motorcycle, Harley-Davidson has been dedicated to fulfilling dreams of personal freedom – from exceptional custom experiences, innovative products and precise manufacturing. Together, Sailor Jerry and Harley-Davidson form a partnership that fuses together their joint passions and values.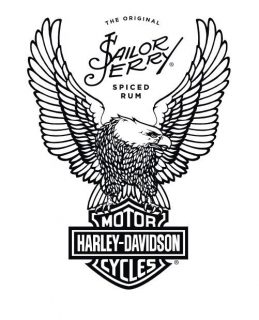 To learn more about Sailor Jerry Spiced Rum, log onto www.sailorjerry.com
To learn more about Harley-Davidson, log onto www.harley-davidson.com