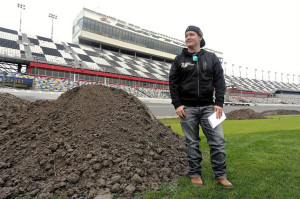 Fans of the popular Supercross racing series that are heading to the "Daytona Supercross By Honda" on Saturday night March 8th , will find a new Ricky Carmichael Signature Design course for the racers to navigate. The legendary rider; who retired from Supercross in 2007 with 15 AMA championships, 150 wins, and 5 Daytona Supercross championships; is serving as the course designer for the 7th straight year.
"It's really special to be able to be associated with Daytona International Speedway," Carmichael said as he walked the course on Thursday. "I love this place, I really do. Five-time winner and my heart is here. I'm a Florida native. It's an honor to be affiliated with Daytona, and to have the chance to design this track is special. I take it seriously and I'm thankful for the opportunity."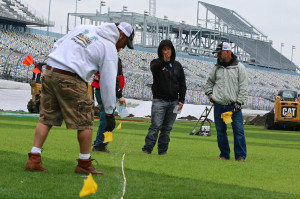 This year's starting gate will remain on pit road giving race fans a great view of the first turn as riders try to conquer 40 jumps and 2 whoop sections over the 3,290 foot course. Daytona International Speedway has been home to the original Supercross since 1971. Among the Supercross greats that have captured the "Daytona Supercross By Honda" include Bob Hannah, Jeff Stanton, Jeremy McGrath, Carmichael and Ryan Villopoto, who has won 3 of the last 4 years.
"I think that what makes this track cool as opposed to other Supercross tracks is that it is somewhat of an outdoor track," Carmichael said. "It has a lot of those kinds of obstacles. (It's) real sandy and not as congested, but way rougher than a traditional Supercross track. This is really where you see who is tough and who isn't. That's what's so cool. There's a lot of history behind this Supercross race and it's just very prestigious because of those factors of it being rougher and really the toughest track on the circuit."
The construction took about 500 man-hours over 2 days as workers used 1 crawler, 1 front loader and 2 skid steers are used to move the dirt as 8 trucks transported 264 truck loads (5,000 tons) of dirt into the Speedway to build the 40 jumps and 2 whoop sections on the 3,290 foot Supercross course. In addition to installing 450 tuff blocks with Honda covers around the course for safety.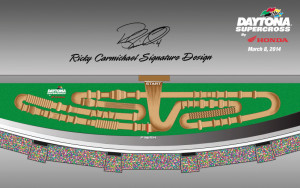 On Sunday and Monday in the Ricky Carmichael Amateur Supercross, the amateur Supercross racers will have an opportunity to test their skills on the same course used in the Daytona Supercross By Honda. For more information on the Ricky Carmichael Amateur Supercross, visit www.racedaytona.com. For more information and tickets for the Daytona Supercross By Honda, visit www.daytonainternationalspeedway.com  or call 1-800-PITSHOP. Fans can stay connected with Daytona International Speedway on Twitter, Facebook, Instagram and Pinterest for the latest news all season long. Fans can also follow the latest on DAYTONA Rising, the $400 million frontstretch renovation at the "World Center of Racing" by using #DAYTONARising on Twitter or visiting www.daytonarising.com.
Source and images: Daytona International Speedway
Posted by Sam Kanish