F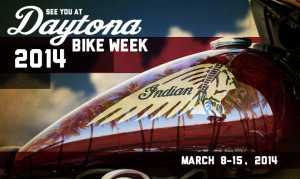 ans of the brand and motorcycle enthusiasts from across the country are encouraged to join our community as we celebrate the historic launch of the 2014 Indian® Chiefs with parties, demo rides, giveaways, celebrity guests, special events, and much more.
Indian Motorcycle® Daytona Beach Kick-start Party; Saturday March 8 – 9:00 p.m. – 11:00p.m. at Full Moon Saloon on Main Street
Fans of the brand are invited to join Indian Motorcycle® for the unofficial kick-off to Daytona Bike Week at the hottest bar on the beach. Full Moon Saloon will host the party for Indian Motorcycle® enthusiasts and owners – both current and future. Mike Wolfe, star of "American Pickers", will be on-hand with plenty to celebrate as Indian® Motorcycle gives away tons of swag and the opportunity for one lucky winner to enjoy an "Epic One-Year Demo Ride," giving them the keys to an Indian® Chief® for a year-long lease. Riders can sign-up throughout the day at Full Moon Saloon and the winner will be drawn at 11 p.m. on stage – must be present to win. 
Indian Motorcycle® Demo Rides @ Daytona International Speedway (Enter at Gate 70) – 9 a.m. – 5 p.m. daily
Bike week attendees will have the chance to ride the Indian® Chief® Classic, Indian® Chief® Vintage and Indian® Chieftain® and feel the confidence-inspiring handling and impressive power of the Thunder Stroke™ 111 engine. Demo rides are free and available to those with a valid motorcycle endorsement and proper attire.

Indian Motorcycle® Display @ Daytona International Speedway (Richard Petty & Midway Blvd.) – 9 a.m. – 5 p.m. daily
In addition to the demo site at the historic Daytona Speedway, a display in the Midway area will feature the 2014 Indian® Chiefs® models plus the Spirit of Munro tribute streamliner, a collection of vintage motorcycles, and a unique "naked" display bike that gives fans an inside perspective on the unparalleled engineering prowess that makes every Indian® such a solid and reliable road bike. Fans can also take in the "Big Chief Custom," the first custom Indian® Chief® created around the 2014 models designed to highlight their limitless customization possibilities. Additionally, on Saturday, March 8, attendees can stop by to meet Mike Wolfe from the HISTORY Channel's "American Pickers" series, who will be at the Midway signing autographs from 1:30 p.m. – 3:30 p.m.
Must-See Location: Indian Motorcycle® Main Street Store – 10 a.m. – 8 p.m. daily, 506 Main Street
Located in the heart of downtown Daytona Beach, the Main Street store will feature a full collection of Indian Motorcycle® apparel including riding products, casual apparel lines, and gift items. The official commemorative Indian Motorcycle® Daytona Bike Week 2014 T-Shirt will also be on sale.
Must Experience: "Destination Daytona" – 9 a.m. – 5 p.m. daily, Ormond Beach
Throughout the week's events, Bike Week attendees are encouraged to stop in to Destination Daytona to experience both the rich, legendary 113-year history and the exciting future of Indian Motorcycle®. Fans can explore a collection of heritage engines and vintage Indian® motorcycles, plus a cutaway of the all-new Thunder Stroke 111 engine, and much more. Stop by to get up close and personal with the 2014 Indian® Chiefs and check out a selection of 2014 Indian Motorcycle® apparel for sale.
All-Indian Motorcycle® Bike Show – 10 a.m. – 4 p.m. Friday, March 14, Corbin Saddles, 1433 N. Hwy 1, Ormond Beach
Indian Motorcycle® owners past and present are encouraged to bring their bike and take part in a special bike show to celebrate the rich 113-year history of the brand. Participation is open to all Indian® and Indian-based motorcycles from 1901 to 2014. Admission and registration are free and registration is open from 10 a.m. to 1 p.m., with judging from 1-3 p.m. and a special awards presentation at 3 p.m. Trophies will be awarded to a wide variety of classes. Prizes will include trophies, a variety of Indian Motorcycle® gear and gift certificates from Corbin Saddles. The Bike Show is just one of the special events Indian Motorcycle® owners can enjoy throughout the week, and current owners can receive a special commemorative pin throughout Bike Week by showing their key fob at any Indian Motorcycle® location.
Indian Motorcycle® Owners' Tribute Activities – Ongoing, Various Locations
Owners of new and heritage Indian® motorcycles will receive VIP treatment throughout Daytona Bike Week! A special owner experience will be offered at the "Kick-start" party on Saturday night, March 8, and other unique activities will be available during the week for Indian® owners only. Owners are encouraged to watch their email and social media for additional information and invitations.