The weekend rain, drizzle and flooding didn't let up until Sunday afternoon and even though mother nature was on a rampage, it didn't stop the local Portland, OR motorcycle enthusiasts from attending the kick off of the new 2015 – 2016 season of the Progressive International Motorcycle Show.
The J&P Cycles Ultimate Builder Custom Bike Show is positioned right in front of the main entrance of the hall and are the first thing you see as you enter the convention center.
Throughout the 10 show series approximately 400,000 enthusiasts will see the custom bikes. The total cash and prize package for the series is $100,000. The Chicago round will host the US Championship and will provide $50,000 in cash and awards. Sponsors include J&P Cycles, Harley-Davidson, Progressive Insurance, Bell Helmets, Speakeasy Original, The Leatherworks and 5 Ball Leathers.
New for the season is the online People's Choice Award on the Progressive International Motorcycle Show's Facebook page at https://www.facebook.com/InternationalMotorcycleShows/. If you can't make a show, you can check out all the custom sleds.
Shaun Ruddy of Chop deVille won the People's Choice Award with his custom retro trike. Shaun left the building with a Custom 500 lid by Bell Helmets under his arm.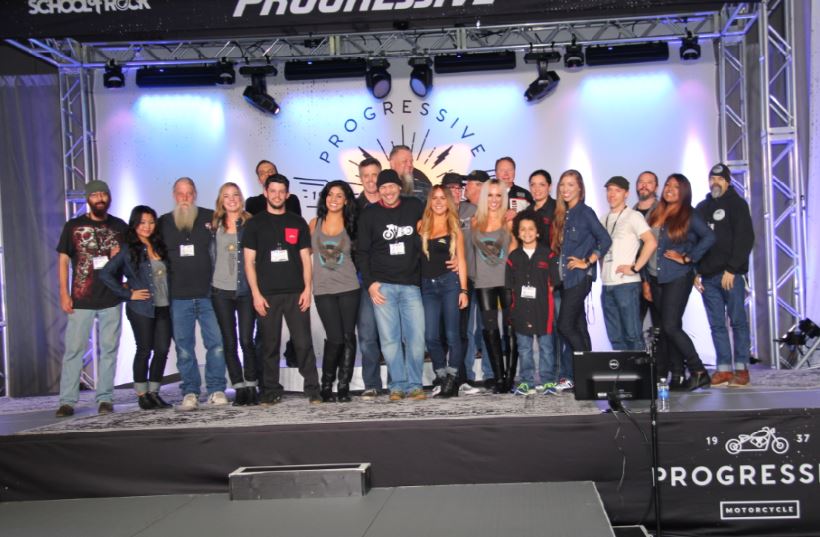 MODIFIED CUSTOM
Shaun Ruddy of Chop deVille rolled in his 2015 Indian Chieftain and came away with a $750 check for his efforts. The bike features a custom air intake, a chopped sidecar, stretched bags, custom paint, custom Chop deVille custom pipes and LED lighting.
1st #250 – Shaun Ruddy, Chop DeVille – 2015 Indian Chieftain
2nd #400 – Joe Tessitore, Digital Directiv – 2007 Ducati named Bella
MODIFIED RETRO
If you are looking for classic American motorcycles & parts Jeff Coffman of Jeff's American Classics probably has what you need. If you are competing with him, you will need to bring you're "A" game. Coffman cleaned up with his period correct 1948 Harley-Davidson Panheads. Hey were painted by Ben's Custom Painting and built by Mark Dencklau. He was awarded a check for $750.
1st #450 – Jeff Coffman – Jeff's American Classics – 1948 Panhead
2nd #425 – Jeff Coffman – Jeff's American Classics – 1948 Panhead
MOD HARLEY
Brad Hall of Magic's Custom Cycle started his motorcycle business because he won the MOD Harley class in Seattle. He had enough business from the show to hang a shingle. This year he won in Portland with his lowered 2013 Harley Sportster with gold, copper, brass, stainless leather and glass features. It is a fusion of old-school and new-school technology. He was awarded a check for $1,000.
1st #300 – Brad Hall, Magic Custom Cycles – 2013 Sportster named Psycho Addiction
2nd #750 – Jessica Ruse – Urban Custom Bikes – 2000 Sportster Trike named F@*K Cancer
FREESTYLE
Shaun Ruddy of Coup deVille had a day. He came up on stage three times and took People's Choice, MOD Custom and FreeStyle. His custom Retro Trike was the first bike at the entrance of the show and literally created a traffic jam during the Progressive International Motorcycle Show. Shaun got a SU carburetor and then built the bike around it. The trike features a 3" belt drive, oil in the frame, 26" white wall tires, nitrogen shocks and a 95" Shovelhead engine. He walked out with a check for $2,000.
1st #200 – Shaun Ruddy of Coup deVille, 2015 Retro Trike named DeVine
2nd #100 – Daniel Smith – Lastat's Customs – 2016 Chopper named ErbusT