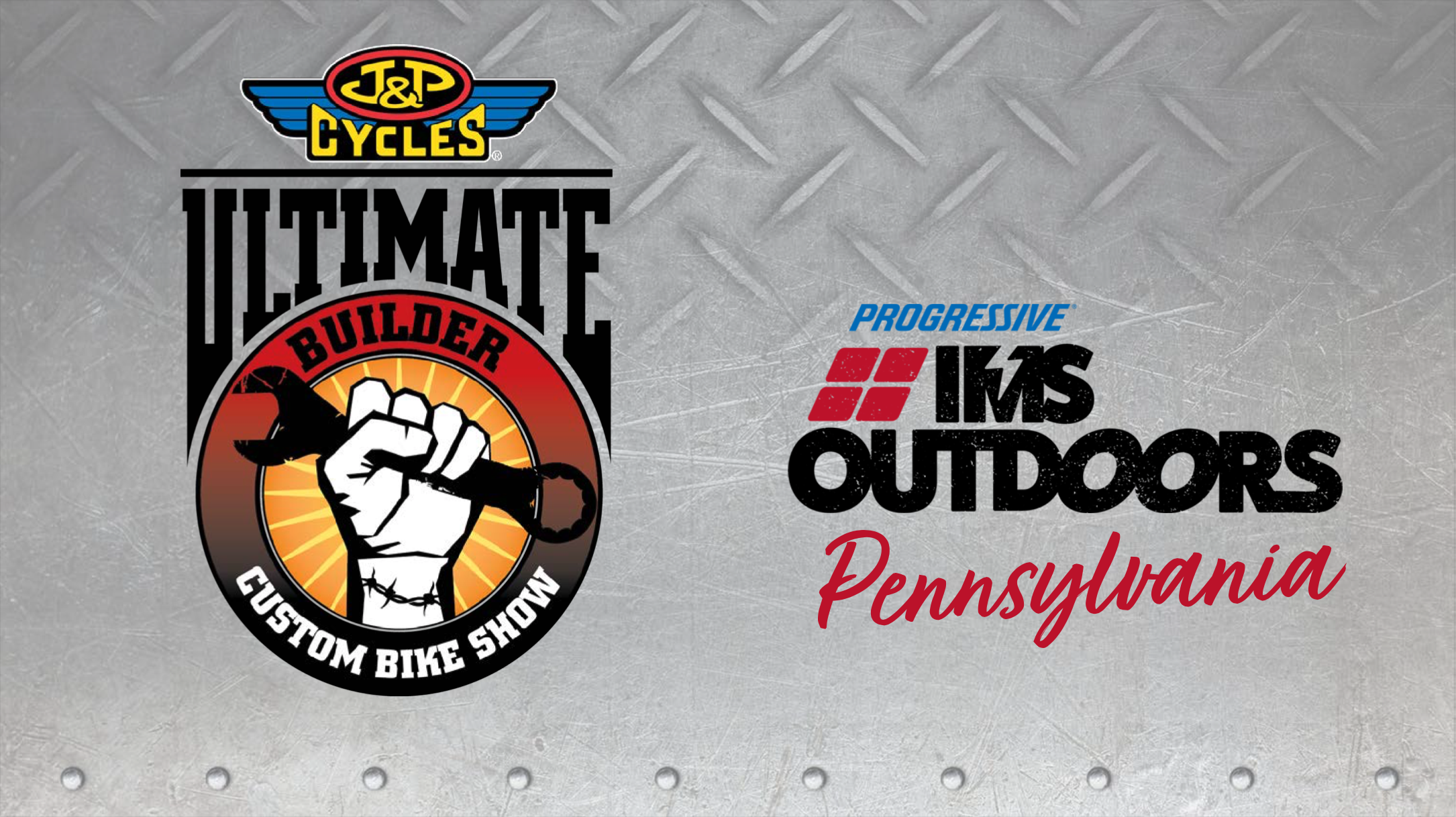 Carlisle, PA. (September 13, 2021) – Progressive IMS Outdoors, the Powersports industry's leading consumer motorcycle tour connecting enthusiasts with industry leading brands, today announced the winners of the 12th annual J&P Cycles Ultimate Builder Custom Bike Show (UBCBS) held last weekend at the Carlisle Fairgrounds, Pennsylvania, the third stop on the eight-city tour. UBCBS has a rich history as the nation's largest motorcycle builder competition, featuring hundreds of motorcycles and offering the chance to win tens of thousands in cash and prizes across the 2021 IMS tour.
"We designed the competition to spotlight professional and amateur builders alike, attracting world-class builders at each stop along the tour that come to showcase their rolling works of art. Not only do the participates receive well-deserved recognition, but the custom motorcycles on display provide event attendees the opportunity to engage with some of the finest customs across the U.S.," remarked Bob Kay, director of UBCBS.
Each stop along the tour holds a competition at the event comprised of three classes – Custom Street Class, Custom Classic Class, and Freestyle Class – and the People's Choice Award. Winners from each category are entered into the championship round held in Atlanta, competing for the grand prize and renowned title: King of Builders.
"Congratulations to the winners in Pennsylvania—this region has a remarkable group of builders, with unique and custom bikes that reflect each builder's story. We are still accepting applications for the upcoming five cities and welcome all creatives and builders to be a part of the fun," continued Kay.
Submit an application to participate in the upcoming competitions here: https://motorcycleshows.com/UBCBS. 
Winners from IMS Pennsylvania include:  
CUSTOM CLASSIC 
Winner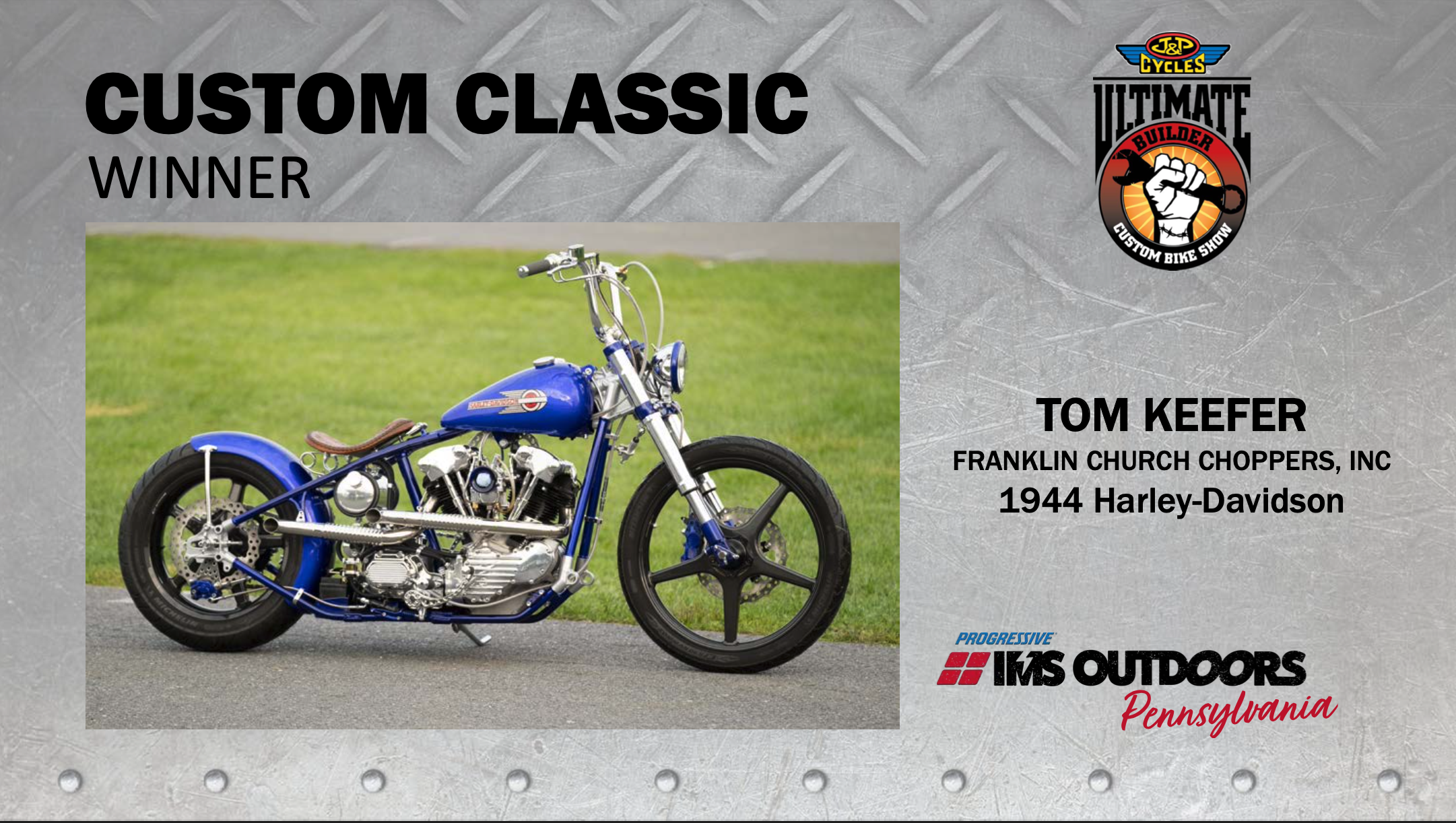 Tom Keefer won with a Harley-Davidson FL. This full custom classic was rebuilt from a 1944 Harley-Davidson Knucklehead with a V twin Retro rigid frame 1999 GSXR front inverted forks with shaved legs and a piston caliper. The bike includes a 6-speed electric start with custom 2-inch belt drive, and custom mid controls, BST carbon fiber wheels, and Arlen Ness rotors with a Ducati rear brake and master cylinder. 
Runner up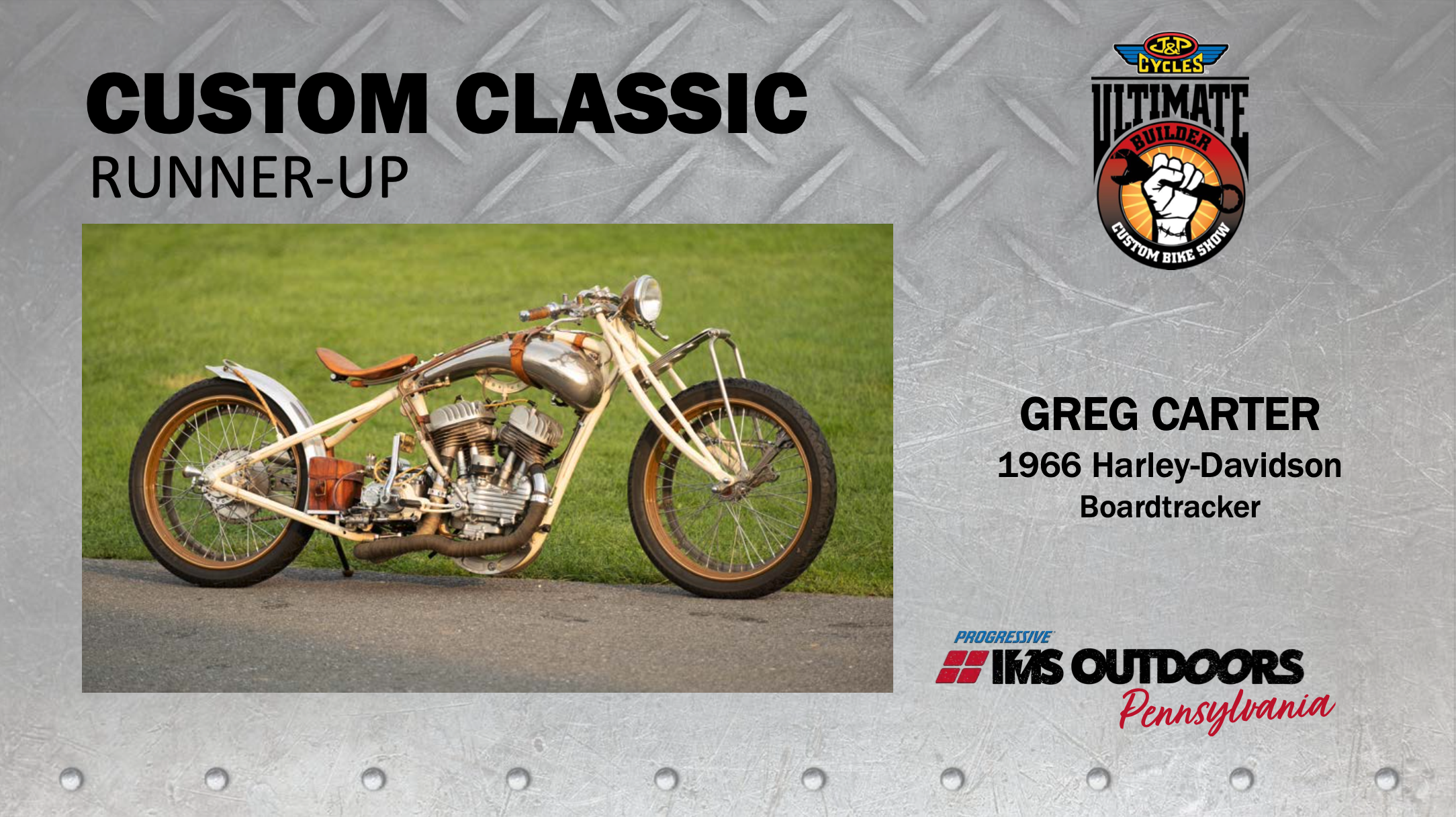 Greg Carter was the runner up with his 1966 Harley-Davidson Boardtracker with a Boardtracker choppers frame, KiWI leaf spring front end, and a 4-speed kick start only transmission with perimeter brakes.
CUSTOM STREET 
Winner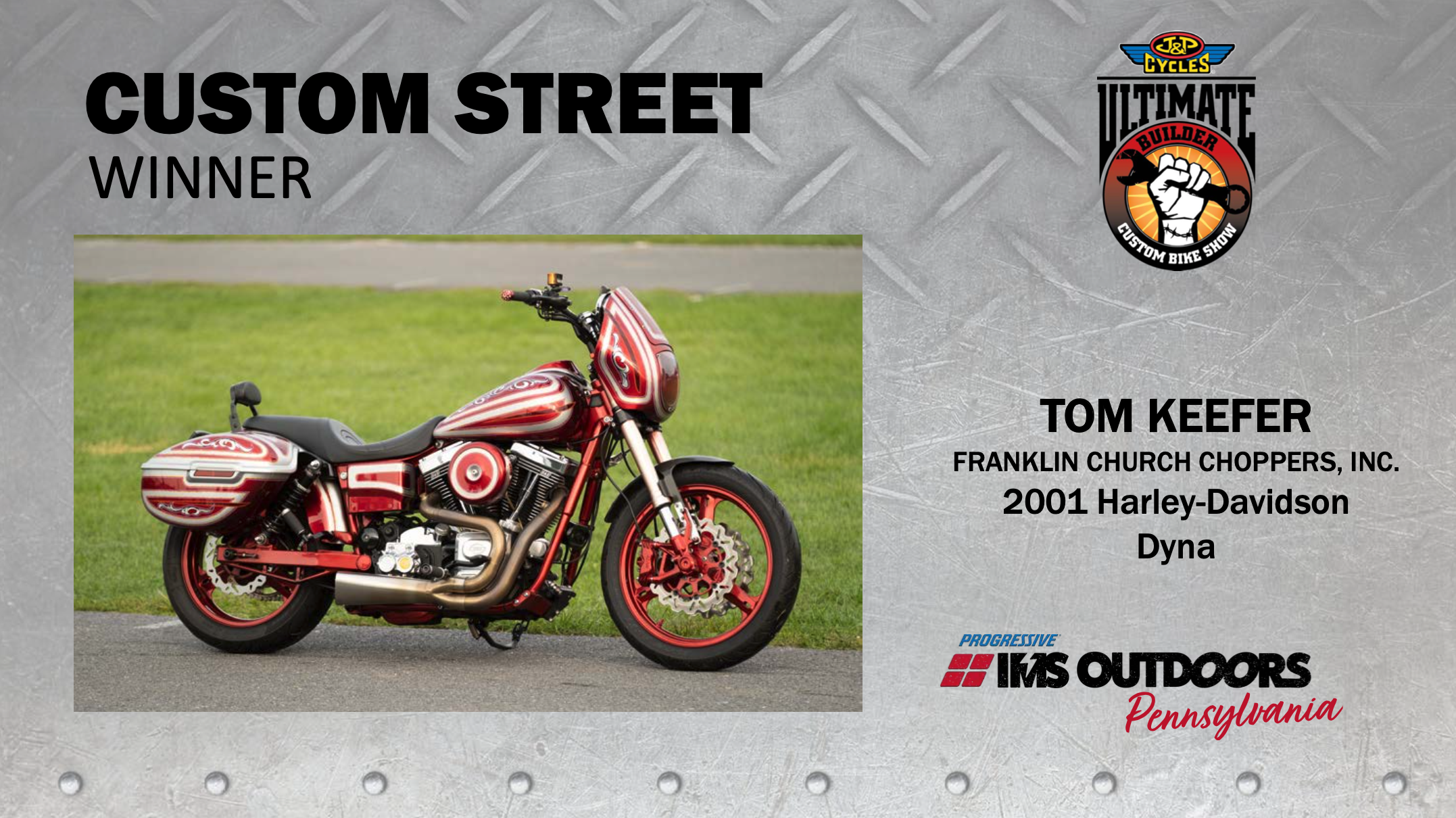 Tom Keefer won with a 2001 Harley-Davidson Dyna frame, S&S 124 engine, and Kawasaki ZX6 inverted front end. The custom paint by Keith Hanson featured a 24-carat gold leaf within the paint along with hand-painted pinstripes. Some of the elements include Galfer floating brake rotors with Nissin Brake calipers. The bike has a five-speed trans with a Baker Hydro Clutch actuator and Suzuki V Strom wheels 19-inch front and 17-inch rear. The bike was built in 2015.
Runner Up 
Jonathan Parmer and his 2005 Harley-Davidson Softail Deluxe was selected as runner up. His bike featured Xecution style fenders & tank dash, a C&C custom seat, RC components wheels, Thunderbike customs handlebars, Evil Twin motorcycle co engine build, HPI throttle body, Arlen Ness air cleaner & grips, Cyclesmith floorboards, and Custom Dynamics strut lights.
Bobby Shakal was also runner up with a 2004 Harley-Davidson Heritage Softail. The fully custom softail was lowered, raked, and added big wheels, stretched body work, and a custom paint job.
FREESTYLE 
Winner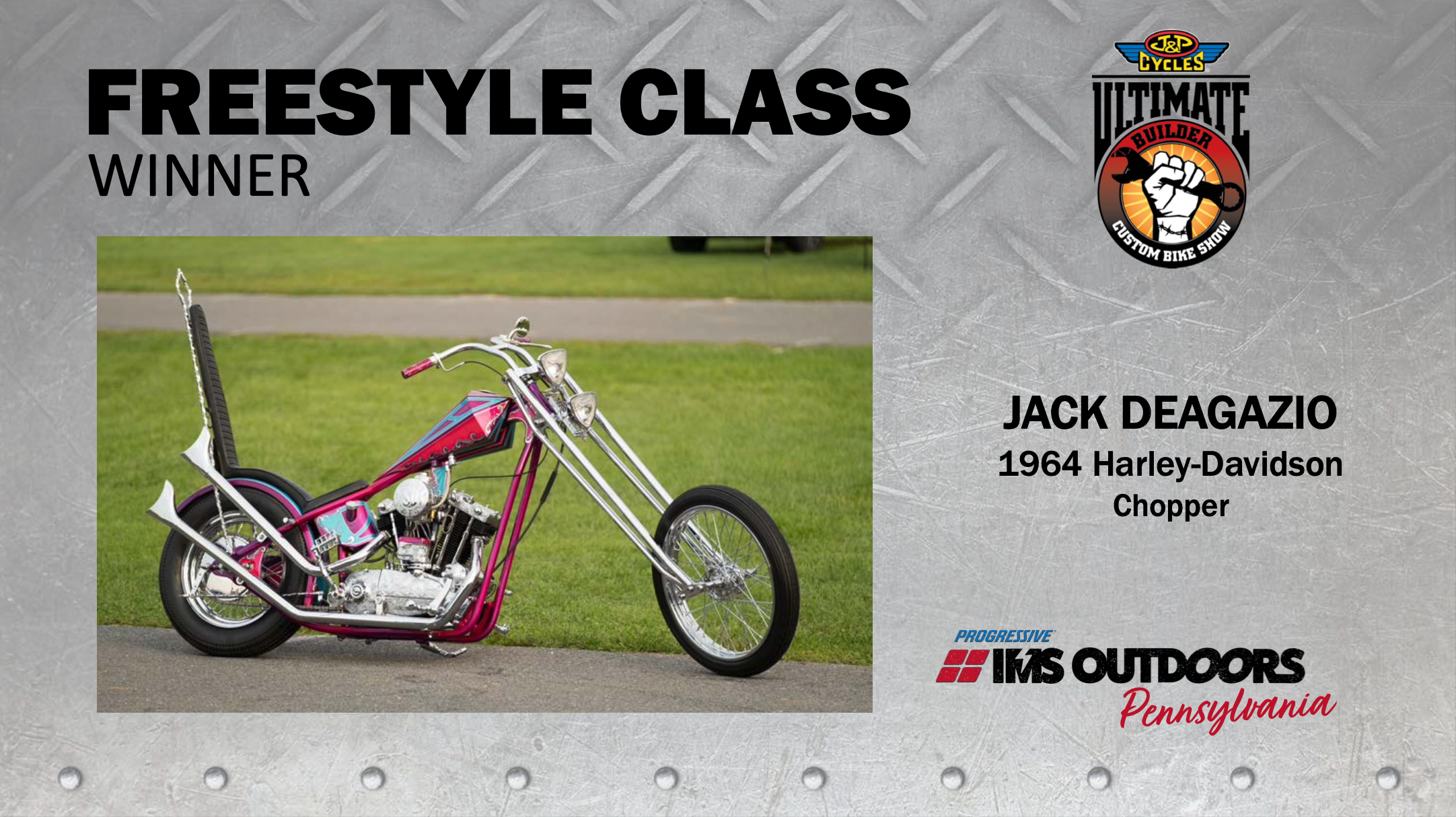 Jack Deagazio won with his 1964 Harley-Davidson Chopper, custom painted by Mo Diaz, with engraving, twisted parts, specialty plating, polishing and a silver Harman girder.
Runner up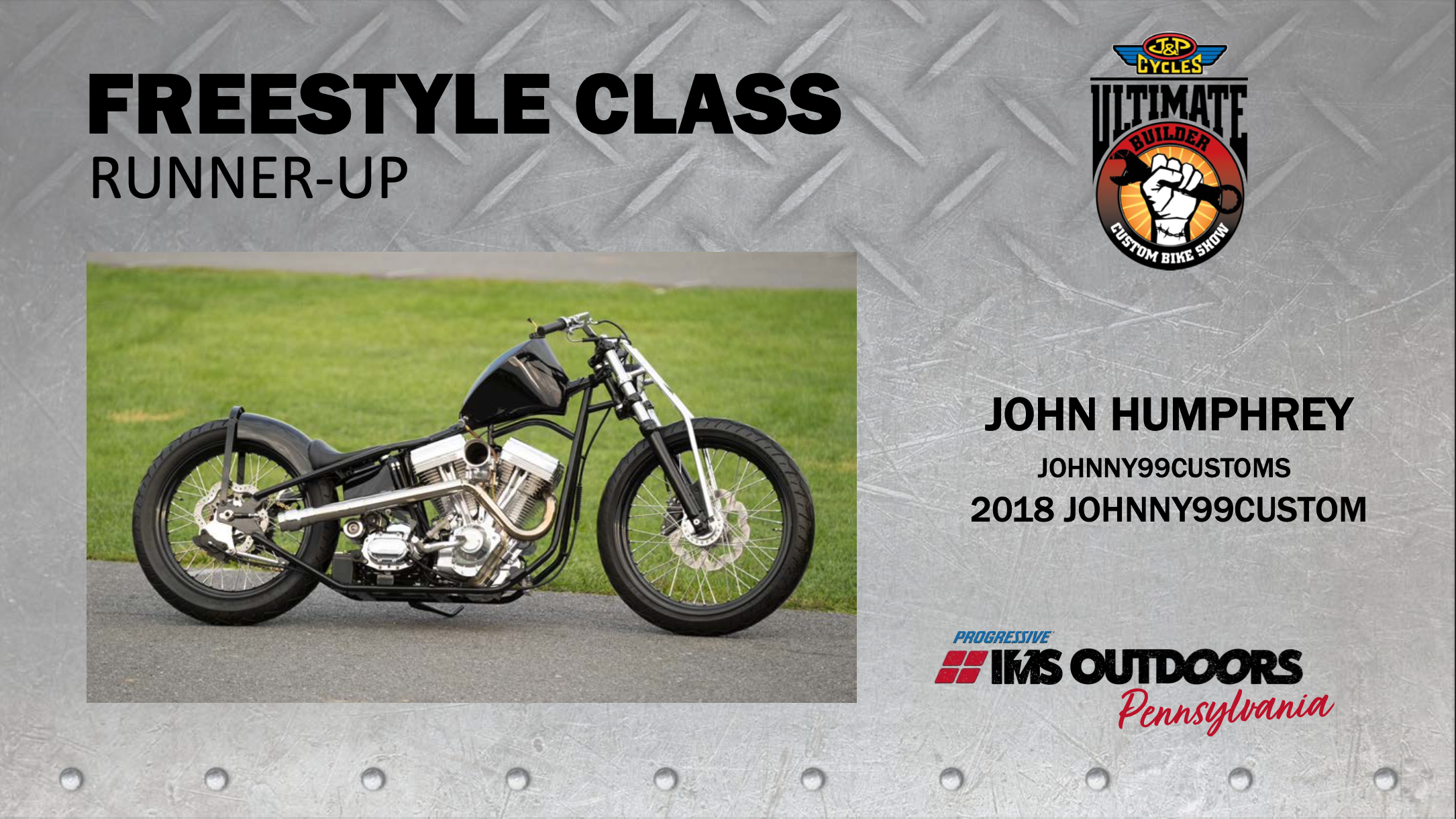 John Humphrey was named runner up with a 2018 completely custom bike sitting on one off 23-inch front wheel, 21-inch rear wheel, 131 H&L motor, all hand hammered aluminum sheet metal made by John along with almost every other part other than the drive train.
PEOPLE'S CHOICE 
Winner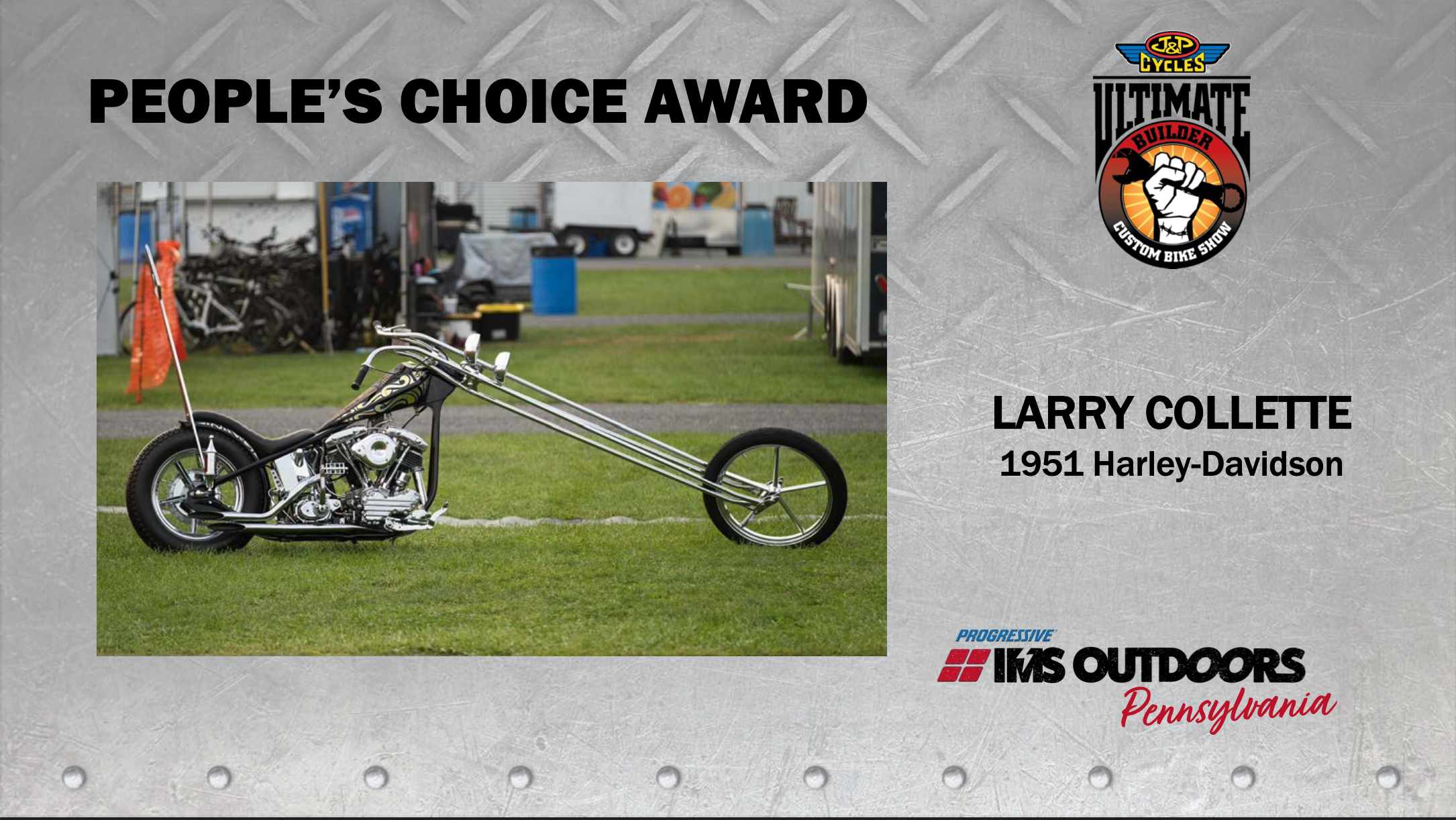 Larry Collette won the People's Choice award with his 1951 Harley-Davidson FL, featuring a Super radical chopper with 70s period correct custom-made parts and a highly modified original frame.
To learn more about the competition and to register as a participant, visit here.  
Connect with IMS (#RidersUnite and #imsoutdoors):
Instagram

About Progressive IMS Outdoors (motorcycleshows.com)

Progressive IMS Outdoors is an evolution of the Progressive® International Motorcycle Shows® tour's nearly 40-year stint that not only transitions IMS from the traditional convention center setup to a new open outdoor experience but will also create a festival-like atmosphere that promotes enthusiasts of all ages and levels to come together to better engage with products, each other, and the industry. While continuing its presence as the nation's largest consumer motorcycle tour, Progressive IMS Outdoors will support the growth of the Powersports community by offering a unique experience the industry has yet to see. IMS Outdoors is organized by Informa Markets, a division within Informa PLC, a leading B2B information services group and the largest B2B Events organizer in the world. To learn more and for the latest news and information, visit www.informa.com.