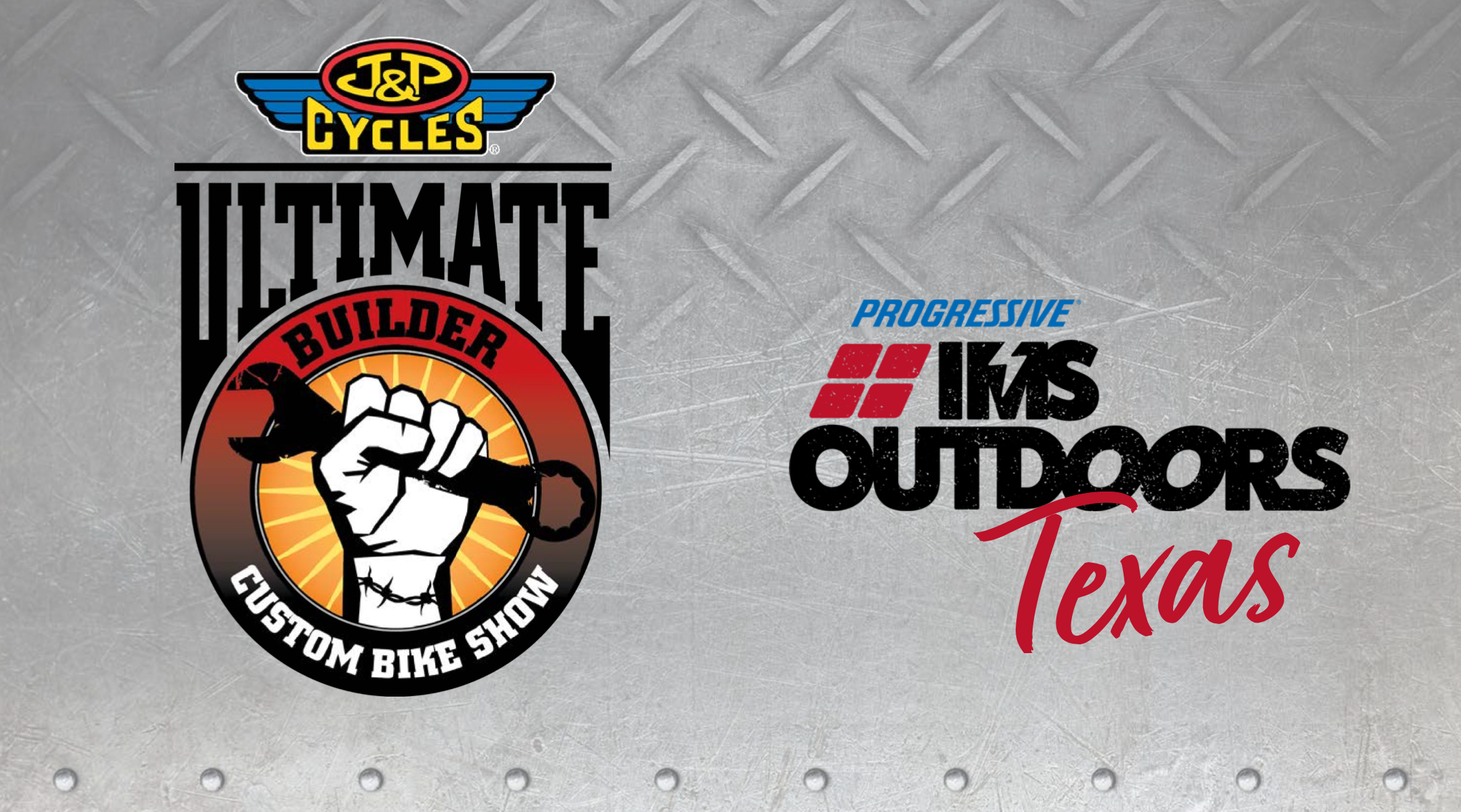 Fort Worth, Texas. (October 5, 2021) – Progressive IMS Outdoors, the Powersports industry's leading consumer motorcycle tour connecting enthusiasts with industry-leading brands, today announced the winners of the 12th annual J&P Cycles Ultimate Builder Custom Bike Show (UBCBS) held last weekend at Texas Motor Speedway in Fort Worth, TX, the fourth stop on the eight-city tour. UBCBS has a rich history as the nation's largest motorcycle builder competition, featuring hundreds of motorcycles and offering the chance to win tens of thousands in cash and prizes across the 2021 IMS tour.
"We designed the competition to spotlight professional and amateur builders alike, attracting world-class builders at each stop along the tour that come to showcase their rolling works of art. Not only do the participants receive well-deserved recognition, but the custom motorcycles on display provide event attendees the opportunity to engage with some of the finest customs across the U.S.," remarked Bob Kay, director of UBCBS.
Each stop along the tour holds a competition at the event comprised of three classes – Custom Street Class, Custom Classic Class, and Freestyle Class – and the People's Choice Award. Winners from each category are entered into the championship round held in Atlanta, competing for the grand prize and renowned title: King of Builders.
"Congratulations to the winners in Texas—officially halfway through the tour, we have seen some remarkable bikes and this city's bunch had incredibly unique and custom builds that reflected each builder's story and background. We are still accepting applications for the upcoming four cities and welcome all creatives and builders to be a part of the fun," continued Kay. Apply to participate in the upcoming competitions here: https://motorcycleshows.com/UBCBS.
Winners from IMS Texas include:
CUSTOM CLASSIC
Winner
JC Coen with won with a 1980 Harley-Davidson FXB. This custom classic was painted by OSC and features an engine size of 80.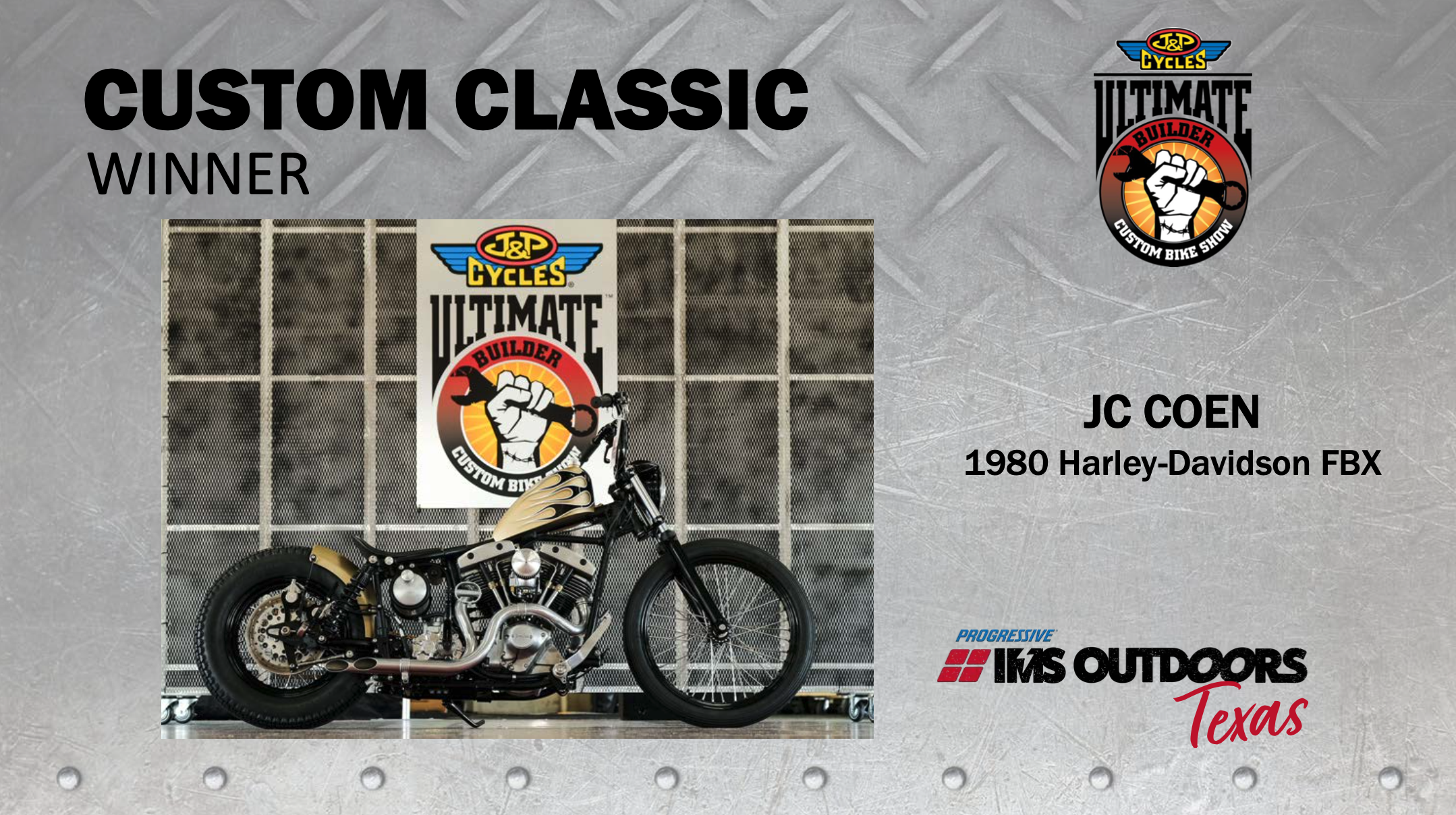 Runner-up
Ryan Brown secured runner-up with a custom 1965 Harley-Davidson Panhead.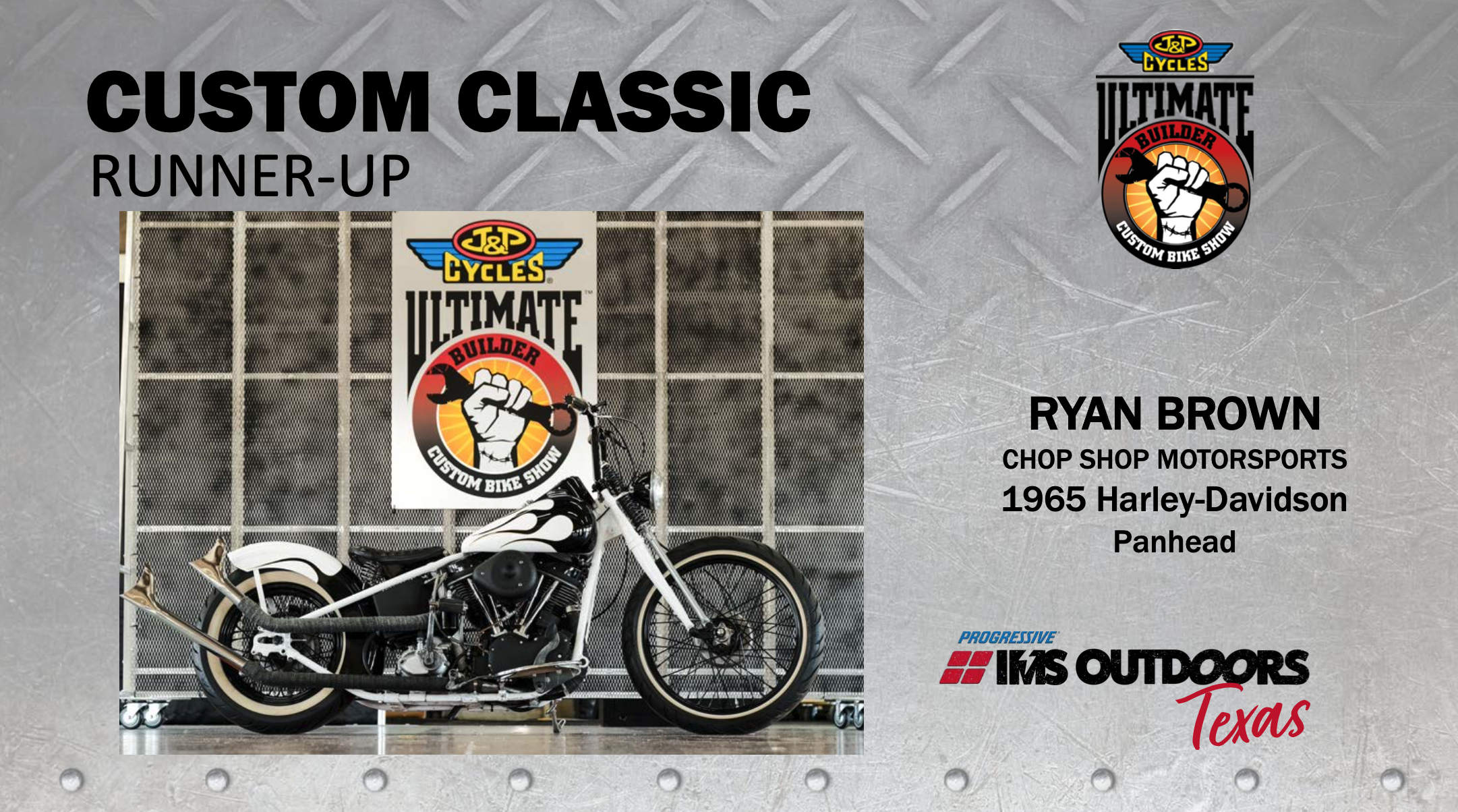 CUSTOM STREET
Winner
Danny Ratliff won with a 2014 Darwin Digger Bobber. Custom built by Brass Balls with a magic touch from "Manny" the magician from Oklahoma City, brushed stained finish that changes color from all directions.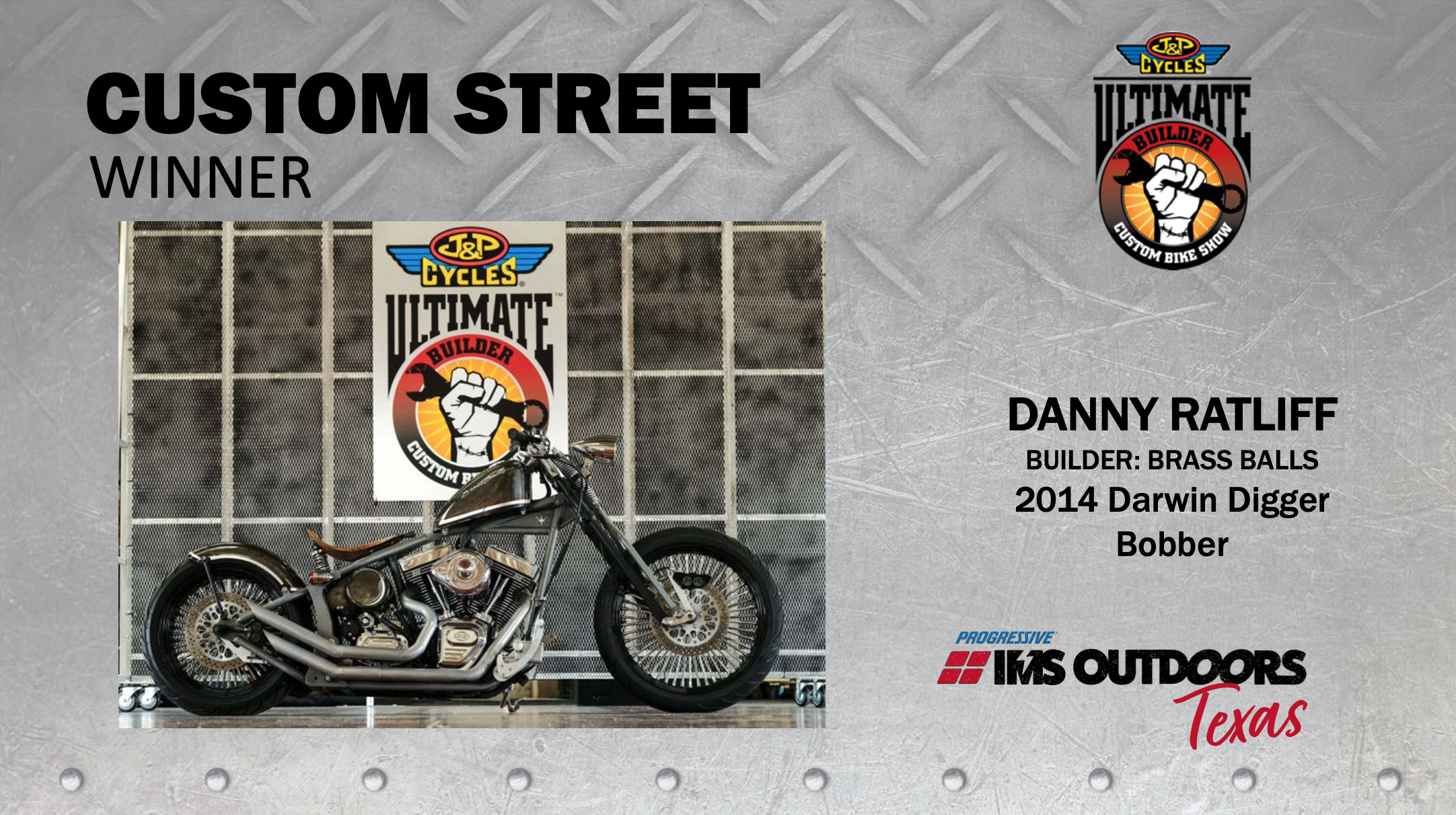 Runner-up
Jason Williams secured runner-up with a 2012 Harley-Davidson Road Glide, custom painted by Gary Queen.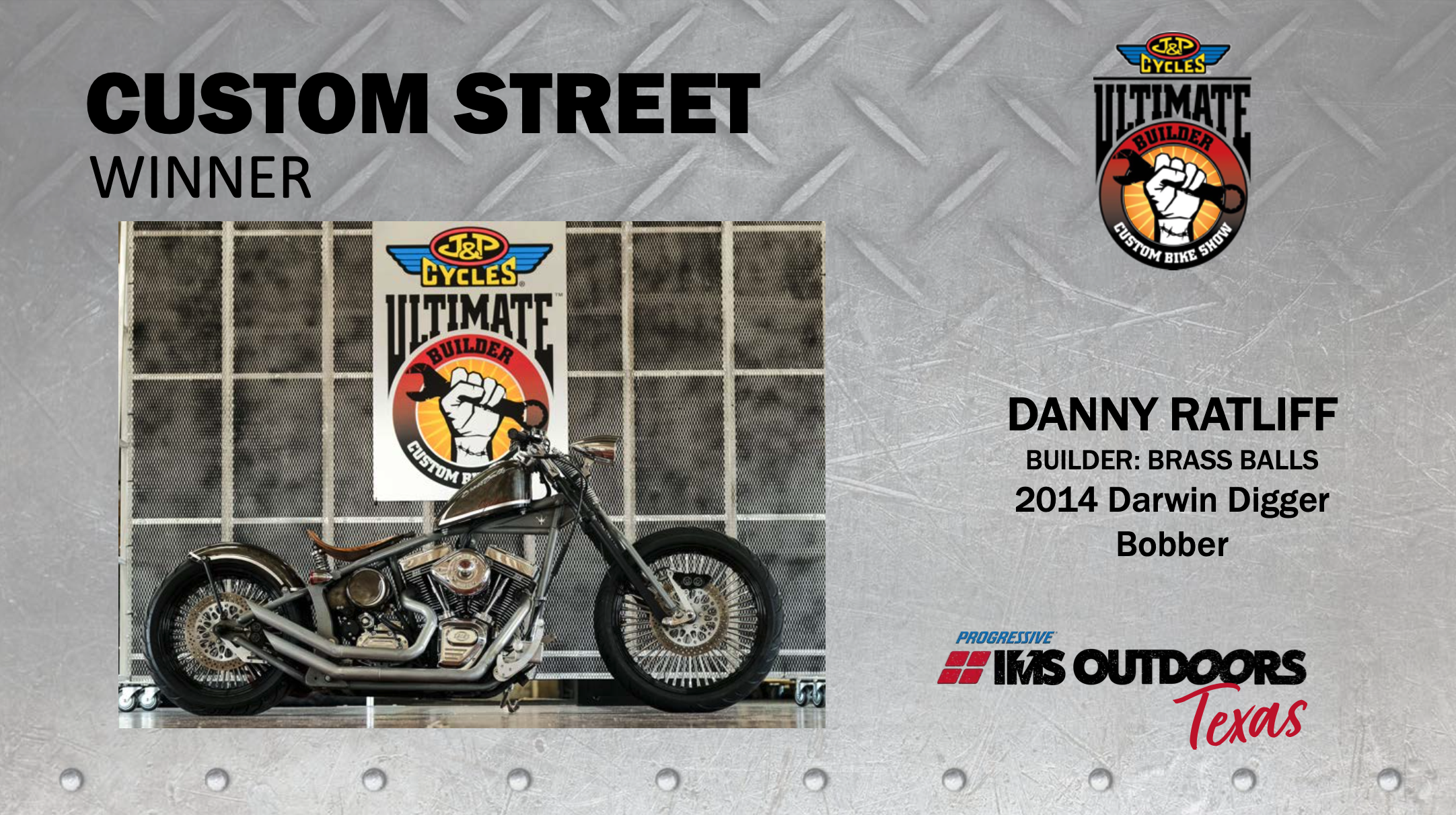 FREESTYLE
Winner
Larry Curik won with a 2021 Lone Star Chopper XR1525S, custom painted by Springel. The motorcycle features a dual front head Shovelhead, exhaust ports moved and left side exit and dual carbs on the right side. Everything on the bike is handmade or modified, including the wheels, brakes, and sheet metal. The bike started as a 30-year-old Ness Luxury Liner frame that Larry chopped himself.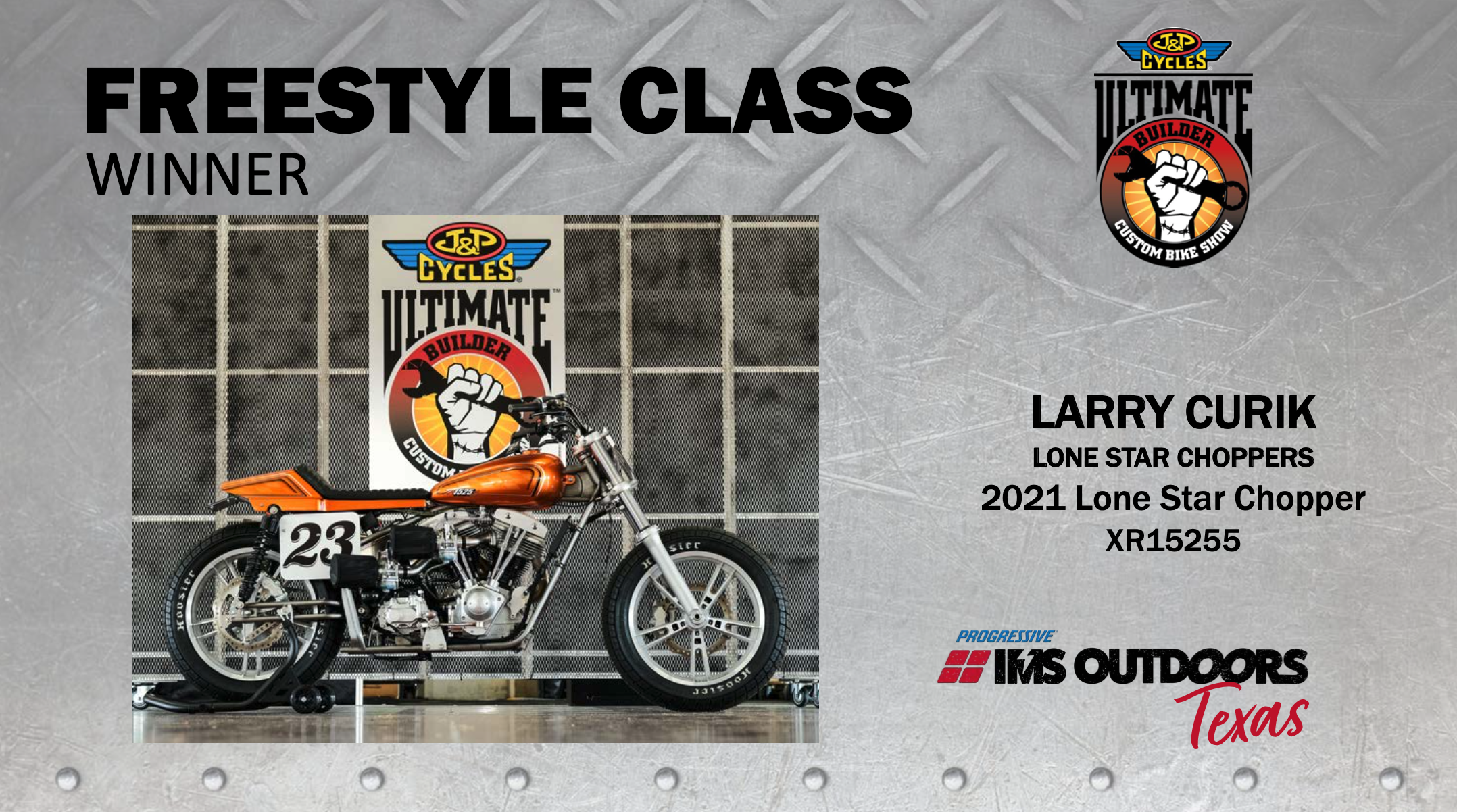 Runner-up
Justin Kelly secured runner-up with a 2003 Harley-Davidson XL, custom painted by Conrad.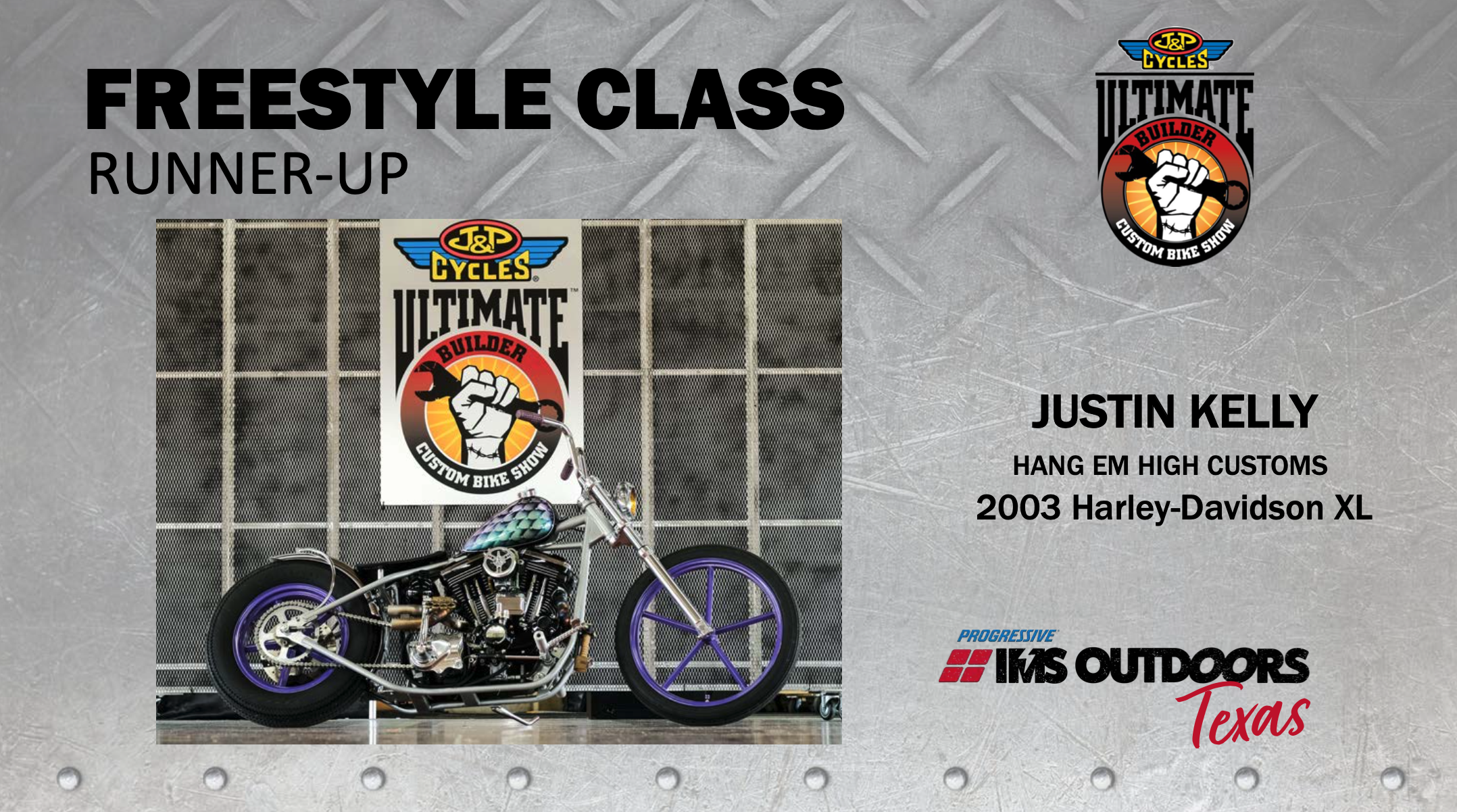 PEOPLE'S CHOICE
Winner
Motorcycle Missions won the People's Choice award with their 1972 Honda Cl350. The motorcycle was built by a group of female US Veterans, where they tore the bike down and got right into restoring the old parts and installing the new ones. They did a complete engine rebuild/restore, learned how to prep their bike for paint and learned how to ceramic coat their parts, wrap their exhaust, fabricate, metal shape, and detail their bike for the show, thanks to Meguiars. The bike started as a restore in May 2019 and then turned custom with a set of brand-new Yamaha R6 forks, and custom triple trees donated by Cognito Moto. The 7-inch LED Evo S headlight and mounting brackets were made and donated by Motodemic. 18-inch wheels front and back with a donated Cognito Moto machined front hub and wheels laced by Buchanans. Powder coating donated by Temecula Powder coating. Custom-made seat donated and made by Corbin Seats, and the Ikon Suspension. Rear shocks donated by Ikon Suspension. Exhaust mufflers donated by Voodoo Moto and titanium exhaust wrap donated by DEI Engineering.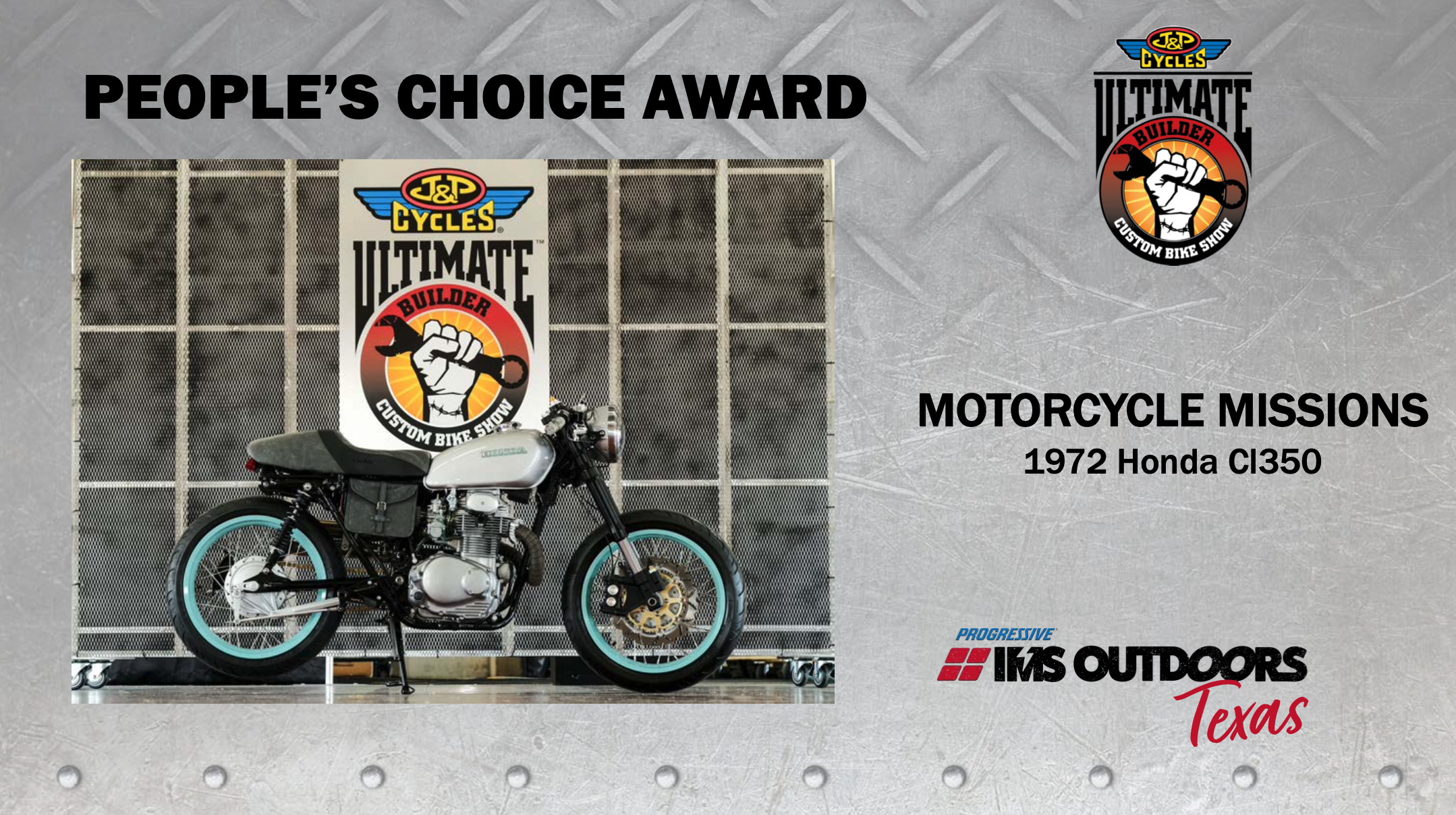 To learn more about the competition and to register as a participant, visit here.
Connect with IMS (#RidersUnite and #imsoutdoors):
Facebook
Twitter
Instagram
About Progressive IMS Outdoors (motorcycleshows.com)
Progressive IMS Outdoors is an evolution of the Progressive® International Motorcycle Shows® tour's nearly 40-year stint that not only transitions IMS from the traditional convention center setup to a new open outdoor experience but will also create a festival-like atmosphere that promotes enthusiasts of all ages and levels to come together to better engage with products, each other, and the industry. While continuing its presence as the nation's largest consumer motorcycle tour, Progressive IMS Outdoors will support the growth of the Powersports community by offering a unique experience the industry has yet to see. IMS Outdoors is organized by Informa Markets, a division within Informa PLC, a leading B2B information services group and the largest B2B Events organizer in the world. To learn more and for the latest news and information, visit www.informa.com.