Post and Images by Onno Wieringa
Captain Larry
As an ode to the year Zodiac started, in 1969, this cool chopper was built in Zodiac's workshop. Zodiac is now 52 years old and is a manufacturer and wholesaler of custom and replacement parts for Harley-Davidson and American V-Twin motorcycles.
1969 is the same year of the movie Easy Rider, with arguably the most iconic chopper; Captain America, starring in it. "But it's also an ode to Indian Larry, the chopper builder who stuck 100% to the style of choppers and bobbers of that era. A number of style elements such as the dished Mustang tank and the engine with cylinder heads from different construction years is something he was known for. Hence the name 'Captain Larry'," explains Vincent.
The chopper is completely built with parts from the Zodiac warehouse. "Charles, our mechanic at Zodiac, gets all the credits for building this bike," said Vincent Pels, CEO of the Zodiac company. "I always come up with the design, the styling and the parts that we will use for the creations we make and discuss this with our employees, but Charles always has to make all those ideas reality. Kudos!"
The Dordrecht Traffic Bridge, also called the Dordrecht City Bridge, consists of two bridges, a half-timbered bridge and a bascule bridge, spanning the river Oude Maas. It is the hometown of Jacco Reniers, better known as Royal Jack, who did the beautiful painting on Captain Larry. That's why we meet here to take pictures, while Vincent talks about the latest Zodiac creation.
Vincent immediately points enthusiastically to the sexy shaped petrol tank, "The dished tank is made from one of our Mustang tanks and was initially designed and meant to be a 'one-off'. We grinded the sides out of a tank and turned them over, so that the concave side is now inward. Quite a job, but the end-result was so beautiful that we immediately made a second one which we sent as a prototype to Zodiac Taiwan to have it produced there. They are already in our online catalog and the tanks should arrive soon."
The engine with two different cylinder heads, Panhead and Shovelhead, is striking and the whole is a S&S 1530cc engine in old style but with modern technology and power. "Basically it is a Panhead-style engine from S&S. The Alt-Gen version, which resembles the old Generator engine, but has a modern (alternator) charging system. For this we have set up an S&S Shovelhead-style cylinder head. The bolt pattern is identical, only the recess of the cylinder edge in the head had to be slightly larger. Furthermore, it was a matter of mounting longer pushrods and ready!" explains Vincent. Naturally, all parts come from Zodiac's warehouses. How nice it must be to be able to walk with your shopping cart between all those thousands and thousands of parts and thus assemble your motorcycle yourself. "Well, actually anyone can do that too." Vincent replies, "You can shop and order digitally on our website, and put together everything for your dream motorcycle to be built or converted, and with the push of a button you can send the wish list to your favorite Zodiac dealer in your area." Not everyone has the space, tools, machines, technical knowledge and materials to 'just' build or rebuild a custom bike themselves, but with the help of the many thousands of parts from the Zodiac catalog a fantastically beautiful creation can be built, such as this example, the Captain Larry. The motorcycle is not completely street legal, but it is mainly the little things that you hardly see, such as the mini turn signals, with which Zodiac shows that you can still build a nice bike, despite many legal regulations. "It is therefore just an example of the style of motorcycle you can build with Zodiac parts," explains Vincent, "We take this bike to shows and fairs to show what the possibilities are. Since the old style chopper is so popular now and given Zodiac's more than 50 years old roots, we chose this model."
Mechanic Charles used parts from the warehouse with minimal modifications, while also paying attention to ease of use. Riding a chopper does of course require some extra attention, if not only for the brakes, clutch and shifting system. "Indeed, suicide clutch and manual transmission are not commonplace, the first time you ride the motorcycle it is of course a 'special' feeling," Vincent says, "But you get used to it quickly and after a few kilometers you don't know any better, " adds Jacco, who rode Captain Larry with great pleasure.
Painter Jacco 'Royal Jack' talks about the collaboration with Zodiac, "Vincent approached me about painting their new show bike that also had to be on the catalog cover. Of course I was interested in the assignment. I also got to do the previous cover bike for Zodiac, which really feels like an honor. This time it would be a real old school bike with suicide shift and all. Vincent always has a good eye on what he does and/or doesn't want, but certainly leaves enough freedom for my own input. Sparring about such a paint job is also fun, especially if you have a certain 'click' with someone, like in this case with Vincent, and you 'lift' each other in ideas. Vincent came up with the idea to take a light color as a base and give it a bit of a cartoonish touch. We also wanted to try to keep the Zodiac colors in, so I incorporated them into the hand-painted graphics and the pinstriping. For the base, a Pearl White has been chosen that changes in the light to cream color. Furthermore, all graphics are hand painted. I designed the sides of the tank beforehand so we could see if the idea would work. It has become a bit of Mexican 'Dias de los Muertos' look. If you pay attention to the details, you see that the motorcyclist has a bottle of Corona beer in his hand, to emphasize that the bike was built in the hectic COVID-19 time. I also deliberately redrawn the engine for both sides of the tank, because otherwise the engine is mirrored on one side, which is not correct. All in all it turned out to be a top bike if you ask me."
Something we totally agree with! The bike exudes the typical seventies style, the radiant S&S engine as the centerpiece, the pearl white paintjob with the funny cartoon, the Springer fork and high exhausts. When you see the Captain Larry standing like this, you expect Peter Fonda and Indian Larry to be talking next to the chopper any moment. It is certainly an ode to Indian Larry, the New York custom bike builder would undoubtedly have been very proud of it!
You can see Captain Larry extensively with your own eyes at various shows and fairs.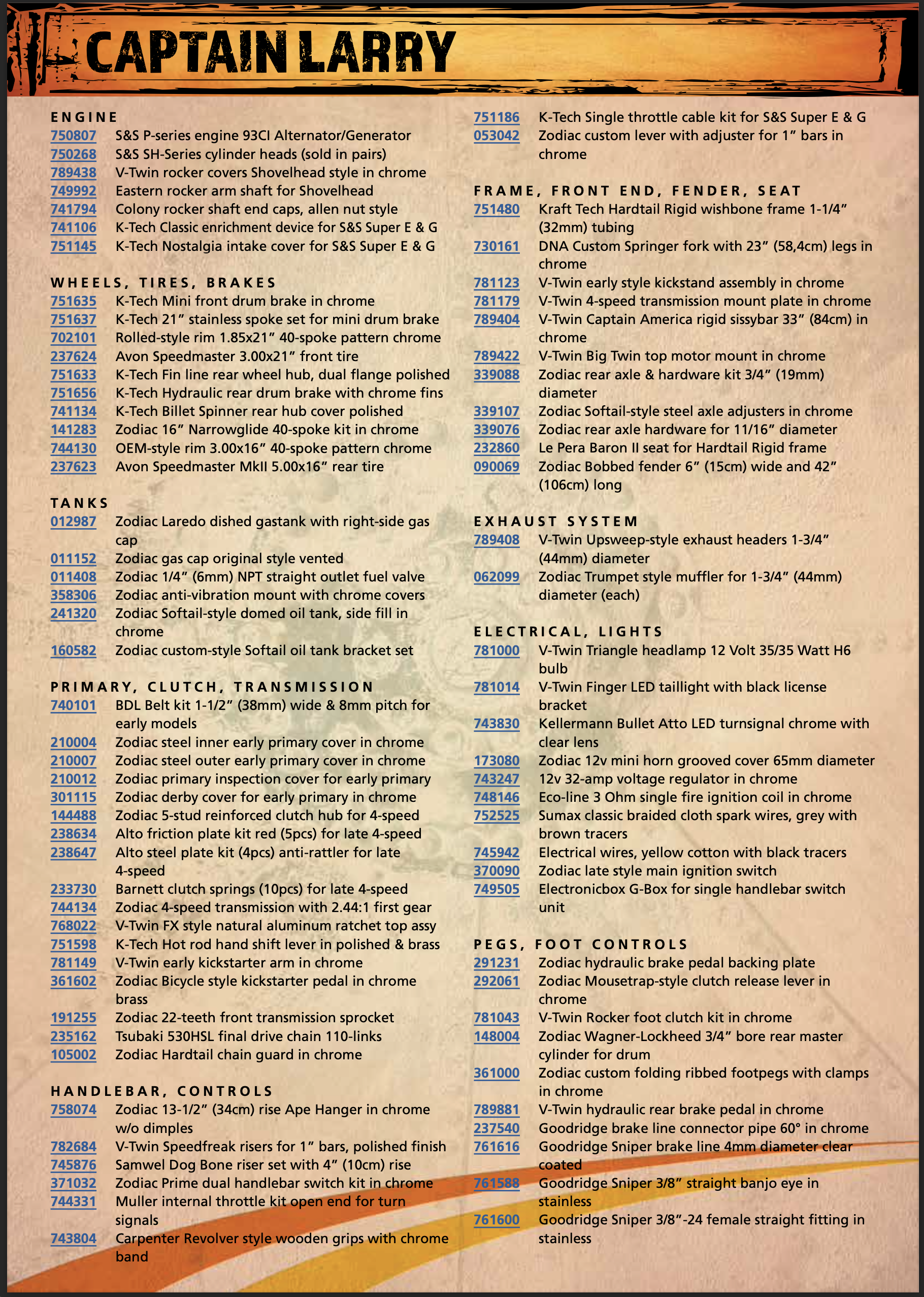 Text & photography: Onno "Berserk" Wieringa – madnessphotography.nl