We are excited to bring the reveal of the Harley-Davidson Street motorcycle to the United States. Please see the attached press release about our exciting announcement in conjunction with the Winter X Games.
The official video from ESPN will post later tonight after its airing on TV. In the meantime, we have a teaser here: http://youtu.be/rfoVQq_9TWQ.
We are planning for the launch of Street motorcycles later this year for the United States. We are also excited to announce in conjunction with this reveal of Street at the Winter X Games, the Street motorcycle will start to be on display at the remaining International Motorcycle Shows this year: Phoenix, Cleveland, Chicago and Seattle.
NEW HARLEY-DAVIDSON STREET™ TAKES CENTER ICE AT X GAMES ASPEN
Dark Custom™ Bike Poised to Star at ESPN's Flagship Action Sports Event
ASPEN, Colo. (Jan. 23, 2014) – The world's hottest new motorcycle hits the ice today at X Games Aspen. Harley-Davidson – one of the newest X Games sponsors – is teaming with ESPN to feature motorcycle ice racing as an X Games Aspen exhibition sport. Following Harley-Davidson's customer-centric approach, fans will help decide if the sport is extreme enough for future X Games winter events via social media.
Taking center ice for the exhibition is the all-new Harley-Davidson Street™ 750 – the first all-new motorcycle platform from the company in 13 years. The new motorcycle will be available in dealerships nationwide later this year.
"While the Street was designed to handle urban environments, its instant throttle response, lean chassis and super-low seat height make it perfect to ride anywhere," said Dino Bernacchi, Director of North American Marketing Communications, Harley-Davidson Motor Company. "We modified several Street motorcycles by adding steel screws to the tires and let the world's best flat track racers tear up the ice at high speeds. We think fans will be captivated by the extreme attitude and beauty they'll see on the ice."
The Street 750 from Harley-Davidson features the all-new liquid-cooled Revolution X™ engine, designed to match the demands of stop-and-go traffic. The new engine is housed in a narrow and lean chassis built for agility, with a new suspension and a broad handlebar sweep that provides confidence and maneuverability when managing tight turns and fast moves. It also has a premium, minimalist style that serves as a blank canvas for riders to customize.
Fans to Decide if Sport will Stick
Harley-Davidson will showcase the ice racing exhibition during ESPN's X Games Aspen today,  Jan. 23.  Fans will influence whether the sport comes to future X Games winter events by sharing their comments via the Twitter hashtag #XGIceRace. ESPN will share comments from fans during the last day of the games. Learn more at www.darkcustom.com/iceracing.
The exhibition race will feature Harley-Davidson Factory Flat Track Team rider Brad Baker, the reigning AMA Pro Grand National champion, AMA Pro star Jared Mees, winner of the 2012 AMA Pro Grand National Championship, and his wife and fellow AMA Pro flat track racer Nichole Mees.
"The attitude and capabilities of the Street were influenced by thousands of young adults in cities around the world," added Bernacchi. "So while we think ice racing is hardcore, it's only fitting that Harley-Davidson is having extreme sports fans around the world help decide the X Games fate of the sport."
Winter X-Games Harley-Davidson Ice Racing / Page 2
Motorcycle Racing on Ice
While it's difficult to pin down when and where someone had the idea of putting a motorcycle on ice, the first records of ice racing date from Sweden in 1924. Today, ice racing is primarily on quarter-mile, half-mile and road course tracks setup on frozen lakes or indoor arenas. 
The sport usually is divided into classes for full-rubber and studded tires with speeds regularly approaching 80 miles per hour on straightaways and 60 miles per hour in the turns.
"Harley-Davidson has been pioneering action sports before they were even defined as action sports," added Bernacchi.  "In fact, archive photos in the Harley-Davidson Museum show enthusiasts racing on frozen lakes almost a century ago, so it's exciting to see us back racing on ice with a new generation of riders on the newest addition to the Dark Custom motorcycle lineup."
For more information about the Harley-Davidson Street™ 750 visit www.h-d.com/street.
About Harley-Davidson Motor Company
Harley-Davidson Motor Company produces custom, cruiser and touring motorcycles and offers a complete line of Harley-Davidson motorcycle parts, accessories, riding gear and apparel, and general merchandise. For more information, visit Harley-Davidson's website at www.h-d.com.
For Further Information
Contact: Jen Hoyer 414-343-7092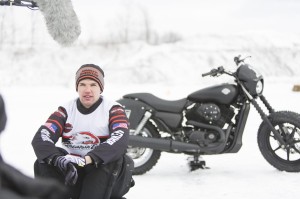 jennifer.hoyer@harley-davidson.com
Contact: Mike Roach 414-581-0385
 mike.roach@harley-davidson.com