Milwaukee Will Host a Bigger, Better Biker Bash with Music and Special Events 
MILWAUKEE (May 12, 2021) – The biker bash of the season is back and bigger than ever. Harley-Davidson has announced plans for the all-new Hometown Rally, a Labor Day weekend celebration of moto-culture centered in Milwaukee, the city where it all began for the Motor Company. The
Harley-Davidson Museum
 will serve as a central rally point Sept. 2-6, 2021, for events taking place at that downtown site and at six surrounding Harley-Davidson® dealerships.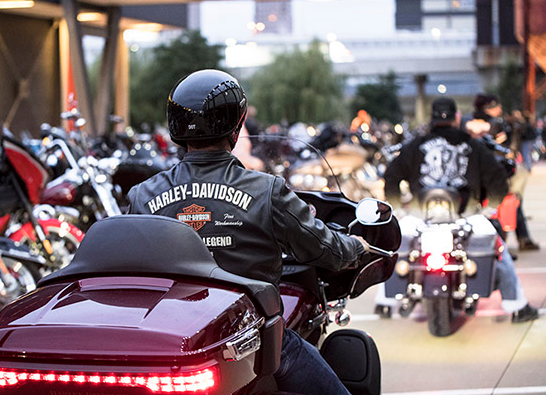 "The Hometown Rally is an event no Harley-Davidson fan will want to miss," said Jochen Zeitz, chairman, president and CEO, Harley-Davidson. "It will be a celebration of all things Harley, a chance to re-connect with other riders who share the desire for adventure, freedom and community that is the real heart of the Harley-Davidson experience."
Throughout the Hometown Rally weekend, the 20-acre campus of the Harley-Davidson Museum will host the party of the summer, with free live concerts on three consecutive nights, food-and-beverage sites, stunt exhibitions and skills demonstrations, 2021 Harley-Davidson® motorcycle demos, and motorcycle showcases hosted by Born Free and V-Twin Visionary. The Museum will be open for general admission during the event.
The Museum will also host a H.O.G.® member Check-In, and there will be a H.O.G. member Check-In at each of the six participating Harley-Davidson dealerships in the area. Event H.O.G.® merchandise will also be available.
Milwaukee-area Harley-Davidson dealerships will also be hosting Hometown Rally events and entertainment. Those dealerships include House of Harley-Davidson (Greenfield), Milwaukee Harley-Davidson (Milwaukee), Suburban Motors Harley-Davidson (Thiensville), Uke's Harley-Davidson (Kenosha), West Bend Harley-Davidson (West Bend) and Wisconsin Harley-Davidson (Oconomowoc).
Hometown Rally details and schedules will be finalized and revealed throughout the summer. Check for updates at 
www.H-D.com/hometownrally
, 
where links to dealer sites for specific info on those schedules and events will also be posted.
Harley-Davidson relies on local health guidelines to inform our participation and protect our staff, our riders and our communities.
About Harley-Davidson 
Harley-Davidson, Inc. is the parent company of Harley-Davidson Motor Company and Harley-Davidson Financial Services. Our vision: 
Building our legend and leading our industry through innovation, evolution and emotion.
 Our mission: 
More than building machines, we stand for the timeless pursuit of adventure. Freedom for the soul. 
Since 1903, Harley-Davidson has defined motorcycle culture with an expanding range of leading-edge, distinctive and customizable motorcycles in addition to riding experiences and exceptional motorcycle accessories, riding gear and apparel. Harley-Davidson Financial Services provides financing, insurance and other programs to help get Harley-Davidson riders on the road. Learn more at 
www.harley-davidson.com
.