Story and photos by Marilyn Stemp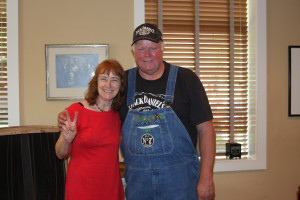 The Jack Daniel's Distillery, tucked away in the tiny town of Lynchburg, Tennessee within a dry county, is a pleasant motorcycle ride from a handful of large metro areas via open, rolling two-laners. And as much as some might say that whiskey and motorcycles don't mix, whiskey drinkers and bikers are indeed likeminded types. And with motorcyclists always eager for a place to ride, it's a fact that the Jack Daniel's Homeplace and Visitors Center has become a magnet for riders.
"The relationship is just naturally there," said Steve May, Director of Lynchburg Homeplace and a life long motorcyclist. "Riders look for a destination and the Homeplace is a great day ride from Nashville, Chattanooga, Atlanta or Huntsville. We're blessed to be centrally located."
That theme of common affinity resonates strongly at the distillery, too. Bikeriders were evident not only in the visitor's parking lot but among the staff as well, some of whom willingly listed common traits they recognized among proponents of premium Tennessee Whiskey (don't call it bourbon!) and motorcycle riders: independence, spiritedness, authenticity, and a bent toward personal expression, to name a few. I'm inclined to believe that Jack Daniel (the man) would agree—and be proud.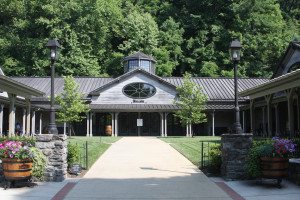 Orphaned as a teen, young Jasper "Jack" Daniel first learned the art of making moonshine from the preacher who took him in, and though Jack was diminutive in stature his impact in the world of spirits still looms large. Set amid lush leafy surroundings on manicured grounds, the original buildings Jack constructed for his business in 1875 persist, side by side with structures built over the years to house an ever-growing enterprise. Tour guide Jesse James (yes, that's his real name and yes, he rides) took us through brick buildings labeled with signs that indicate their purpose (Still House, Mellowing, Bottling.) But we also learned that the practical magic of Tennessee Whiskey happens mostly in the wood and tin barrelhouses. (See sidebar.)
Speaking of Barrels, Barrelman Kevin Sanders rides a 2012 Ultra Classic and is currently having his new Indian customized at Klock Werks. Groundskeeper Mark Hatch commutes daily via motorcycle year round. As a man who spends plenty of time outdoors, Mark says he appreciates the sense of freedom riding provides. "You learn a lot when you ride every day," said Mark. Having ridden together to Sturgis with Steve May and Director of National Sponsorships Dave Stang, these riders have discovered what many have; bonds formed on the road transcend job titles or points of view. Motorcycles are the common denominator that matters.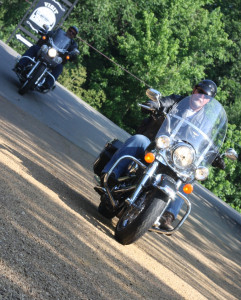 Several annual rides such as the Trail of Tears come near Lynchburg and it's not uncommon for international motorcycle touring companies to put a stop in Lynchburg on their itineraries. The distillery is quite closely connected to the town of Lynchburg, sponsoring bike events in the town square and operating several shops there year round.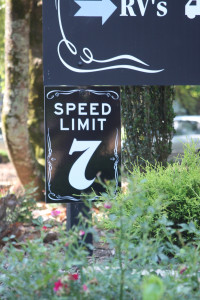 The visitors center runs dozens of free tours every week; a longer tasting tour is offered for $10. "It's important," said Steve. "We get to spend an hour with our customers to explain our product and what makes it different." Yes, making solid relationships just comes naturally at Jack Daniel's.
From the tour guides and rickers, to the tasters, barrelmen and master distillers: the people who work at Jack Daniel's clearly like their jobs, reveling in the company's history and proud of a product that is 100% American made. Getting a bottle of Jack Daniel's with their paycheck once a month doesn't hurt, either. Finding fellow riders at work? That's Tennessee Honey on the cake.
Whiskey Making, the Jack Daniel's Way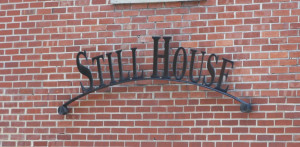 The popularity and visibility of Jack Daniel's Tennessee Whiskey has turned a small southern town into an international destination. Production at the distillery has been interrupted by state and federal laws, along with wars and prohibition through the years. But today, just as in early times, everything needed to produce Jack Daniel's is handled on site in Lynchburg.
It starts with the charcoal, so pivotal to the process, which comes from burning stacks (or ricks) of local sugar maple, using the distillery's own whiskey as the propellant. The charcoal is then ground fine in silos. It's the charcoal filtering, a procedure known as the Lincoln County Process among master distillers, that distinguishes Tennessee Whiskey from bourbon.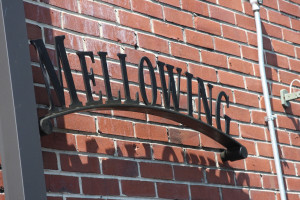 Charcoal is the best-known natural filter.
The liquid that filters through the charcoal is distilled from a recipe of 80% corn, 12% barley and 8% rye. Five gallons of sour mash, as it's called, produce one gallon of distilled liquor. What happens to the leftover mash? It's used as cattle feed; they say the happiest cows on the planet live in this part of Tennessee.
Once distilled, the liquor slowly drips through 10 feet of charcoal—this is called mellowing—taking several days. (Spent charcoal is recycled into smoking pellets.) The clear liquid then goes into specially built Barrels made by Jack Daniel's. In concert with the whims of Mother Nature, the Barrels are then stacked (or ricked) in barrelhouses and left to age.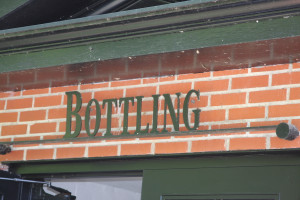 For how long? Well, as bikers know, age and maturity can be two very different things. Maturity is the goal here and the timing is dependent upon how warm the summers are; swelling the Barrels and drawing in the liquid—and how cold the winters get; contracting the Barrels' wooden pores and forcing the liquid out. This expansion and contraction, along with the secret preparation of the Barrels themselves, produces Jack's signature taste and warm color. Of course the Barrels, which are used only once, are recycled, too, going to several Scotch makers and to the company that produces Tabasco sauce.
If you're wondering why the word Barrel is capitalized as though it's a proper name, that's because, according to Barrelman Kevin Sanders, the Barrel is absolutely pivotal to the process. Each Barrel is built from seasoned American white oak using old world construction techniques, including no nails whose metal might taint flavor. "There's geometry and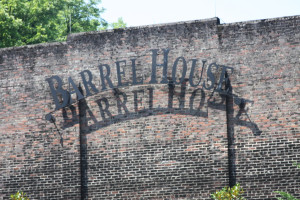 physics in a barrel," said Kevin. "And the secret is something no one sees because it's inside." The ratio of Barrel surface to liquid and the timing of the process are crucial to results, Kevin explained. Science? Yes. And a bit of serendipitous magic, too.
As an example of how the barreling can be manipulated, consider Jack's "Sinatra Select" whiskey. (Jack Daniel's was so much Frank Sinatra's favorite whiskey that he had his own personal sales rep for decades.) Special Barrel preparation for this product produces greater contact between the liquid and the oak, imparting a more robust taste. Kicking up the proof to 90 is another attribute. (Black Label is 80 proof.)
In addition to signature Black Label, the distillery also produces double-charcoal-mellowed Gentleman Jack. Recently the distillery has expanded offerings to include Tennessee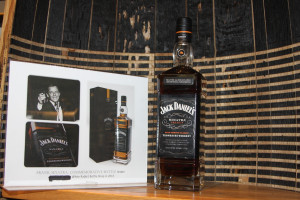 Honey and Rested Rye. Lucky people in a few states may find spicy Tennessee Fire available. For those of discriminating proclivities, the ultimate experience is Single Barrel, billed as "singular whiskey for singular customers." You can even buy an entire Barrel.
Visit the Jack Daniel's crew in Sturgis at their usual place on Lazelle Street. And if a ride takes you near Lynchburg, TN, stop in at the Homeplace. Friends will be waiting for you.
Fun Facts About Jack: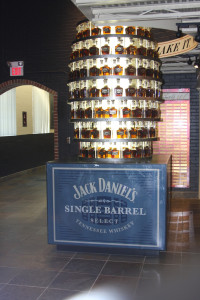 • The origin of the moniker "Old No. 7" remains a mystery.
• Jack Daniel's is made from all natural ingredients. It's health food!
• The distiller's number one customer is the U.S. Military.
• Frank Sinatra was buried with a small bottle of Jack Daniel's in his pocket.
• Barrelhouse placement is a science; exposure to temperature variation can alter the expansion and contraction of the Barrels.
• During Barrel aging, some liquid evaporates. This is called the angel's share.
• Jack Daniel's Tennessee Whiskey is bottled at its peak maturity, which is determined by taste, not age.
• Jack Daniel's employs a group of 25 to 30 tasters including professionals as well as regular folks. (No, they're not hiring at the moment, we checked.)
• We spotted several wild turkeys on the property during our tour. Industrial espionage?