PITTSBURGH, PA Wednesday May 13, 2020 – FOR IMMEDIATE RELEASE:
The Motorcycle Cannonball has been well documented with racers riding age old machines, dressed in full regalia from a time gone by. This year, however, this living breathing monument to motorcycling past moves years into the future with a new live broadcast: The Cannonball Chronicles. Stemming from an interview series started by Open Road Radio's Gina Woods, this new weekly program will primarily feature the trials, tribulations and stories of the race teams as they prepare for the upcoming Motorcycle Cannonball Race. Join host, Jason Sims, promoter of MCR, along with his co-host Rob Nussbaum, of Retrocycle as they deliver Cannonball news, talk about its history, and introduce us to the competitors. Going under the same name Gina Woods had for her interview series was just too good of a fit and you can expect that Open Road Radio will be working in concert as this show develops.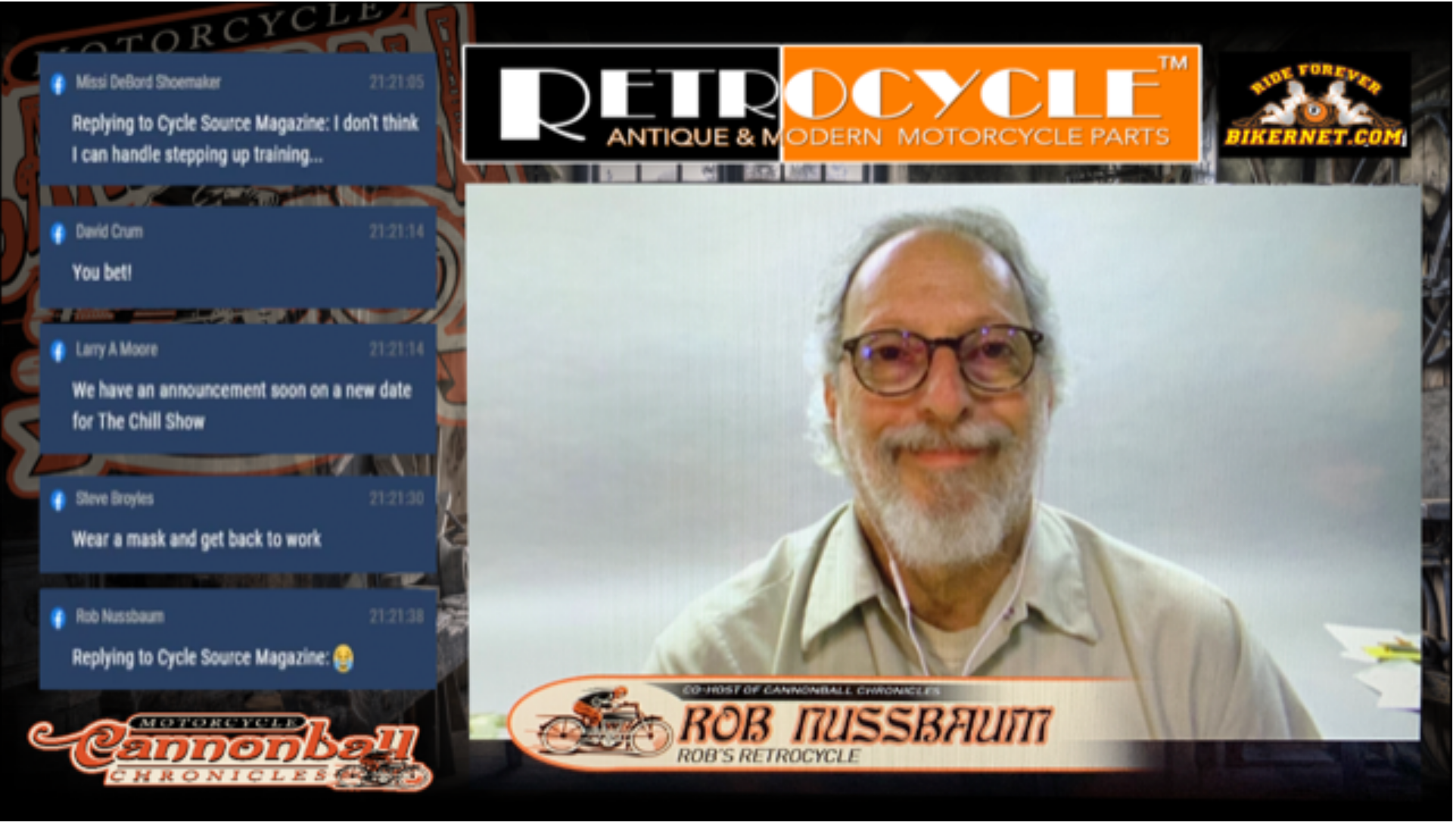 Additionally, each episode will feature the incredible work of renowned motorcycle photographer, Michael Lichter. Michael will feature one image per show that he captured during previous historic races and provide an in-depth description of who, what, when, where, and why before opening it to group discussion. You can participate in these discussions through the comment section of your favorite social media platform; Facebook, YouTube, Twitter, Twitch and Periscope. Motorcycle Cannonball, Retrocycle and Choppertown will also be carrying the feed so be sure to tune in on Wednesday nights at 9pm EST for the Cannonball Chronicles.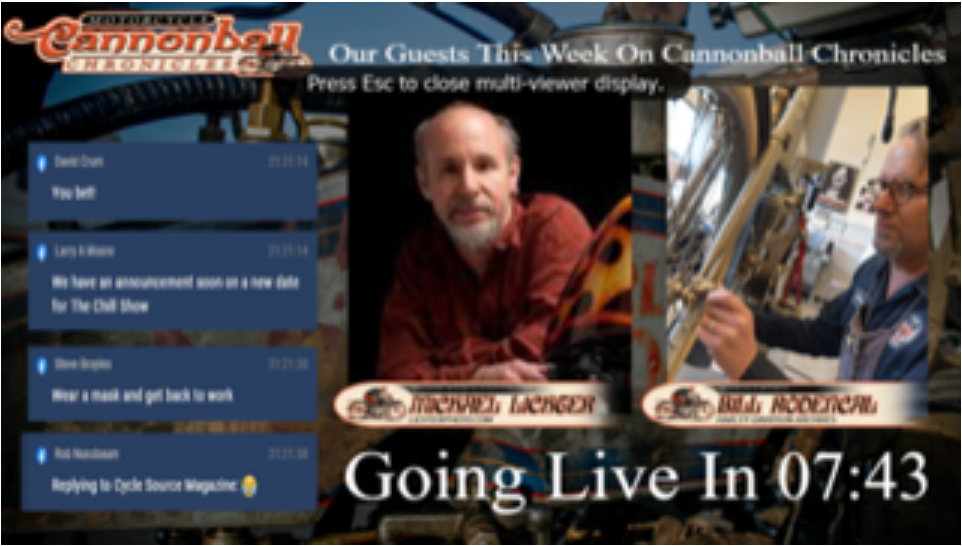 About Motorcycle Cannonball: The Motorcycle Cannonball is the most difficult antique endurance run in the world. That is an undisputed fact. And as proud as we are to say that, it must also be said that when the first run was being mapped out in 2009, that wasn't part of the grand scheme of things. When Cannonball founding father, Lonnie Isam, Jr., first started daydreaming about cruising America's back roads with his antique riding friends, there was no way he could have possibly imagined what his musings would eventually become. All Lonnie wanted to do was to see the scenic Americana landscape one mile at a time from the saddle of ancient iron with his riding buddies. His main objective was to motivate antique owners to break the stigma of sequestering collectible old relics to museums and the life of oversized dust catchers and to let the old machines spend their geriatric years living as they were intended: on the road. He felt the ancient motorcycles deserved to be tended and ridden. Our forefathers took a great deal of time and ingenuity to build these great machines and they should be respected for their abilities. He wanted to pay homage to the long distance pioneer, Erwin "Cannonball" Baker, and other historical figures that literally paved the way across the country in the early 1900s. His logic was that if the motorcycle greats could make those miles on the early machines, many with no roads whatsoever, certainly modern riders could do the same.
About Source Media Group: Since the invention of MySpace the folks at Cycle Source Magazine have quickly adapted each and every new media platform that comes along to better serve the motorcycle industry and the culture that surrounds it. Recently, they have rebranded the home Of Cycle Source which now includes several media platforms working in conjunction with it. The collection of them operates under The Source Media Group and includes: ShopTalk, BikeNite Live, Grease & Gears Garage, Grease & Gears TV, Grease & Gears Events, Cyber Show & Rally, Cyber Swap Meets and of course their mothership, Cycle Source Magazine. By using their network and tool kit for delivering motorcycle media they intend to expand on their offerings with new shows like Cannonball Chronicles that will find new partners with access to great content and aid them in the development of delivering that content to the motorcycle masses.
Chris Callen
Editor In Chief
Cycle Source Magazine
cyclesource69@comcast.net