MITCHELL, SD – August 30, 2019 – Just in time for the off-road season, Klock Werks announces the release of their first off-road only catalog. With an entire catalog dedicated to the off-road division, the patented UTV Flare™ Windshield and high quality Billet Aluminum accessories are showcased to perfection.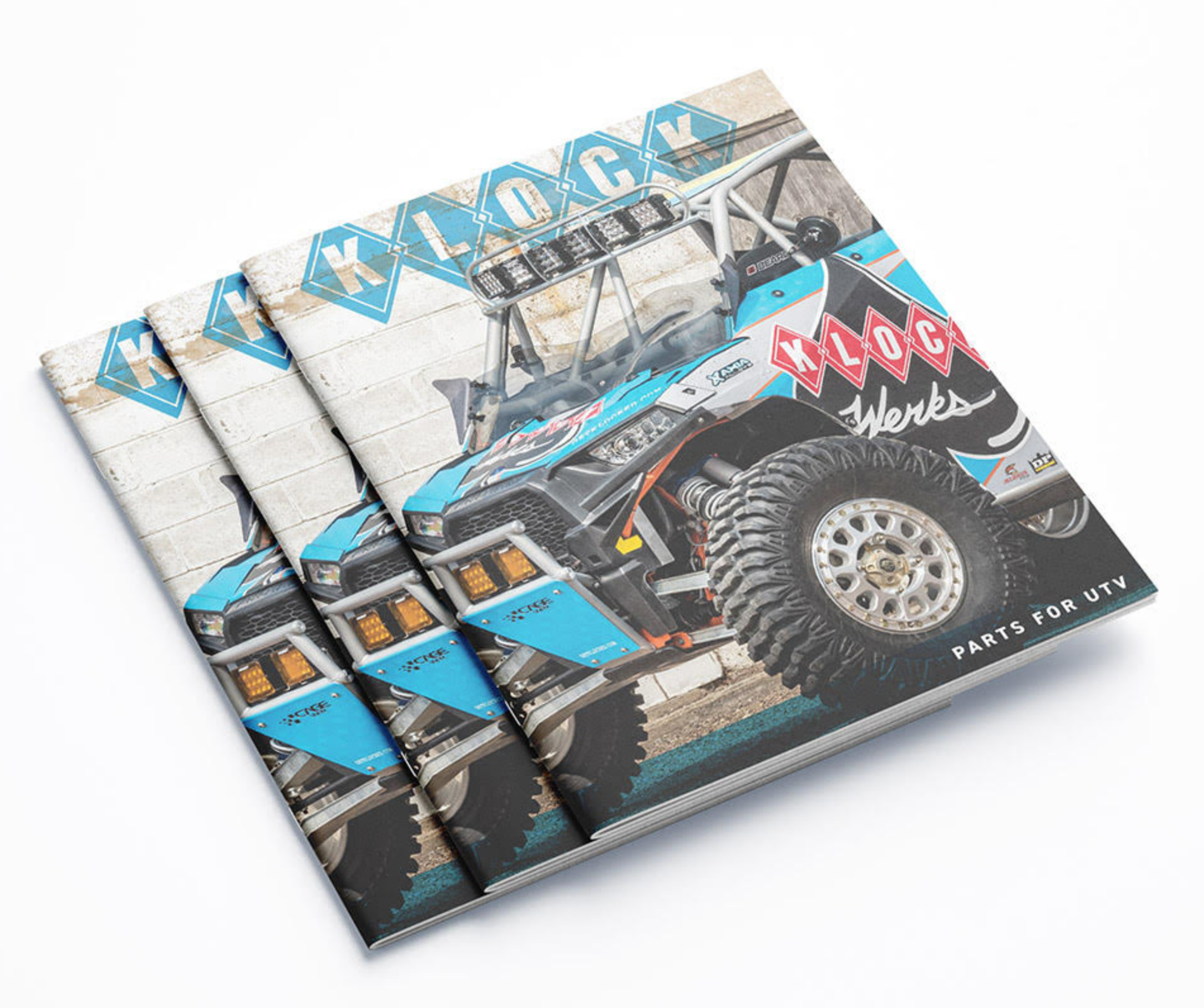 "We absolutely couldn't wait to release this catalog," said Dan Cheeseman, Vice-President and Head of the Off-Road Division at Klock Werks. "Riders and their dealers have been wanting -and looking- for ways to add a better experience to their off-road adventures. Now they can have it, and it'll even come from one of the most iconic brands in the powersports industry."
Klock Werks created their first UTV build, "The Ca$h Hole" back in 2017. People started seeing the car at events then inundated email inboxes wondering when more parts for their own builds would be available.
"Over the last few years we have steadily been growing our off-road division, and the products and accessories we offer are truly designed and built for a purpose." said Cheeseman "Until now we didn't have a tool to showcase just how great they really are. With this catalog, it's a game-changer."
The 28-page full-color catalog features each of the part families Klock Werks offers for off-road: UTV Flare™ Windshields, Billet Aluminum Accessories, Device Mounts, Kleaning Products, and more.
"One of our favorite features in the catalog is the amount of photography from our very own customers as well as industry peers," Cheeseman shares. "We are always amazed at how many people are actually using our products. Scrolling through our hashtag (#getklocked) is humbling. The diversity happening with our parts across the country and around the world is incredible."
Printed copies of the catalog are available upon request at www.getklocked.com, and will be shipped out immediately.
Klock Werks
Located in Mitchell, South Dakota, Klock Werks has grown from humble beginnings to a globally recognized brand. Achieving status as "Air Management Experts", Klock Werks credits this to the success of the original, patented, Flare™ Windshield. Also supplying fenders, handlebars, and other motorcycle parts, Klock Werks proudly leads the industry through innovation in design and quality of materials and fitment. Team Klock Werks has been successful for years designing parts, creating custom motorcycles, and setting records on the Bonneville Salt Flats. You will find motorcycles, family, and faith at the core of Klock Werks, along with a commitment to caring for the needs of enthusiasts around the world who enjoy their products. www.getklocked.com