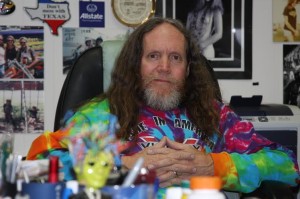 Keeping up with Rick,
Reader of IronWorks in the past will recall Rick Fairless's regular column in that magazine. Approachable and entertaining, Rick's articles always brought response.
As this stream of recent messages shows, they still do, even after IronWorks has ended and Rick has moved on.
Rick,
I was just going through some old mags trying to forget about all this damn snow we've had in NYC this winter and I saw your introductory column. It reminded what I like about you…that and the tie-dye of course. Hopefully you'll find another mag to write for. In the meantime I'll keep going through old mags trying to remember what warm weather was like.
Ed Gruber
Hey Ed, thanks for the kind words. Sorry about the snow, we are in the 70's for Friday & Saturday. I actually just started writing for American Iron's MOTORCYCLE BAGGER magazine. They said my first issue hits the news stands May 20. I hope you like that magazine too. On behalf of my pal Marilyn Stemp & myself I want to thank you for taking the time to read IronWorks magazine. Come visit me in Dallas sometime. 
Thanks for the email Ed.
RF
I'll definitely be on the lookout for that issue. Been out of work for 2 1/2 years so no road trips in my future. Had to sell both bikes and my car to stay indoors. I believe that this is the year the Lord "will restore what the locust has eaten" so another bike will hopefully be in my future. I always wanted to ride through Texas. When I do I'll stop in at the Fairless Estate for a cold beverage and some new tie-dye. My wife finally got me to throw out my last shirt because of the Swiss cheese look it had acquired. I thought it added character but she thought it made me look homeless. Happy wife happy life won that battle. May God bless and prosper you brother.

Ed
Good luck to you Ed & I hope you get back on your feet soon!
Cya Ed.
RF
Rick Fairless
Strokers Dallas