Brandon Price wins the battle, Kolby Carlile wins the war to take first AFT Singles title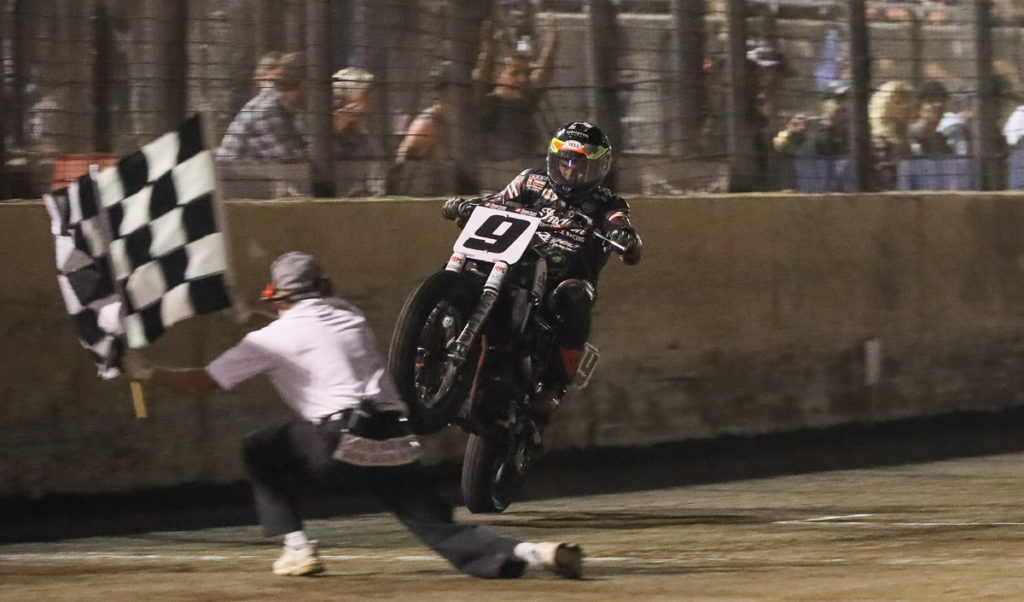 PERRIS, Calif. (October 7, 2017)
– Grand National Champion
Jared Mees
put an exclamation point on his epic 2017 American Flat Track season with one last flawless performance at the Cycle Gear American Flat Track Finals presented by Indian Motorcycle.
In an AFT Twins presented by Vance & Hines Main Event that perfectly encapsulated the season as a whole, Mees once again made it apparent that he was simply in a class of his own. With a packed house at the SoCal State Fair cheering him on, Mees put the No. 9 Indian Motorcycle Rogers Racing Scout FTR750 at the front from the start and relentlessly built up an unassailable advantage from there.
Before easing up late as he sailed toward victory around the Perris Auto Speedway's clay Half-Mile, Mees had assembled more than three seconds of padding while the remainder of his would-be rivals waged battle over second in a freight train that stretched 10 riders deep.
The final numbers confirm that Mees' 2017 campaign was of historic excellence. His season finale win saw Mees establish the new single-season podium record, surpassing the previous mark held jointly by American Flat Track icons Scott Parker and Ricky Graham. Mees ended the year with 17 top threes in 18 attempts, but perhaps even more impressive than the sheer number was the manner in which those podiums were tallied; 10 came as victories, six were runner-ups, and just one was a third.
"I just had a phenomenal night," Mees said. "The Indian Motorcycle Scout was really good, like it's been all year long. It was a solid day to end a solid, solid year. I don't know what else to say — it's fantastic… It was a record-breaking, career year for me. I'm happy to have the Indian Motorcycle guys on my side.
"I've got to thank my whole team. We opened the season with a win at Daytona and closed the year with a win here. I've got to give it all to the whole Indian Motorcycle team."
As Mees said, he was in fact joined in his celebration of domination by Indian Motorcycle. The Indian Wrecking Crew combined to earn 14 of 18 wins and locked down six podium sweeps.
The four victories beyond Mees' 10 were obtained by 2017 championship-runner up Bryan Smith (No. 1 Indian Motorcycle Racing backed by Allstate Scout FTR750). Additionally, Brad Baker (No. 6 Indian Motorcycle Racing backed by Allstate Scout FTR750) held on to third place in the title fight to sweep the championship top three for Indian despite Baker missing the final two rounds due to injury.
Jeffrey Carver Jr. (No. 23 Ben Evan's Racing/Carver's BBQ Harley-Davidson XR750) completed his storming late-season charge with an impressive second-place finish on Saturday night. Carver took full advantage when Briar Bauman (No. 14 Zanotti Racing Kawasaki Ninja 650) attempted to overtake Johnny Lewis (No. 10 Team Nila/John Wise Indian Scout FTR750) for the second deep into the race. Both Bauman and Lewis lost momentum as a result of their clash, and Carver was perfectly positioned to pick up the pieces.
Once through, Carver quickly separated from the pack and actually made up significant ground on the cruising Mees. That result ultimately allowed him to also edge Bauman for the final spot in the championship top five.
After the race, Carver said, "My XR750 was working great. It's great to be up here again and chase down the champ like that. We had a really good battle out there. It was really intense for me and Briar because we were only one point apart. We both knew we had to beat each other to get up into the top five. It feels amazing to get my first top five in the championship. We'll roll on with a lot of good momentum for next year."
The final spot on the box wasn't decided until the final corner of the final lap of the final race of the year. On an evening in which fellow superstar road racers Toni Elias and Hayden Gillim made their presence felt on the undercard, JD Beach (No. 95 G&G Racing/Rickdiculous Racing/Team95 Yamaha FZ-07) shone the brightest of the trio.
Beach executed a last-gasp strike on Stevie Bonsey (No. 80 CR Motorsports Harley-Davidson XR750) to steal away third as the two took the checkered flag.
Beach said, "I screwed up my start. I started in second. I took off and got nervous and shifted down to first and then back up to third. I was all over the place. Still, I was running in sixth and thought that wasn't too bad for my first national in a while. Then the guys got to battling, and I was fifth and then I was fourth, and Bonsey was right there in the last turn for third. I felt bad, but the door was open and I just had to go for it."
Although Bonsey came just shy of the podium, it was a good result for the Californian who made his big return to American Flat Track after being sidelined for nearly a year and a half with injury.
Sammy Halbert (No. 69 Estenson Racing Yamaha FZ-07) finished fifth to score his 12th top five of the year and secure his fourth-ranked standing in the championship.
AFT Singles
Similar to Mees in AFT Twins action, Kolby Carlile (No. 36 Estenson Racing Yamaha YZ450F) came through with a performance that neatly summed up his season as a whole.
Reliably fast, supremely consistent, and clutch to the end, Carlile notched up an eighth podium finish of 2017 in the season finale to put the finishing touches on his successful 2017 AFT Singles championship bid.
Despite coming into the finale with a healthy points lead, Carlile took a bit of a chance by wheeling out an all-new 2018 Yamaha YZ450F for the event. He promptly guided it to a maiden third-place result and then dressed it with a new number one plate.
While Carlile came up a bit short in his efforts to take the checkered flag in any of the AFT Singles Main Events this season, he won the ultimate prize that he and all of his rivals chased after all year long.
"This isn't going to sink in for a while," an emotional Carlile said. "This is really special. Other riders have won the championship without winning a race in the past too, and the cards didn't come up right for me to get a win this year. But I'm going to win next year, that's for sure."
The race itself went to Brandon Price (No. 92 Brandon Price Racing backed by Parkinson Brother's Racing/DPC Racing/Don's Kawasaki Honda CRF450R). Price suffered off the stripe but kept his head and systematically worked his way up through the field. With just a few laps remaining, Price finally overtook a motivated Ben Lowe (No. 20 Bruce Lowe Excavating Honda CRF450R) for the lead.
Price proved untouchable once in first and locked down his third victory of the season. That moved him ahead of Saturday fifth-place finisher Shayna Texter (No. 52 Richie Morris Racing Honda CRF450R) to end the season as the AFT Singles championship runner-up.
Price said, "It was a crazy race. I came off the line like sixth and really had to work for it. Every couple laps I'd pick up somebody and make a pass. I rode a smart, clean race."
As part of American Flat Track's television broadcast package with NBCSN, the cable network will air the Cycle Gear American Flat Track Finals presented by Indian Motorcycle on Thursday, October 12, at 10:00 p.m. ET. The one-hour show will feature flag-to-flag coverage of both Main Events along with exclusive features giving fans a behind-the-scenes window into the sport. To check out the complete NBCSN schedule, please visit http://americanflattrack.com/events-nbcsn.
Next Up:
American Flat Track kicks off at the DAYTONA International Speedway during Bike Week for the second annual DAYTONA TT on Thursday, March 15, 2018. Following the sport's hugely successful debut event inside the world's only motorsports stadium this past March, American Flat Track will be back under the lights in 2018. To purchase tickets go to the Daytona International Speedway's website http://www.daytonainternationalspeedway.com or by calling 1-800-PITSHOP
Fans can keep up-to-date with American Flat Track on Facebook (@American Flat Track), Twitter (@AmericanFlatTrk) and Instagram (@AmericanFlatTrack). AFT mobile apps are available for iPhone on the App Store and for Android at Google Play. For more information, please visit http://www.americanflattrack.com.
Awards Update:
AFT Singles
McElroy Packaging Lucky 7 – #20 Ben Lowe
Motul Move of the Race – #92 Brandon Price
AFT Twins presented by Vance & Hines
Öhlins Fastest Lap  — #23 Jeffrey Carver, Jr.
McElroy Packaging Lucky 7 – #9 Jared Mees
How to Watch:
NBCSN
and
FansChoice.tv
are the official homes for coverage of American Flat Track events. All 18 rounds, from the season-opening Harley-Davidson DAYTONA TT to the American Flat Track Finals in Southern California, will air in one-hour primetime telecasts throughout the summer and fall on NBCSN. FansChoice.tv remains a cornerstone of AFT's digital strategy and provides live streaming coverage of every event.
About American Flat Track:
American Flat Track is the world's premier dirt track motorcycle racing series and one of the longest-running championships in the history of motorsports. Sanctioned by AMA Pro Racing in Daytona Beach, Fla., the series is highly regarded as the most competitive form of dirt track motorcycle racing on the globe. For more information on American Flat Track, please visit http://www.americanflattrack.com, like us on Facebook, follow us on Twitter, check us out on Instagram, live stream the events at FansChoice.tv and catch all the American Flat Track racing action on NBCSN.