America's Original Motorcycle Brand Announces Retail Flagship in Springfield, Opening Q3 2018
SPRINGFIELD, MA (March 15, 2018) – Indian Motorcycle, the Springfield-born pioneers of the American motorcycle industry, will debut the brand's first-ever apparel store as an anchor tenant of MGM Springfield's retail collection. The flagship location will open its doors at the highly anticipated MGM Resorts International property in Q3 2018.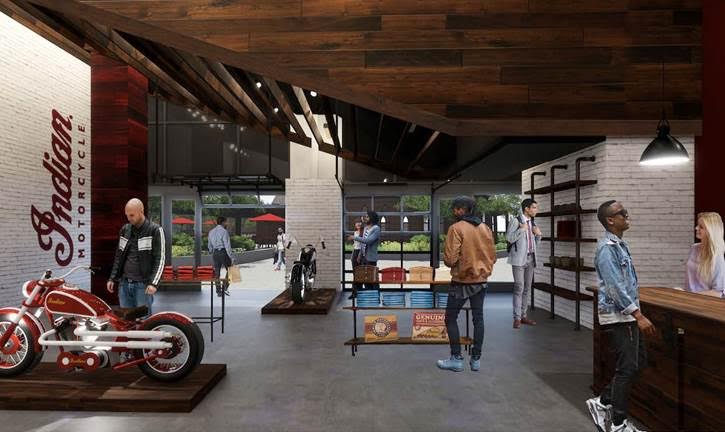 The Indian Motorcycle store will offer items from the brand's casual apparel line, the Indian Motorcycle 1901 Fashion Collection. This road-ready collection features graphic tees, sweatshirts, hoodies and jackets inspired by Indian Motorcycle's rich heritage. Indian Motorcycle jewelry and accessories also will be available for purchase.
Mirroring the aesthetic of the store's product lines, the space will feature an industrial-yet-modern vibe with exposed, vaulted ceilings and concrete and wood elements.
Revered worldwide as America's first motorcycle company, the legendary brand originated in Springfield, Mass. in 1901. Paying homage to its long-standing roots in the heart of Springfield, the location will open onto to the resort's highly anticipated plaza.
"Our partnership with Indian Motorcycle reinforces the iconic brand's deep connection to Springfield and celebrates the city's industrial history," said Michael Mathis, president of MGM Springfield. "This store will be an integral part of the fun, one-of-a-kind experiences we're creating at MGM Springfield."
Steve Menneto, president of Indian Motorcycle Company, said, "Indian's legacy as America's first motorcycle company is something that's extremely important to us, and it's exciting to return the brand to its roots in Springfield with the opening of our first apparel store. We are proud to be a part of this dynamic new MGM Resorts property and look forward to the grand opening festivities."
Former bicycle racers and co-founders George M. Hendee and Oscar Hedstrom invented the first engine-powered motorbikes running on then-revolutionary chain drives. Developed in the original Worthington Street factory in Downtown Springfield, the first model proved to be an immediate success for the fledgling company, fueling dramatic growth and rapid innovation in engineering and design. Indian Motorcycle refined and manufactured subsequent generations of motorcycles in Springfield at the expanded Wilbraham Street plant until 1953.
In the coming months, MGM Springfield will unveil additional retail partnerships and property details. For more information, visit mgmspringfield.com.
 About MGM Springfield
MGM Springfield covers three city blocks in the heart of downtown Springfield, Mass. Igniting a cultural and economic renaissance in a historic New England city, the approximately 2 million square-foot development, which combines new construction with revived historic buildings, will offer more than 125,000 square feet of gaming space, a 250-room boutique hotel on Main Street and superior spa services, inspired dining and diverse retail. MGM Springfield also will feature a luxury cinema, high-energy bowling complex, a seasonal skating rink and outdoor marketplace displaying local art, events and talent. MGM Springfield is scheduled to open in Q3 2018. For additional information, please visit mgmspringfield.com.
 About MGM Resorts International
MGM Resorts International (NYSE: MGM) is an S&P 500® global entertainment company with national and international locations featuring best-in-class hotels and casinos, state-of-the-art meetings and conference spaces, incredible live and theatrical entertainment experiences, and an extensive array of restaurant, nightlife and retail offerings. MGM Resorts creates immersive, iconic experiences through its suite of Las Vegas-inspired brands. The MGM Resorts portfolio encompasses 28 unique hotel offerings including some of the most recognizable resort brands in the industry. Expanding throughout the U.S. and around the world, the company in 2018 opened MGM COTAI in Macau and the first Bellagio-branded hotel in Shanghai. It also is developing MGM Springfield in Massachusetts. The 78,000 global employees of MGM Resorts are proud of their company for being recognized as one of FORTUNE® Magazine's World's Most Admired Companies®. For more information visit us at mgmresorts.com.