Freedom Celebration Day at the Buffalo Chip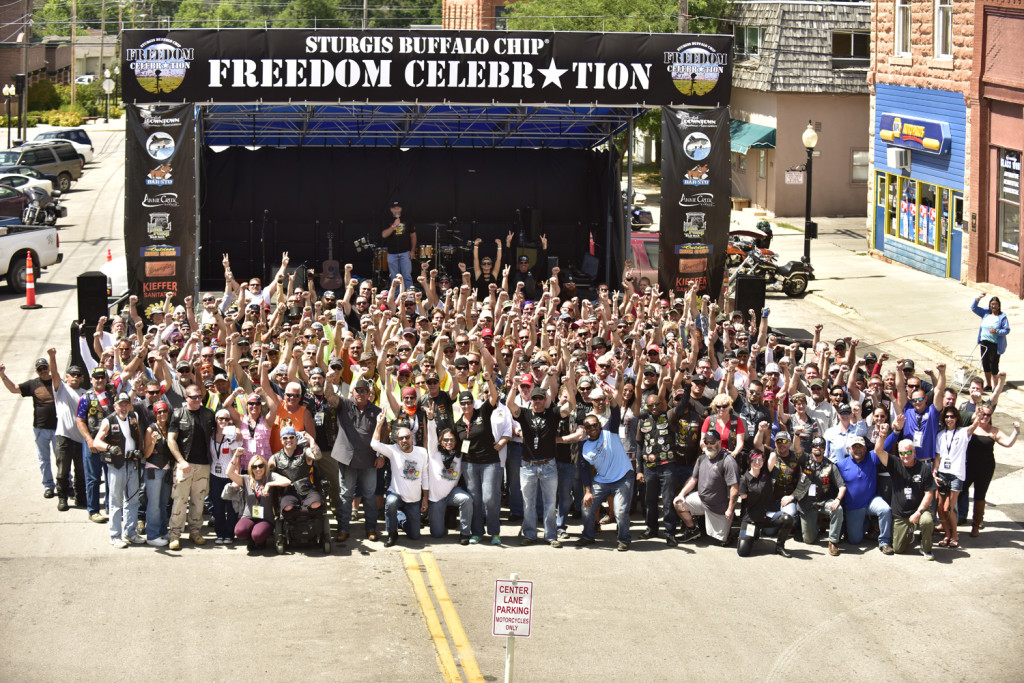 It just keeps getting better
Inspired by American sports icon Yogi Berra, as I reflect on the 2015 Sturgis rally I'm compelled to say: It's déjà vu all over again. That's because just like last year, the best day of the rally for me was the day of the Freedom Celebration at the Buffalo Chip. And I say this even though it was the Rally's 75th anniversary, with hype and frenzy at levels barely imagined in recent years.
Even if traffic control in Sturgis had been more effective, none of us could maneuver through the snarls to get to everything you wanted to see this year. Attendance didn't surpass a million people as predicted, but any town of 6,600 people would be challenged by half that many visitors – and Sturgis was. That was all the more reason to join one of the planned signature rides because such rides have enough status and presence to keep moving, traffic or not.
The Freedom Celebration Ride from Spearfish to the Chip is one of these hallmark events that stops traffic, all the more impressive because 2015 was only its second year. But the actual Freedom Celebration event at the Chip precedes the Ride by several decades making it the longest running military appreciation associated with the Sturgis rally and, not coincidentally, the most evocative.
Why? Well, it's partly about spectacle, partly about honoring service, but mostly about showing respect. Spectacle starts with the Chip's giant flag beckoning riders to roll into the Crossroads where the fields of flags – hundreds of them, placed by Chip employees and friends on 4th of July weekend – stirs the patriotic soul. A closer look reveals the backdrop of the American Veterans Traveling Tribute Wall. The bar was raised quite literally this year by the formation of a giant montage of an eagle in flight, created by a thousand riders and motorcycles. It was placed beside the field of flags and photographed from a helicopter by artist John Quigley. (video at https://www.facebook.com/IronTraderNews).
Honoring the service of U.S. military personnel was evident at the compound of military charity organizations gathered at the CrossRoads, tended by the likes of Debbie Lee and Jason Redman, and in the presentation of the Bob Hansen Distinguished Service Awards on the Chip's main stage. This year's recipients – Mary Dague, Thomas Drago Dzieran, John R. Rapp, Tyler Southern and Mike Ritland – rode into the amphitheatre on the Budweiser Clydesdale-drawn wagon, a can't-miss pageant.
But the pivotal part of the Buffalo Chip's Freedom Celebration is the attitude of utmost and gracious respect, something I can't explain here but palpable energy you feel if you're there.
So if you haven't participated in the Freedom Celebration day or Ride in the past, put it on your Sturgis calendar for 2016. You won't regret it. Because like the bits and pieces we add to our motorcycles to enhance the ride, when more of us gather to honor those who serve the resulting spirit is bigger, way bigger, than the sum of the parts.
Photos compliments of the Sturgis Buffalo Chip