If there is one thing I enjoy about writing & reviewing products, it's the opportunity afforded to me to try out products and report the results back to you, our biker audience. In this case, HARLEY-DAVIDSON FOOTWEAR sent me 3 pairs of boots many months ago. I decided to do this post based on wearing each pair at lease 3 times weekly. They have gone through some rough working conditions, deep snow & now the heat of spring, dinners at nice restaurants, and other events in and around town. I wanted to write this post based on experience, not just a post as others may do copying text off of the manufactures home page.
So, with that said, here area few images of their present condition and my opinion of each. Keep in mind, I received the boots a while back, they have probably been updated since, but my end result is, the boots look, feel, and work terrific. They fit perfectly in any scenario making them an important part of one's wardrobe so if these are still available or not, my opinion is to check out the H-D FOOTWEAR website (click here), and by all means, chose your favorites and give them a try.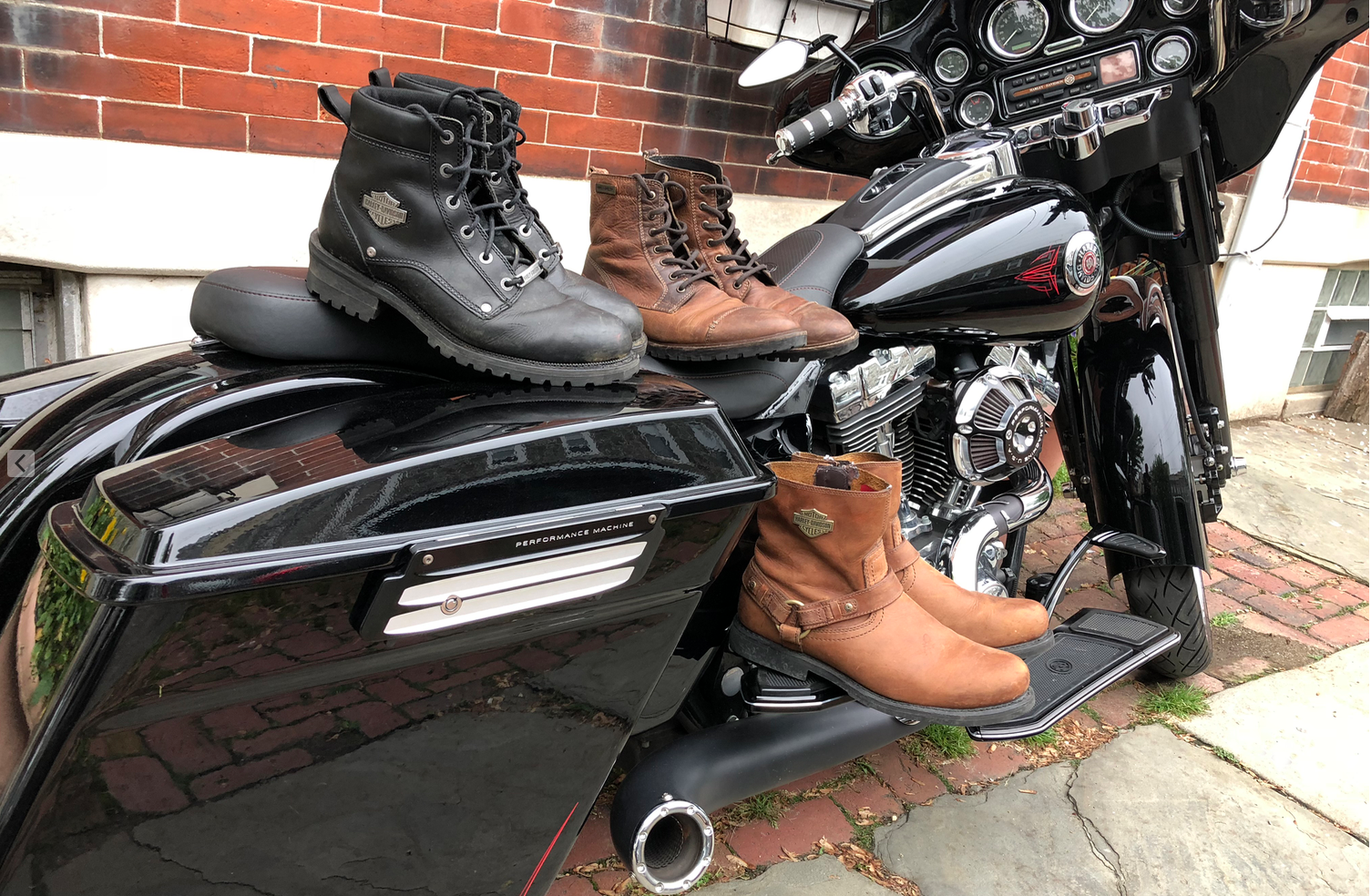 Lets begin with my favorite boot, black, tough, and can take a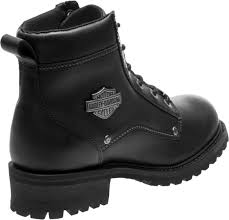 beating & believe me, I put them to the test every day.  Harley-Davidson® Men's Bozeman 5.25-Inch Black Leather Motorcycle Boots D96156. The extremely sturdy heal provides not only walking comfort, but when riding, it creates a stability of your feet on the ground, especially if you need a true extra inch if your seat takes you a bit higher than desired. The boots sturdy frame gives one extra feeling of confidence when riding, and most important, when boots are down while in traffic.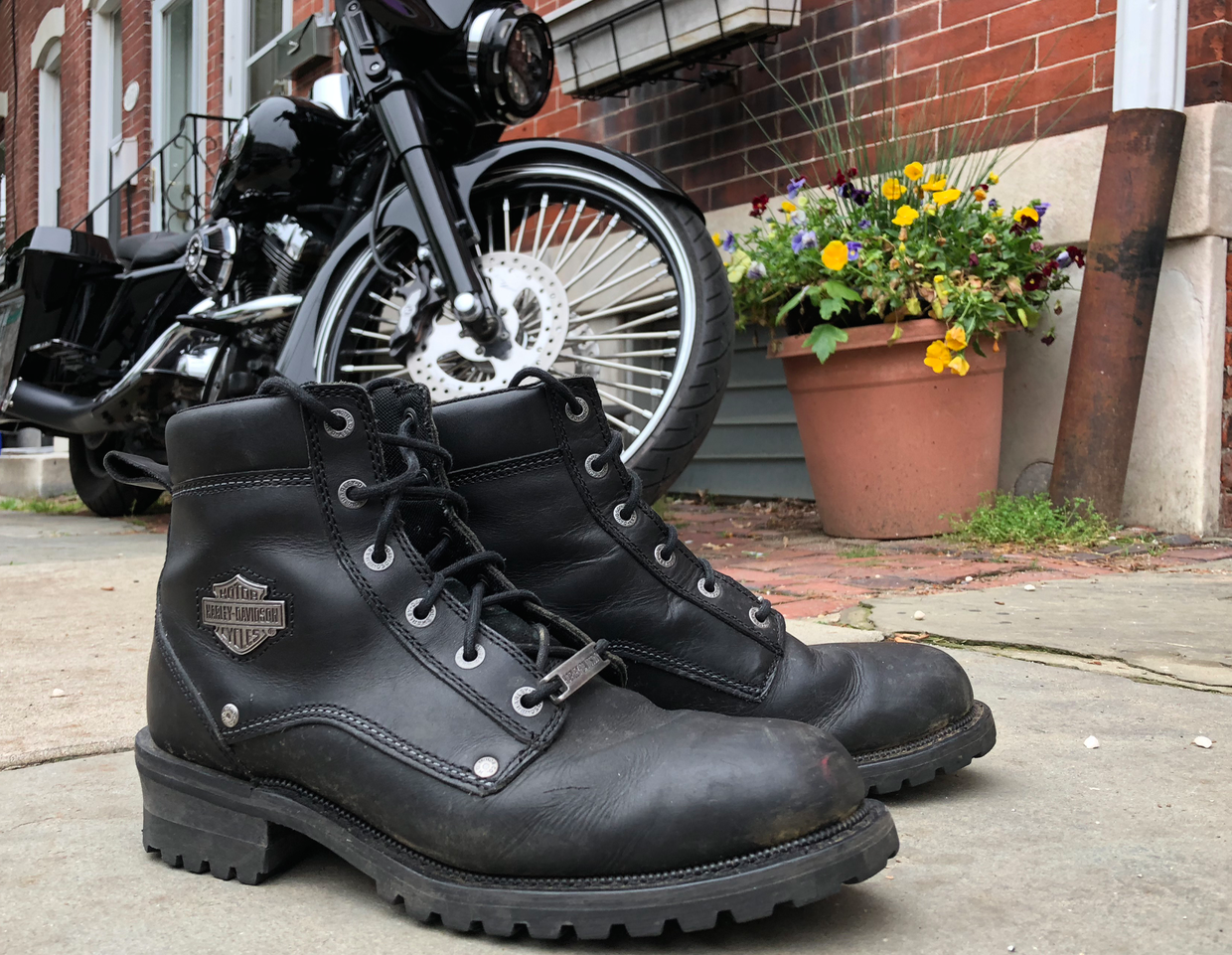 Now, if you want to cruise around town, as I do every day, and then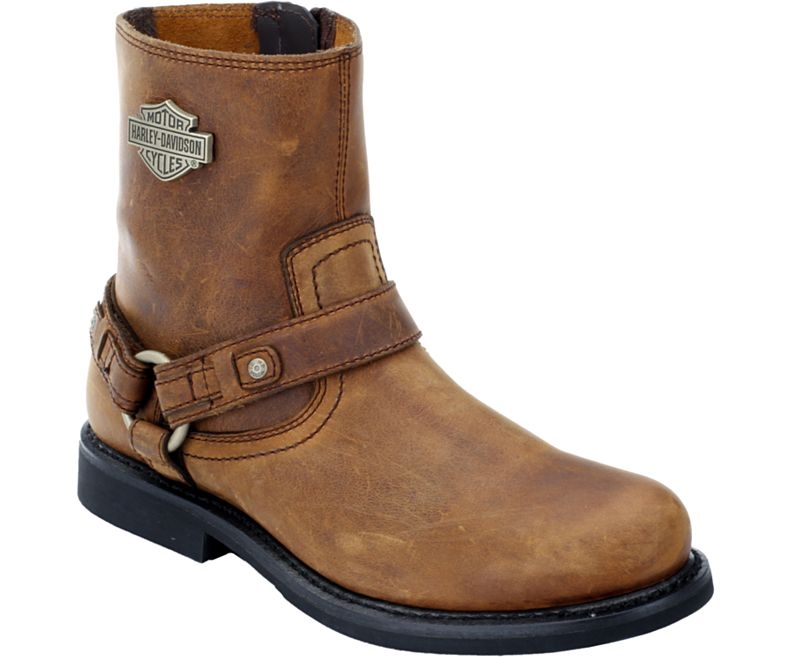 be able to fit into any scene, biker, classy, fine dining, bars, these are for you. Harley-Davidson Men's SCOUT Leather Brown Boots D95263, I receive more compliments on this particular pair of boots than I have any others and the comfort level is just about perfect, short walk, long distance, they work. As with the boots noted above, this boot also has a very sturdy frame which you can feel is there, however it doesn't effect the comfort of walking.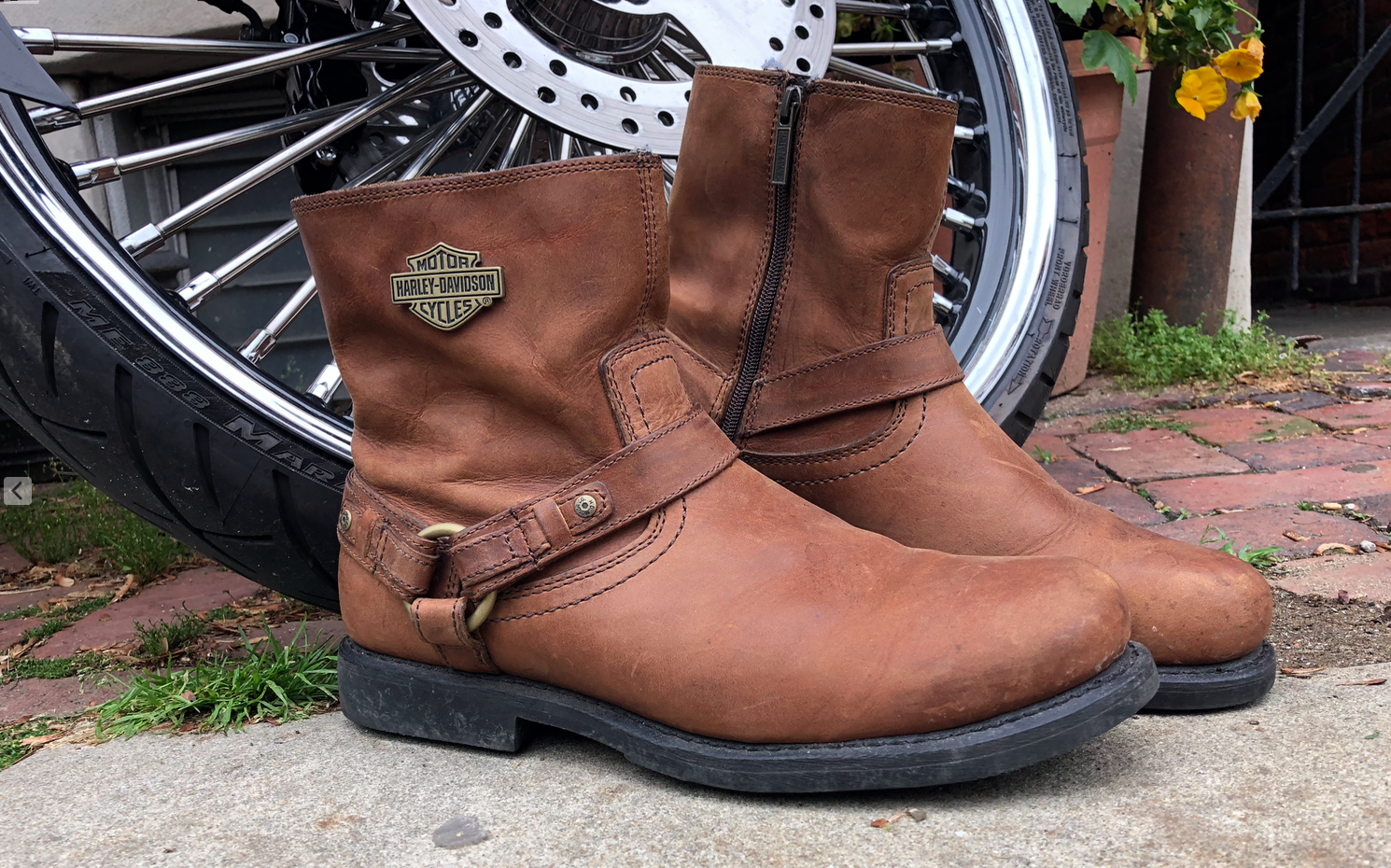 When I received this next pair of boots from H-D, I wasn't sure if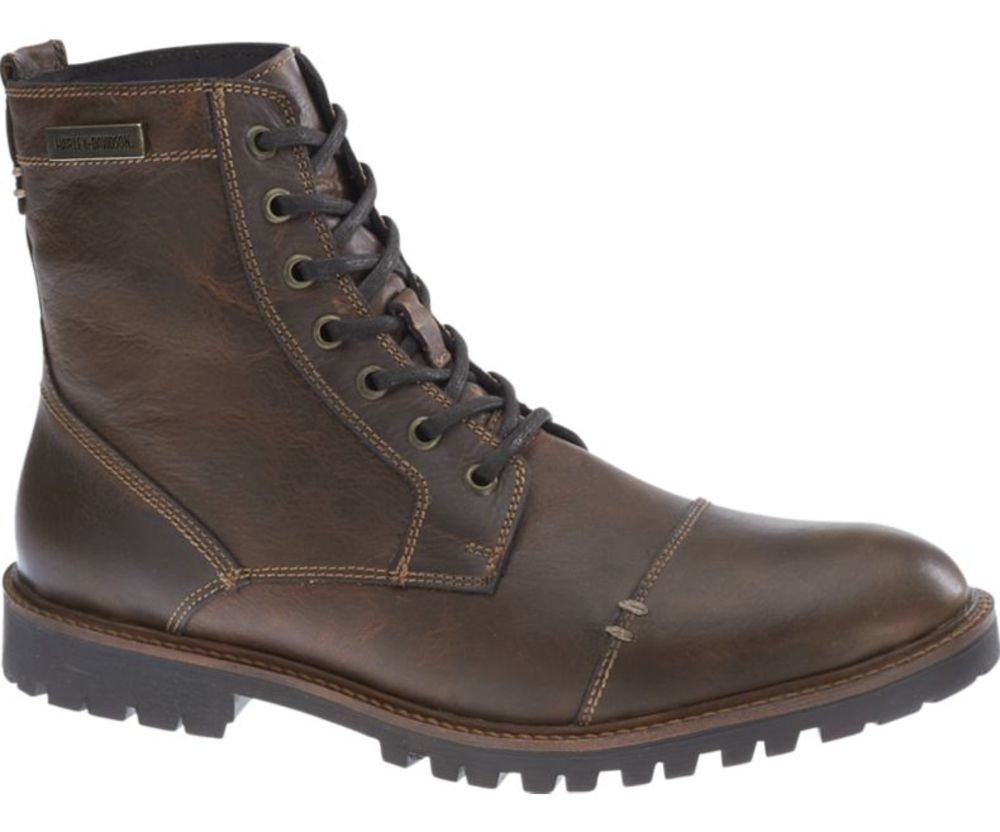 they were really for me, my way of life. Boy was I wrong. These Harley-Davidson Aldrich Boots, breathe first class. They wear amazing, any style of clothing, and situation, they are simply perfect. As you can probably tell from my image below, I've even worn these hiking. The rugged sole allows for just that, and when done off road'ing, they polish up real nice.  Again, I've worn these extensively and will continue to until I have to beg for another pair.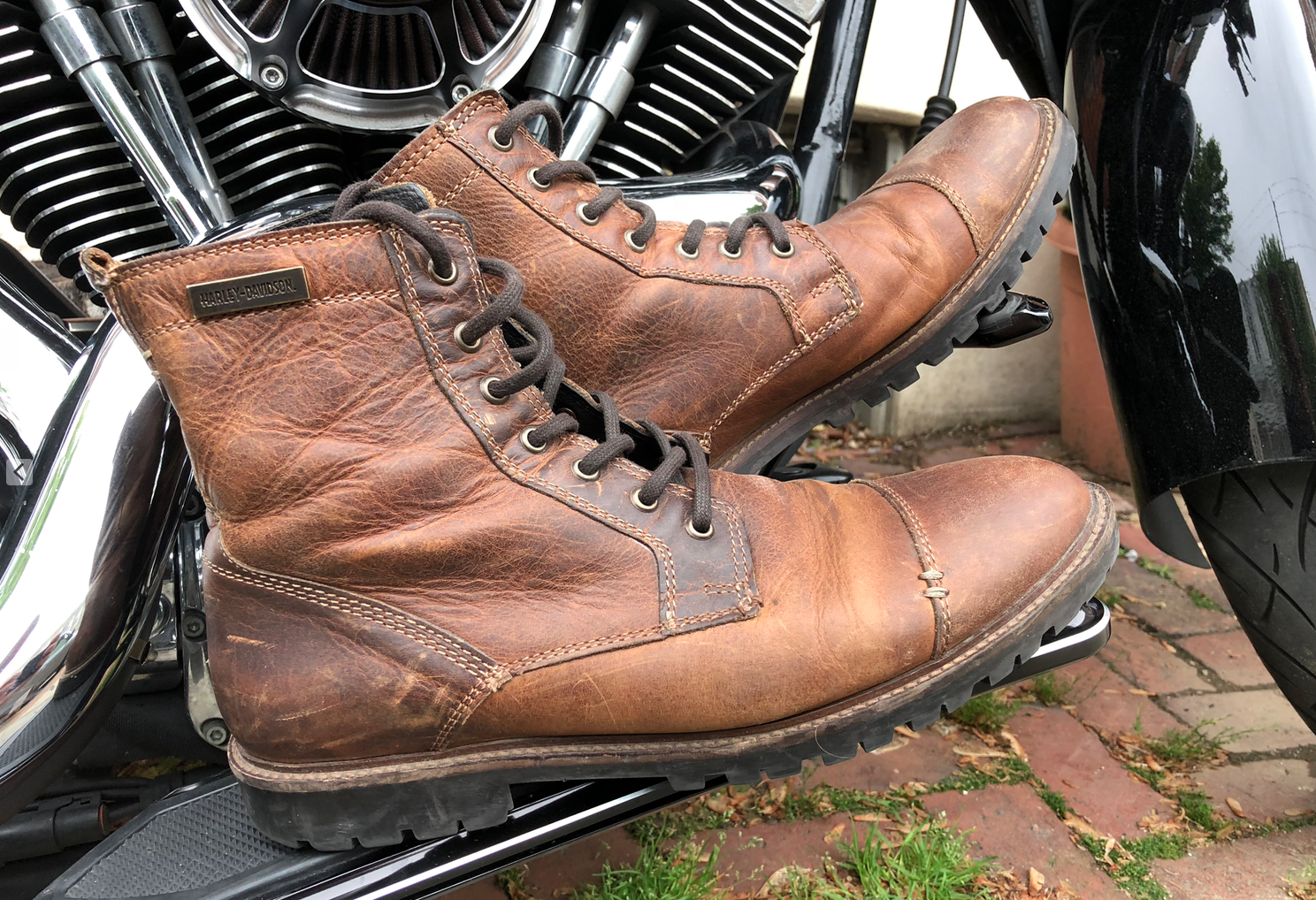 As I'm sure you have guessed by now, I'm sold on Harley-Davidson Footwear. I wear these boots day in & day out, and they last, they look great, and the perform. That's all I can ask of a boot. Visit with me at the Buffalo Chip in Sturgis, I guarantee you will see all three on my feet during the event.