For immediate release:  Hamsters USA, the international motorcycle group with big hearts, rolled into western South Dakota to make an

impact for kids with disabilities… AGAIN! These great guys came together throughout the year to raise funds for LifeScape of Rapid City culminating near $318,344, all staying local to support children with disabilities in Western SD!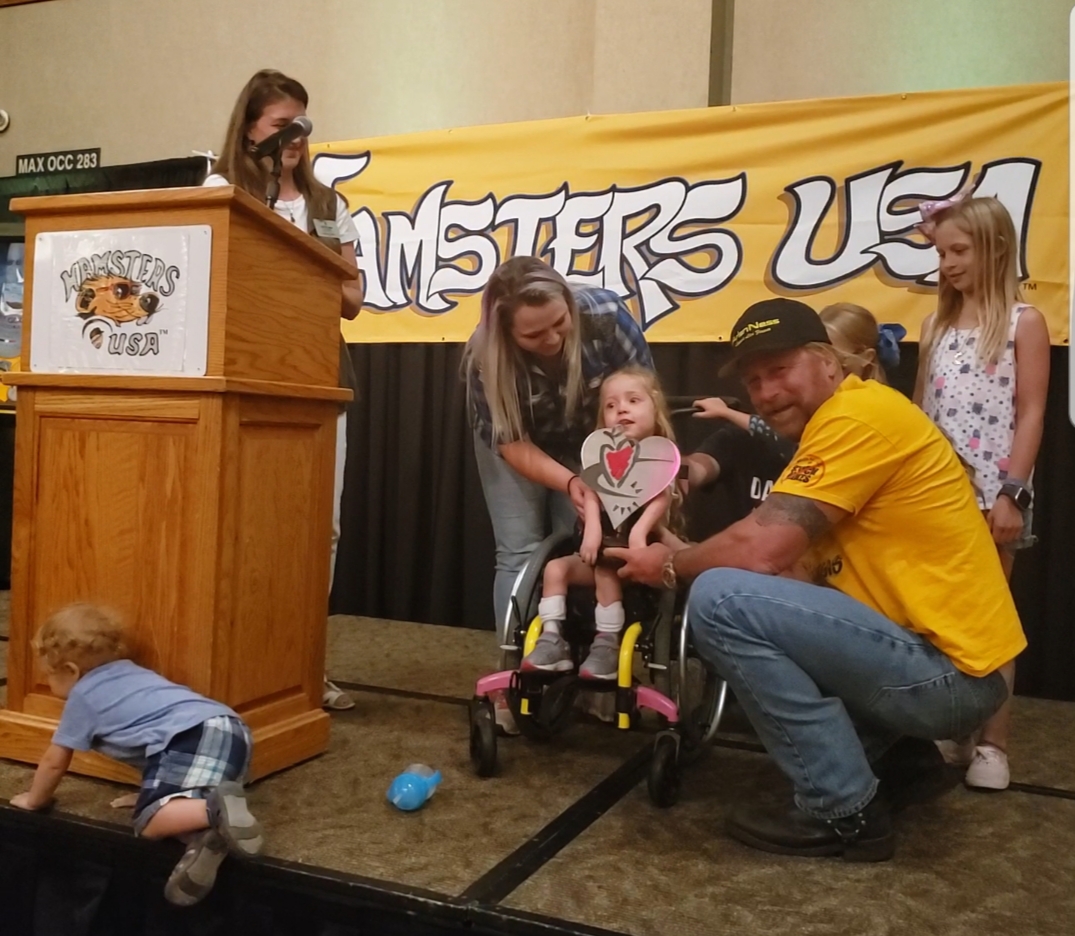 Hamsters USA has raised and donated funds at their annual meeting for the last 14 years, with a deep desire to give back to the greater Black Hills community, which many Hamsters consider their second home. This year's event brings their cumulative total for 14 years to over $3.3 million in total dollars raised for LifeScape in Rapid City. Their gifts help provide services to children in their Black Hills area homes and communities, delivered by LifeScape personnel who drive over 10,000 miles a month to provide services.
Additionally, in recognition of his incredible spirit, longstanding commitment to the motorcycle community, and especially for his dedication to the care of children in need, John McCarthy was presented with the 2019 Chrome Heart Award. (See attached photo of John McCarthy being presented the Chrome Heart Award by LifeScape Foundation President, Jessica Wells, and the Miller family – Arianna Blakemore holding the award, surrounded by mom, Jamie Miller, and sister, Jasmine.)
Arianna Blakemore, a four-year-old from Sturgis, SD, and her family, spoke at this year's event. Jamie Miller delivered her beautiful daughter Arianna at just 31 weeks. After spending two-and-a-half months in the NICU, she went home on continuous oxygen. While still in utero, she had been diagnosed with clubfoot. At the time of her release from the hospital, Arianna was diagnosed with Arthrogryposis, a rare condition which contracts the joints, fixing them in one position. This can affect many joints, but for her, it affects her ankles, elbows, wrists and fingers. Additionally, Arianna has been diagnosed with spastic cerebral palsy and chronic lung disease. Arianna has had her legs casted 18 times and has had two different surgeries on each of her legs. It was through the castings that the family was first introduced to LifeScape. Since that time, she has started physical, occupational and speech therapy. While primarily using a wheelchair for transportation, she has started to walk short distances on her own. She is also starting to talk more, and while it's not always clear what she's saying, she's pretty vocal and makes her needs known. Her mom says, "Arianna is quite a handful when she wants to be, and all of the LifeScape team has always been amazing and calm with her.  Arianna loves playing at therapy and is excited when she sees us drive up to the building."
Arianna and her family are proud to be ambassadors for LifeScape at the Hamsters' event this year, thanking them for their fundraising efforts that directly impact their family.
LifeScape's mission is to empower children with disabilities to lead fulfilling lives. Arianna and her family feel that LifeScape has truly done that for them, and they are so grateful to LifeScape and to the donors, like the Hamsters, who make the strides and miracles they've experienced possible.
To set up an interview with a Hamster member, the Miller family, or Jessica Wells, President of the LifeScape Foundation, please contact Jessica at 605.444.9800.
LifeScape of Rapid City, SD, is affiliated with LifeScape, based in South Dakota. LifeScape is a private, independent, non-profit organization with a mission to empower children and adults with disabilities to lead fulfilling lives. LifeScape, as a whole, holds the longest continuous CQL (Council on Quality Leadership) accreditation of any agency of our type in the world. We are the only private Intermediate Care Facility in SD and the only agency of our kind in the state of SD serving children and adults across their lifespan. LifeScape has 42+ locations in Sioux Falls, as well as locations in Rapid City and Sioux City, through which we support people in 63 counties in SD and northwest Iowa. LifeScape supports more than 4,000 children and adults annually, 900 of which are supported by the Rapid City LifeScape location.