Post by Brad Schneck
I will admit that proper footwear while riding a motorcycle has never been a strong priority of mine. My ignorance of the need was not based on a particular reasoning. I've worn sneakers on most occasions, and they've served me well. Over time I recognized the need for more proper gear in a few areas. I made an effort at proper footwear in the form of steel toes, and eventually a pair of leather riding boots. However, I found these boots to be heavy, uncomfortable and even limiting to my ability to control a motorcycle with the agility I prefer. When I happened upon Harley-Davidson Footwear's Midland sneakers, I decided to make one last effort at getting my feet covered properly for riding.
When the Midlands arrived, the first thing I looked for was for quality of the stitching and seams around the sole. I have wider feet and shoes regularly come apart in this area for me. I was impressed by the design and durability of the full grain leather they were made of. I also noticed that they were marked "waterproof" and when I slid my hand inside the shoe they felt soft and well padded. I later learned this was the breathable Hydro-Guard waterproof membrane. The only thing that I wondered about was the pattern of the grip on the bottom of the sole. It seemed flatter than I expected, but as I was soon to find out, this didn't not equate to a lack of grip or stability on the road or otherwise.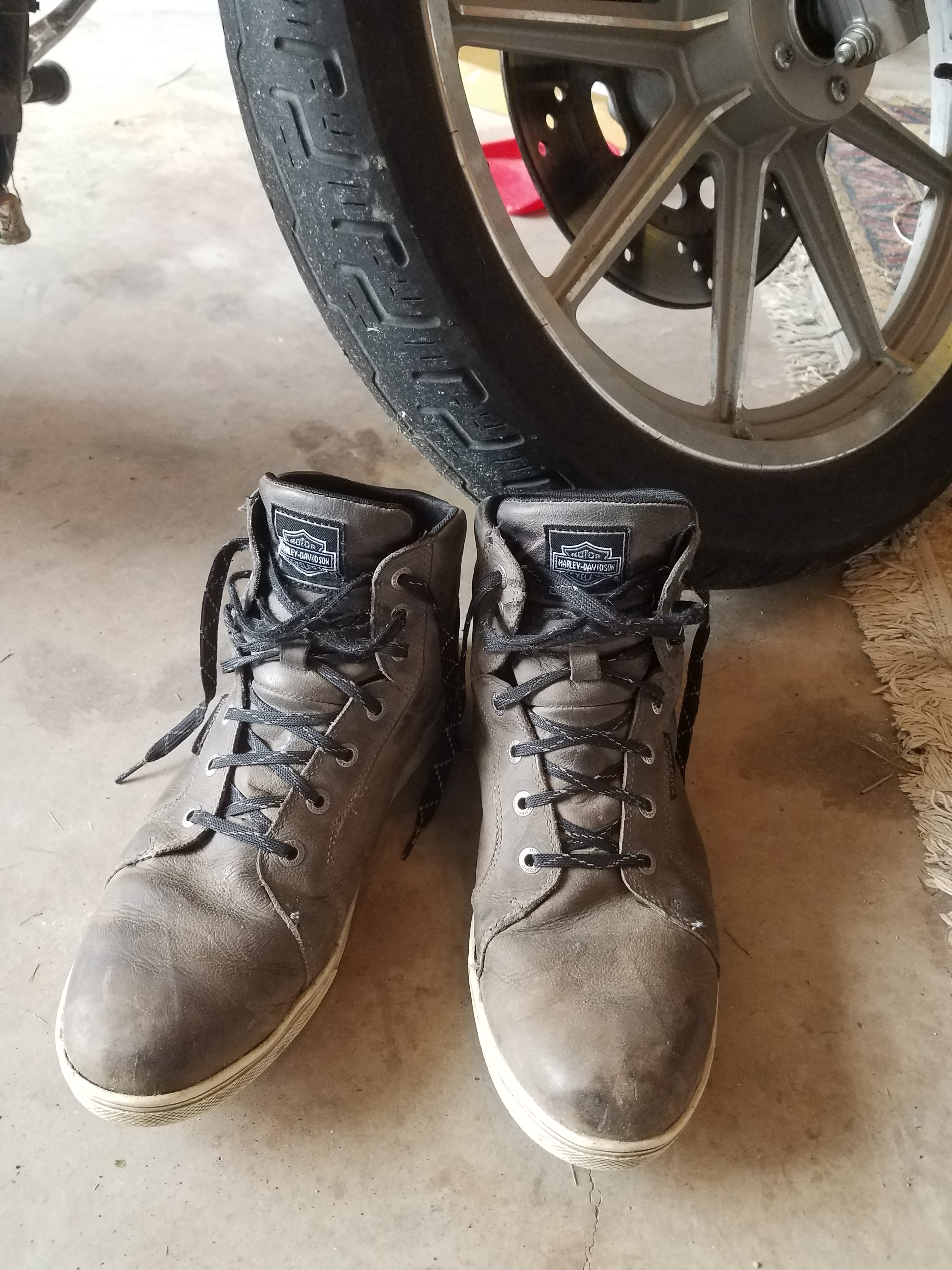 I got the Midlands in the middle of winter with the idea to break them in before riding season. So I decided to wear them on a work trip to Milwaukee, WI for the Mama Tried Show. I am a photographer and when visiting a show I spend a great deal of time on my feet, surveying the exhibits of motorcycles and discussing details with builders. Twelve hours later, at the end of the first day, I was surprised to find that my feet felt remarkably good. The cushioned insole conformed to my foot quickly and I felt really no pain that's usually associated with thin soles or poor stability. After three days of flat track racing, motorcycles and mayhem I was delighted to discover that this shoe held up to it all. Walking through snow on top of an ice-covered lake was an easy task as I photographed the infamous ice racing. I found the traction of the boot to be dependable in the iciest of conditions, which dispelled my initial worry. They were warm and waterproof as promised, too, and I didn't find them restricting at all. The only test left was to mount up and take them for a ride.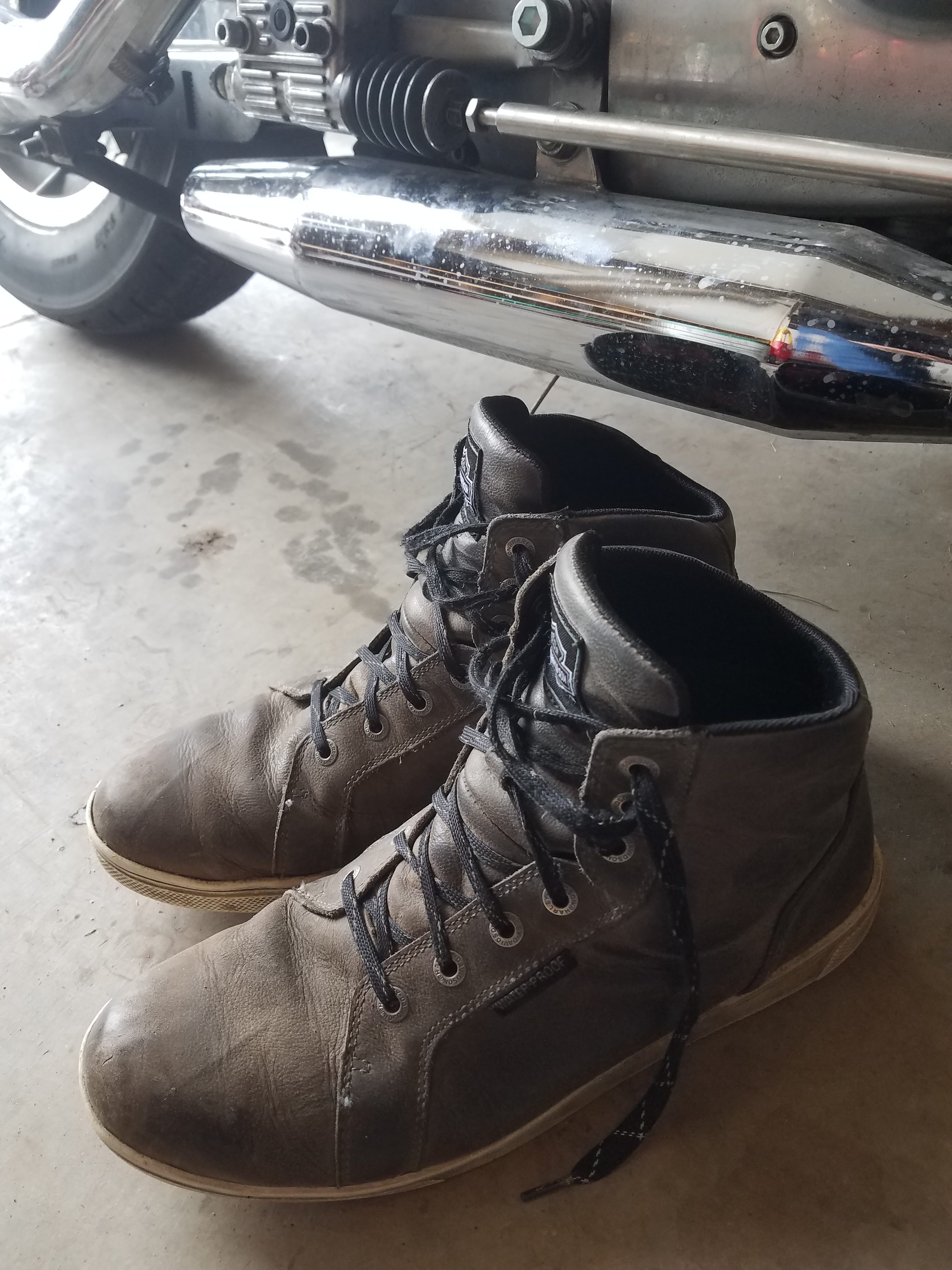 After returning to South Dakota, I waited for the weather to clear and pulled my Harley out of the garage. My first ride of the year was a relaxing scoot up Spearfish Canyon just outside of town in the Northern Black Hills. I rode through town to catch a few stop lights and then I hit the canyon running and rode all the way through without stopping at Savoy. In town the sneaker boots held the same traction I found reliable in the ice and snow of Milwaukee. They also offer good ankle protection thanks to Poron energy-absorbing materials but they didn't feel heavy or bulky while transitioning from road to foot controls. The rubber outsole held my pegs well and the whole ride was comfortable.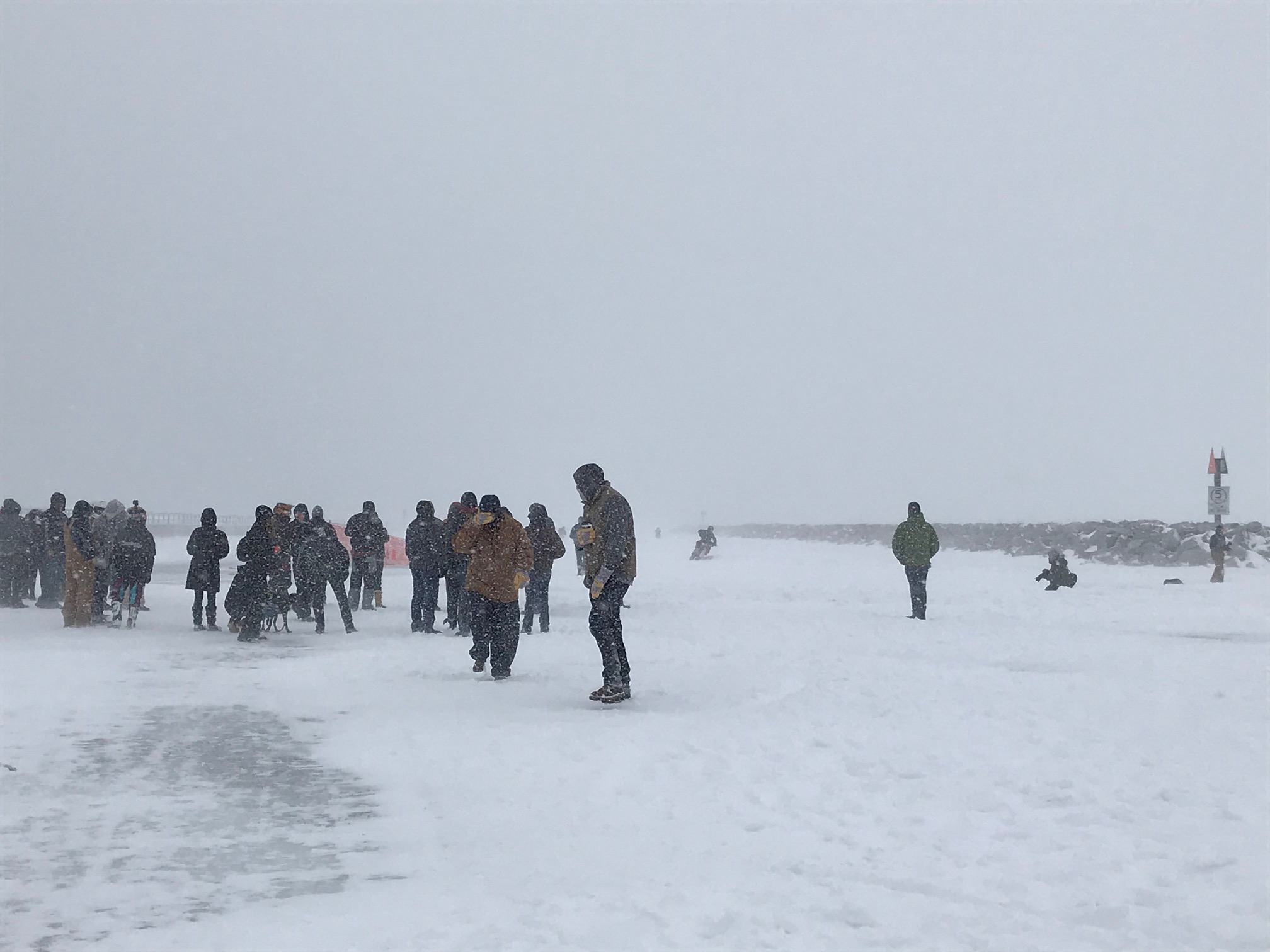 Over all I found these boots durable, comfortable and very well constructed. They maintained a warm and waterproof barrier for my feet in varying conditions. Reflective laces and 3M reflective edges are a good safety addition, too. I also found them quite stylish as I wore them to work several times and was complimented on the way they looked. My co-workers were surprised that they weren't just sneakers but purpose-built riding boots as well and were impressed by their design and my endorsement of their abilities. I would suggest these boots for anyone who enjoys the style and comfort of sneakers but requires the rugged durability of leather riding boots. I look forward to many adventures with my new preferred footwear.
Resource
Men's Midland Riding Sneaker, in Black or Gray, $160
Women's Mackey Riding Sneaker, $150
Harley-Davidson Footwear
See your local H-D Dealer
www.harley-davidsonfootwear.com