When Statesville, NC Harley-Davidson dealer Don Tilley passed away in late August as the result of a crash, the H-D family and especially our local community was distraught. It's still hard to believe that Don is gone, but it's important to pay tribute to the people who make an impact on our lives. So here's a remembrance of Don, along with the words of industry people – many of whom you'll recognize – who knew him well.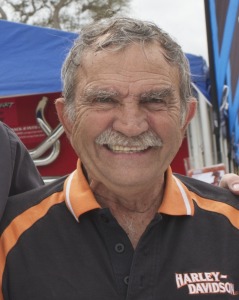 If one could apply the term Renaissance Man to a motorcycle guy, Don Tilley would be the man who deserves the moniker. A walking legend in the racing realm, he was a self-taught welder, mechanic, tuner, and unparalleled competitor. As a Harley-Davidson dealer for over 40 years, he was a successful businessman who weathered the lean years to enjoy the fat ones. Tilley H-D enjoys a loyal customer base that includes not only the rich and famous but regular riders, too, and Don Tilley always treated every one of them in the same friendly, respectful way. A compassionate person, he was a participant in a variety of charity work—and the last person to ever talk about it. And as a motorcycle enthusiast, he was an untiring ambassador for Harley-Davidson in particular and motorcycling in general. His accumulated mileage on two-wheels could literally circle the globe.
If there was ever any question about Don Tilley's dedication to all things mechanical, his own description of the three most memorable events in his life, puts that to rest:
"The three most memorable events? They were when I got my driver's license at 16, when I won my first car race at the Charlotte fairgrounds, and when I became a Harley dealer in 1972."
Here's what some of Don's friends have to say about their friend, Don Tilley:
"There are so many ways that Don Tilley has helped all of us in motorcycling. He's been an incredible ambassador for linking motorcycling and the NASCAR crowd.
In terms of racing he is held in high esteem by the people at Harley-Davidson and Buell. He almost acts as an engineering advisor because he really knows the engines, inside and out. He's always tinkering with them, finding new ways to get more power—and new ways to break things, too.
He has always been so forthright in sharing his knowledge; he doesn't hold secrets. On the contrary, he's full of energy and anxious to share what he knows to keep others involved. He gets so much joy from it, even after all these years, it's so refreshing and makes him great fun to be around."
— Erik Buell, former Chairman and Chief Technical Officer, Buell Motorcycle Co.
"Don Tilley has been a mentor to me. Like Don, I don't have engineering degrees or formal learning, but we take the same trial and error approach to solving a problem. Someone else would look at something and say 'It won't work.' Don says, 'Let's try it and see how it does.'
Don has taken the same motorcycle everyone else has with the same parts and pieces and has outrun the competition many times over. One thing about Don, he always helps other people and shares what he knows with them, even people in competition with him. He'll outrun you, then turn around and tell you how he did it! Then he'll get that grin on his face, like a sly old fox.
Don's as good as they come.
—Gerald Rinehart, Owner of Rinehart Racing and exhaust system designer
"Don and I have been friends for a long time, since the days when I went to Hickory Speedway to watch him race, then started racing myself. I was in the Hobby series and Don was in the Late Model Sportsman series.
When I went to Winston Cup, Don went to Harleys, but he still built me some fast engines. He'd say 'What it'll take the other guys five years to do, I can do in one!' He helped me in my racing career, all through the years.
For a lot of years, Don rode out to Phoenix with some friends for the races. I finally just decided I was going to ride with them and that was the beginning of a lot of rides with Don Tilley, especially after I retired from racing in 1994. Thanks to Don I've ridden so many places, over the whole United States. There aren't many roads you can travel on out west that Don doesn't know. Everything's a challenge to Don. When you ride with Don, it's not a ride, it's an adventure."
—Harry Gant, retired Winston Cup Driver
"Don Tilley was working for Petty Enterprises when I was born, but I didn't meet him until I was a boy of 10 or 11. I was riding back home with the crew after a Daytona 500 and we pulled into a rest stop. There was a guy on a Harley there and he said to me 'I used to work for your daddy.' When I got home I asked my dad if he knew Don Tilley and he said yes, Don was a backup driver for us in the early '60s. I had been a dirt bike rider up till then, but when I first met Don Tilley at that rest stop and saw him riding away on his Harley, I thought 'I want to be like Don Tilley and ride a Harley.' And I never forgot that.
Let me be real clear about this; Don is a motorcyclist, not a biker. He'll ride 40,000 miles a year and he doesn't think twice about it. For so many in the racing community, he is what being a motorcyclist is all about. I can go to a dealer anywhere in the country and they know Tilley. He's been a great ambassador for Harley-Davidson.
Don has such a love of riding that he makes you believe you can do it, too."
—Kyle Petty, NASCAR Driver and Spearhead of the Kyle Petty Charity Rides
"I've taken quite a few rides with Don Tilley and I've never ridden with anybody as good as him. He is one unique human being, a man of his word, as brave as they come. He built his business from scratch, making nothing into something great. The word 'fail' is not in his vocabulary. Everything he goes for he wins. I've known him for many years and he's never changed. He's done so much for other people but he never pats himself on the back. I can't say enough about the man."
—Waddell Wilson, 40-year Winston Cup Veteran
"Don Tilley has been a pillar in the industry on all accounts: a dedicated personal rider and a supporter of all types of racing, starting with his early road racing with Lucifer's Hammer into his V-Rod efforts that helped lead to the street V-Rod.
As a dealer, he has a terrific track record. He's a thoughtful man who I hold in high regard. He's really an avid rider, in fact he's pretty amazing in that respect. Motorcycling benefits from people like Don who are such incredible enthusiasts, and that's one of the things that makes motorcycling unique."
—Willie G. Davidson, Vice President and Chief Styling Officer, Harley-Davidson, Inc.
God Speed, Don.