Not everyone has the vision Dane Trask has. He was able to see the righteous rider hiding inside a cliche of an '08 Night Train. The original bike, decorated with skulls and green neon, is barely discernible now, transformed as it was into a black beauty with vintage-style curb appeal.
Dan Sent us these words and pictures about how he and why the bike was altered. We're pleased to provide a platform to show it off. — M. Stemp
This is my first build. I did all the work myself and there is a ton of DIY customizations I can describe for your readers to try themselves. I love the articles that talk about solutions to problems when trying to redesign a bike and this bike is all about solutions.For example, why pick a  Night Train for a bobber build? Because, I am 6'2" 240 pounds and I look like a monster sitting on a tricycle when I get on a 40's Harley. I love the look of a 45/45 but it just does not look right for me to sit on one. So I found a bike with a big back end and big V-twin and the blacked out motor was just a cherry on top.
 This is what it started as.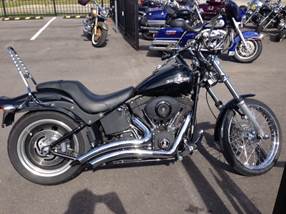 The bike started off as a 2008 Night Train all dressed up with daggers, skulls, and green led under lighting.
The first thing I did was replace the stock pie cutter front wheel and solid rear, with fat 16" spoke wheels with powder coated rims from a Crossbones. I put on a 2-into-1 exhaust from Patriot that has a butterfly valve that goes from fully muffled or wide open. I rigged an old clutch cable up to the horn bracket (relocated the horn in front of the engine) so now I can pull the handle on the cable and go loud or quiet. (I live in a nice gated community and don't need to piss off my neighbors).
The sprung Crossbones seat ran a little high and took away from the lines so I built a front mount out of 1/8" sprung stock and built a new set of posts flush with the frame for the springs to sit in. This dropped the seat 2.5" and it fits right now. No old school style is complete without a set of floorboards, and being tall I dig a 3-inch forward extension. Lowered the bike 2" with a bolt kit and 2" under springer. Installed a coil relocation kit and removed the fake center post to open up the engine compartment.
That is it for bolt on stuff. Now we get into the custom stuff I built or "massaged."
I built a set of Hollywood bars in 1.25 inch because the 1" bars looked too wimpy on the chunkiness of the bike, removed all the cables, electronics and button pods from the bars. I put in an internal clutch and internal throttle and a grip ace setup under the tank. This cleaned up the bars completely. It's always funny to see bikers looking at the bars trying to figure out: Where is the clutch? Surprisingly a twist clutch is very easy to use and took no time to master. I got a 3/4in bore rear master brake and integrated the front and rear to the one peddle.
Next I removed the center consol. It looked too tall on the bike and took away from the curves. I mounted the speedo in a cup that is welded to a 1.25 half pipe that is clamped into place by the risers. All the indicator lights are now LEDs and are also mounted under the speedo in the same cup. The rear fender is a custom bobbed piece. I wanted to retain the quick release sissy bar and pillion so the mounts are all there. The fender looked like it was "floating" in space so I build a rear strut and since the swing arm still needs to move, I made a cup system for the strut to ride in, so the suspension still works. A 1928 ford rear brake light and side mount plate finished off the rear end. Relocated the ECU and wiring harness behind the slash guard for the back wheel.
The bike turned out better than I thought. It is low, fat and mean. It feels like you are driving a steamroller, watching that fat front wheel spin.