New Scott Jacobs Gallery Opens
Story by ITN Staff, photos compliments of Scott Jacobs Studio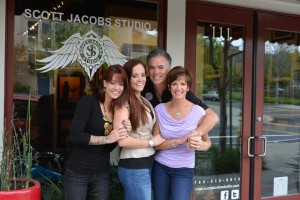 In early February, artist Scott Jacobs—known for his photo-realistic style of painting—opened a gallery in the town square of San Elijo Hills in north county San Diego, CA. We caught up with Scott's daughter Olivia who manages the new gallery with her sister Alexis.
"We chose this location when we fell in love with the town about four years ago," said Olivia. "We went for a motorcycle ride and stumbled upon the quaint, east coast themed town square. In January, we were looking for a warehouse to move the gallery, but everywhere we looked was depressing and not a place we wanted to work in every day. That was when my dad mentioned San Elijo and if the condo (above the gallery) and retail location was still available, he would buy it!  This is a perfect location for us because there aren't any galleries in the area, let alone a custom frame shop." 
Scott's latest creations included an ongoing lifestyle series with wine and spirits along with classic automobiles and new Harley-Davidson works, including a vintage champion hill climber. There are over 110 pieces hanging in the new 1200 square foot space. Jacobs has 35 years of custom framing experience and the gallery has more than 500 wood frames to choose from. Scott's studio is also located in the gallery so don't be surprised to find him there, hard at work on his next new piece.
Art prices range anywhere from $400 to $6,000 for the limited edition prints. "We also have a few originals in the gallery, mainly for viewing, but they range from $20,000 to $150,000," added Olivia. 
Speaking of items mainly for viewing, there are two motorcycles on display as well; a 1953 Harley-Davidson Hummer and a 1926 Harley-Davidson J model that Scott rode in 2012 in the Motorcycle Cannonball Endurance Run. "He maintained third place for two weeks until the last few days of the race," said his proud daughter. The 1926 also placed third in the Concours d'Elegance, a juried motorcycle event at the Del Mar Fairgrounds.  
For over 20 years, as the world's first official artist for Harley-Davidson, Scott has honed his craft and today his artworks grace the walls of prestigious collectors and avid enthusiasts all over the world. His new gallery now affords the public a comfortable environment to view an eclectic collection of paintings and prints. Stop in if you find yourself riding in San Diego county.
Address: 1231 Elfin Forest Rd W, San Marcos, CA 92078
Phone:(760) 510-9913
https://www.facebook.com/scottjacobsstudio93