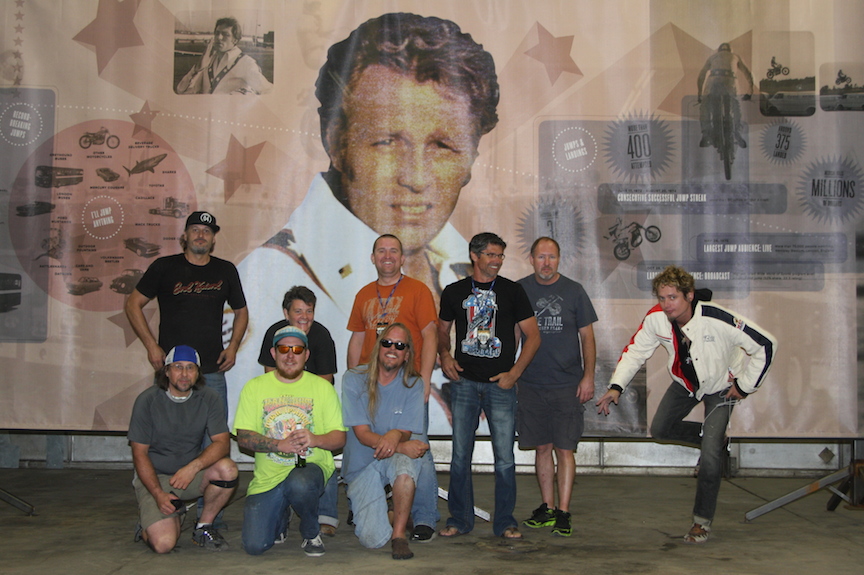 In the rush to Sturgis and the requisite recuperation afterwards, we forgot to post about Evel Knievel Days, an event held in Evel's hometown of Butte, Montana the last weekend of July. Spike TV's documentary on Evel called "I Am Evel Kievel" which premieres Wednesday, September 10, makes for an optimal time to re-cap Evel Knievel Days 2014.
Many of Evel's friends and family still live in Butte so finding someone to tell you stories about the man is quite easy; everybody has one. Plenty of people recall having a beer with Evel in a local bar or taking a ride with him.
The town of Butte is dominated by a prominent ridge that's dotted with a row of headframes – entrance structures leading to the copper mines that once formed the basis of Butte's economy. In the early 1900's Butte's mines produced one third of the world's copper, and this was at a time when industry in America depended hugely on copper. For a relatively small town, it sports remarkable architecture that includes the largest number of buildings of any U.S. National Historic District.
EK Days began in 2002 when Evel was still around. After being operated by a local group since Evel's passing in 2007, the Knievel family stepped in this year to run the festival with the intention of bringing it back to its roots. That meant plenty of stunt riders, daredevils and extreme performers – the kind of action that resonates with fans of the greatest American daredevil ever.
Lathan McKay's Evel Knievel collection was on display, of course. It's the world's largest compilation of Evel memorabilia in the world, bringing together Evel's own jump bikes, his performance leathers and helmets, tons of gear and clothing, even his actual x-rays and casts. With Knievel's first wife Linda present, along with his children and grandchildren, you almost expected the man himself to come around the corner!
So go ahead and peruse these pictures then mark your calendars for EK Days 2015. If you're heading east toward Sturgis it's the perfect stop on the way. Till then, keep track at www.evelknieveldays.org and Facebook.com/pages/Evel-Knievel-Enterprises/