Ceremony on

Oct. 13

in Orlando to induct eight Hall of Famers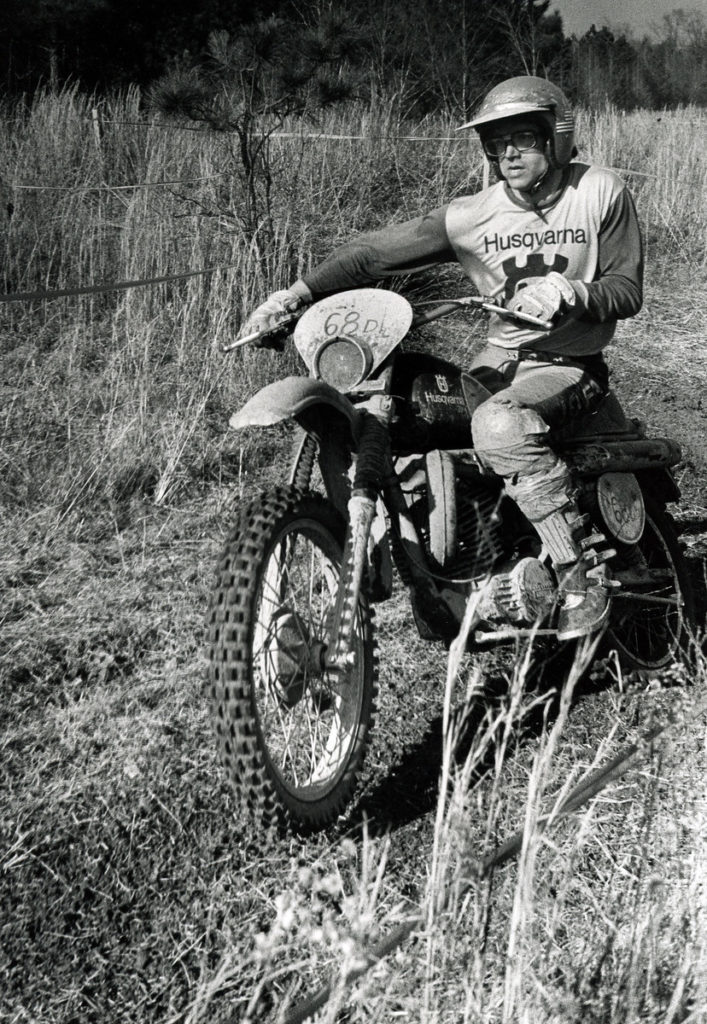 PICKERINGTON, Ohio — Each year at the ceremony inducting a new class into the AMA Motorcycle Hall of Fame, an existing Hall of Famer is honored as an AMA Motorcycle Hall of Fame Legend. For 2016, the AMA Motorcycle Hall of Fame Legend is Dick "King Richard" Burleson, the most successful racer in the history of the AMA National Enduro Championship.
"One man has achieved more than any other in America's grandest and oldest off-road racing discipline: Dick Burleson," said Ken Ford, a member of the Hall of Fame executive committee and treasurer of the AMA board of directors. "We are pleased to recognize Mr. Burleson as our 2016 AMA Motorcycle Hall of Fame Legend and showcase the drive, athleticism, talent and focus that powered him to eight consecutive AMA National Enduro Championships."
Burleson, who was inducted in the Hall of Fame in 1999, will be honored Thursday, Oct. 13, at the Orange County Convention Center in Orlando alongside the Class of 2016.
"First of all, I would like to congratulate all the members of the Class of 2016 for being elected to the AMA Motorcycle Hall of Fame," Burleson said. "As for me, I'm humbled to be selected as the 2016 AMA Motorcycle Hall of Fame Legend. It's a great honor to be recognized among other legends of motorcycling. I can't wait for the ceremony in Orlando. It's going to be an amazing time."
For 2016, the AMA Motorcycle Hall of Fame Induction Ceremony includes a formal sit-down dinner. Tickets are $130 per person. AMA Life Members pay $120. AMA Motorcycle Hall of Famers can attend for no charge. Reservations can be made here: www.americanmotorcyclist.com/induction.
From 1974 to 1981, Dick Burleson won eight consecutive AMA National Enduro Championships, a record so extraordinary that it may never be broken. In addition to his incredible domestic record, Burleson also won eight consecutive gold medals in the International Six Days Trials (now called the International Six Days Enduro).
While Burleson's first sport was motocross, earning AMA recognition as the national motocross champion in 1970 before the creation of the national series, he is one of the all-time greats among American off-road racers.
The Class of 2016 includes road racing champion Miguel Duhamel, Indian motorcycle designer and engineer Charles Franklin, racer and tuner Chris Haines, engine builder Dennis Mahan, race frame builder Jeff Cole, desert racer Jack Johnson, motorcycling pioneer Gloria Struck and dirt track racer Ronnie Jones.
They will be honored along with Burleson, now an AMA Motorcycle Hall of Fame Legend. Legends are Hall of Famers whose accomplishments transcend their categories in impactful ways. In addition to Burleson, AMA Motorcycle Hall of Fame Legends include Mark Blackwell, "Willie G." Davidson, Roger DeCoster, Torsten Hallman, Bob Hannah, Mert Lawwill, Wayne Rainey, Kenny Roberts and Malcolm Smith.
For the third year, the AMA Motorcycle Hall of Fame Induction Ceremony is held in conjunction with the American International Motorcycle Expo, an event that brings together consumers, dealers, manufacturers and the world press in one location for global product launches, demo rides, motorcycling seminars and more.
The AMA Motorcycle Hall of Fame is funded through efforts of the American Motorcycle Heritage Foundation, a 501(c)(3) organization. Sponsoring the event supports the inductees, honors their achievements, recognizes the impact of their accomplishments and spotlights motorcycling's deep roots in America. Contact Steve Gotoski at (951) 491-1910 or sgotoski@ama-cycle.org to learn about sponsorship opportunities.
About the American Motorcyclist Association
Founded in 1924, the AMA is a not-for-profit member-based association whose mission is to promote the motorcycle lifestyle and protect the future of motorcycling. As the world's largest motorcycling rights and event sanctioning organization, the AMA advocates for riders' interests at all levels of government and sanctions thousands of competition and recreational events every year. The AMA also provides money-saving discounts on products and services for its members. Through the AMA Motorcycle Hall of Fame in Pickerington, Ohio, the AMA honors the heroes and heritage of motorcycling. For more information, visit
www.americanmotorcyclist.com
.