March 6, 2018 – Chatsworth, Ca. – For well over a decade, the brand Cyron has been synonymous with cutting edge technology in the power-sport and performance automotive industries in the LED Lighting category.
Providing the absolute best quality parts at an affordable price is the sole objective. At all levels, Cyron is the preeminent brand available today! Whether your business is wholesale distribution, retail dealer (brick and mortar / on-line), or as the end using consumer, we have the products and programs to fit your specific needs.
Distributor / Dealer support programs are now in place. We recently launched a new P.O.P Program to assist sales representatives and dealers educate their customers on the fit, form, and function of the Cyron product line. After a demo from the sales staff of your business, your customer will agree that Cyron is the industry pacesetter.
To see a demo and obtain hi-res and low-res images, please click 
HERE
Feel free to use at will for the purpose of promoting Cyron Motor.
Special Announcement
–
It is our pleasure to welcome Joe Distefano to the Cyron Team. "Joe has actually been a friend and a mentor for nearly a decade. We are very glad to have
him as a permanent team member to spearhead Cyron Motor to the next level. "Said Cyron CEO, Al Javadi.
Javadi adds, "Joe brings a wealth of knowledge and a level of energy that only a true enthusiast is capable of.
His 40+ years of industry exposure speaks volumes."
About Cyron Motor 

Cyron Motor is a subsidiary of CYRON Inc., and is a pioneer in the world of Automotive Lighting. The company manufactures and distributes quality Solid-State Lighting products for use in consumer automotive applications and has helped customers nationwide to achieve levels of Visibility, Safety, and Style from parts that are reliable as well as affordable.
With over a decade of experience in custom lighting solutions and a history of industry "firsts," Cyron Motor has become a leader of world class automotive lighting products. By building off our commitment to quality and reliability in products produced over the past 15 years, Cyron Motor is prepared to deliver automotive lighting advancements well into the future.
We invite you to contact CYRON and any of its network of dealers and distributors. You'll find your SSL lighting solutions could be easier and more cost effective than you thought.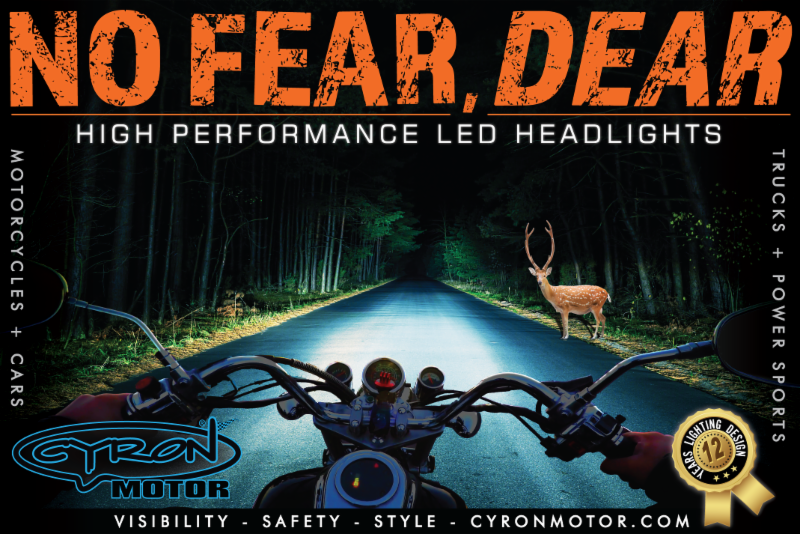 CYRON, Inc.
Cyron LED Products are distributed by the following industry leaders
To view more information about the world of Cyron Motor, please click  
HERE
OR CONTACT:
Joe Distefano