Post by Marilyn Stemp.
Telling Her-story
When people talk about the beginnings of the Sturgis Rally, the name Clarence "Pappy" Hoel inevitably comes up and that's appropriate. As the local Sturgis Indian dealer in the 1940's, Pappy's shop was home base for the races and picnic that formed the foundation of the Sturgis Rally.
Funny thing though, as an integral part of those early gatherings, Pappy's wife Pearl is mentioned far less _ and that's not appropriate. Pearl was a steadfast support to Pappy, his partner in life and business. She was also a person of consequence in her own right, having served as the Meade County clerk of courts, register of deeds, and county auditor. Truth be told, it was Pearl's respected stature in the community that cloaked the motorcycle rally in credibility. And there were many years in the life of the Sturgis Rally when credibility was a challenge!
Pearl out-lived Pappy by 16 years and it was then that she finally stepped into the spotlight as Sturgis Rally co-founder. When she was inducted into the South Dakota Hall of Fame, she was described as "a role model for life, sincerity and friendliness." So as planning was underway for the Buffalo Chip's first full Women's Day, held August 10th, there seemed no better moment to revive Pearl's pivotal role.
Women's Day at the Chip was intended to elevate women in motorcycling, to celebrate women riders, passengers and those who support them. As women gathered to network and learn, it was also the ideal time to recognized one among us whose own story continues Pearl Hoel's heritage in motorcycling. So Buffalo Chip owner Rod Woodruff presented the inaugural Pearl Hoel Legacy Award to Christine LePera, a woman known in the industry for her ready smile and constant presence. In her role managing sales and distribution over several decades for LePera Enterprises, Christine runs the company with her brother Bob Jr., who handles design and production. Founded by their father in 1972, they continue his legacy and hold fast to the company reputation for quality craftsmanship.
Said Marilyn Stemp, organizer of Women's Day at the Chip, "Christine emulates the qualities that Pearl exhibited: kindness and hospitality grounded in an unflagging dedication to the sport of motorcycling and an unbridled affection for motorcycle people."
As for Christine, the award came as a surprise to her but she handled it with typical grace, saying, "Thank you for such a special award. It means the world to me."
It's women like Christine, and so many who work behind the scenes to further motorcycling, that mean the world to us. Congratulations, Christine LePera!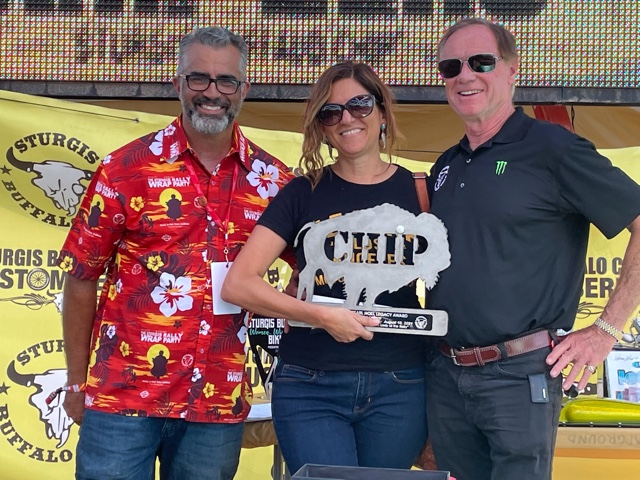 Christine LePera accepts the 2021 Pearl Hoel Legacy award from Robert Pandya, left. And Sturgis Buffalo Chip owner Rod Woodruff, right.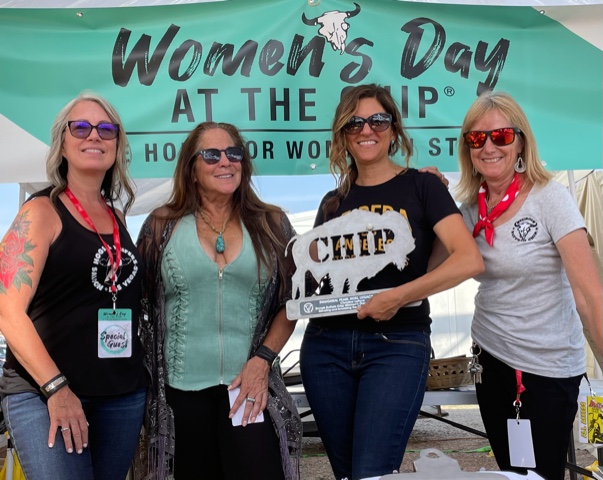 Buffalo Chip Women's Day organizers (from left) Penny Osiecki, Gina Woods and Marilyn Stemp with Christine.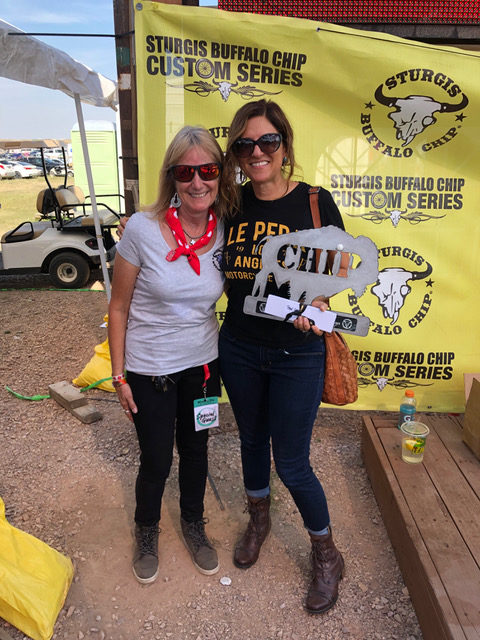 Marilyn Stemp and Christine LePera.