Story by Margie Siegal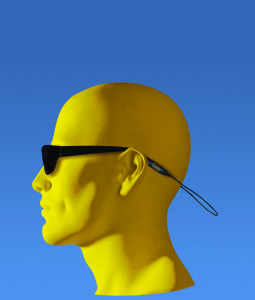 Since I only have one pair of eyes, I wear sunglasses when riding during the day. Sunglasses, unfortunately, are expensive and easy to lose – a bad combination. The simplest way to keep from losing your sunglasses while riding is to wear a glasses retainer, which opens up a new can of worms. Some retainers can chafe your neck. Others are uncomfortable under a helmet. Cheap glasses retainers can come loose, so your glasses slip out of them onto hard asphalt. Fabric retainers can get sweaty and dirty.
            I lately discovered the fix for most of these problems: Cāblz. Cāblz retainers are reasonably priced, secure and adjustable. They come in two versions; one with a silicone-coated stainless cable and the other in non-conductive monofilament. The Monoz monofilament version is popular with fishing enthusiasts and industrial workers who have to be careful about conductivity.  Both versions are lightweight, do not absorb water, and stay off your neck.
            Ron Williams, head of the Cāblz company, got the idea for the invention when the strap of his sunglasses snagged, knocking the glasses across his face and almost causing him to wreck the truck he was driving. Enraged, he threw the glasses across the cab and they landed on a coil of surgical steel cable. The light bulb went on, and he designed a lightweight but secure sunglasses retainer that would not hang on your neck. The end fittings feature a ball bearing that allows the cable to spin independently of the end fitting, eliminating kinking.
             The second generation of Cāblz are adjustable, allowing them to fit snugly to the head. This is a great feature for people who ride. Your sunglasses will stay put and not get knocked off by wind gusts. The adjustment stays put unless you change it, and you can do the adjusting with gloves on.
            Unfortunately, they don't work with my full face helmet. They might work with your helmet – try them and see. For now, I'm going to put my Cāblz in my pocket when I ride. Keeping my sunglasses around my neck will eliminate those OH S**T moments when I don't remember where I put my sunglasses and make hanging out at rallies just a little bit more pleasant.
Cāblz can be found in many sporting goods stores or visit www.cablz.com.