Story and photos by Becky Brown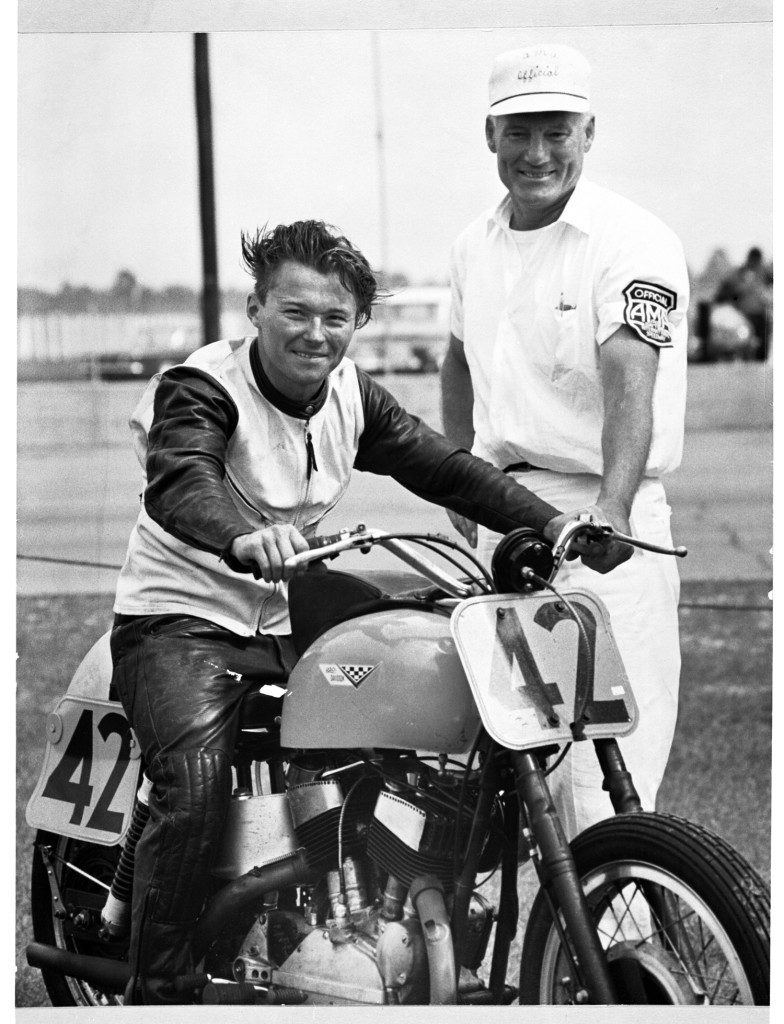 Several years back I was in Phoenix for a meeting and my group was invited to a personal tour of the motorcycle museum located at Buddy Stubbs Harley-Davidson. The tour was given by Buddy Stubbs himself. The museum is the largest in the Southwest with over 130 bikes from around world but what really made an impression on me was Buddy Stubbs. The tour not only described the bikes and their history but some of the history of Buddy. I have since become friends with Buddy and I am never more amazed than learning of his accomplishments.
2016 will be the 50th anniversary of his Harley dealership in Arizona. Over those 50 years and more he has collected a long line of stories and experiences. I remember sitting at a casino bar in Las Vegas last year hearing about his times with Evel Knevil and Bud Ekins. We all know who Evel is but Bud was the stuntman who jumped the fence with a Triumph in the movie The Great Escape.
Buddy also was in the stuntman business for over 12 years. He taught Robert Blake how to ride for his role in Electraglide in Blue. Not only did he work on the set of that movie but he also did stunt work in two Bob Hope movies, several low budget "B" motorcycle movies and the TV series Then Came Bronson.
But that wasn't enough to keep him busy. He started racing as an amateur in 1955 and went pro in 1961. He won the Daytona 100 in 1963 and the Windber 25 in 1963. He raced Harley, BSA and Triumph motorcycles. For many years he was one of the top AMA point racers and has kept his AMA membership since 1944. While he doesn't race anymore he did ride in the Baja 500 held in Mexico in 2003. He does still ride off-road when he has the time and in 2010 he competed in the coast-to-coast Cannonball Run on his 1915 Excelsior.
Phoenix is lucky to have Buddy at the helm of his three locations including Anthem H-D. He is the major supporter of Arizona Bike Week and told me it's his biggest week of the year. Every year for 11 years he has kicked off Arizona Bike Week at the end of March with The Buddy Stubbs Bike Bash at his dealership with 6,000 to 8,000 attending. But what really separates Buddy from the others is the money he has raised for charity over the years. Every year during Bike Week he sponsors The Wednesday Ride For Kids. All of the money raised each year goes to the children's Camp Courage Burn Camp in Prescott. In the past 16 years he has raised over $800,000.00 for those kids with severe burns. Plus his work with Make A Wish has brought in over $500,000. And these are just two of the charities he is involved with.
Being the man Buddy is and all the activities he has been involved in over the years it is not a surprise that he has collected a few awards. He was honored by the California Trailblazers MC and given the Hero award at Arizona Bike Week in 2012. He has yet to be inducted into the AMA or Sturgis Hall of Fame but hopefully it will be coming soon. I don't know of anyone more deserving. I know I have a good friend in Buddy and can't wait until we sit for another 5 hours and swap stories over drinks.