Story by Marilyn Stemp
Photos by Mark Velazquez
No, Max Hazan isn't the first guy who learned the basics of fabrication as a kid in his father's workshop. But it's the rare person who takes such elementary foundations to the level of artistic expression Hazan has. And this bike is a standout example of being introduced to a craft or idea and taking it way beyond the expected.
To begin with, if you've seen other customs from Hazan Motorworks, you know they have little in common in terms of design. "I try to push myself to do something completely different every time," said Hazan, who has turned his attention to BSAs, Ducatis and Ironheads in equal measure. "In terms of the overall design I try to work outside my comfort zone."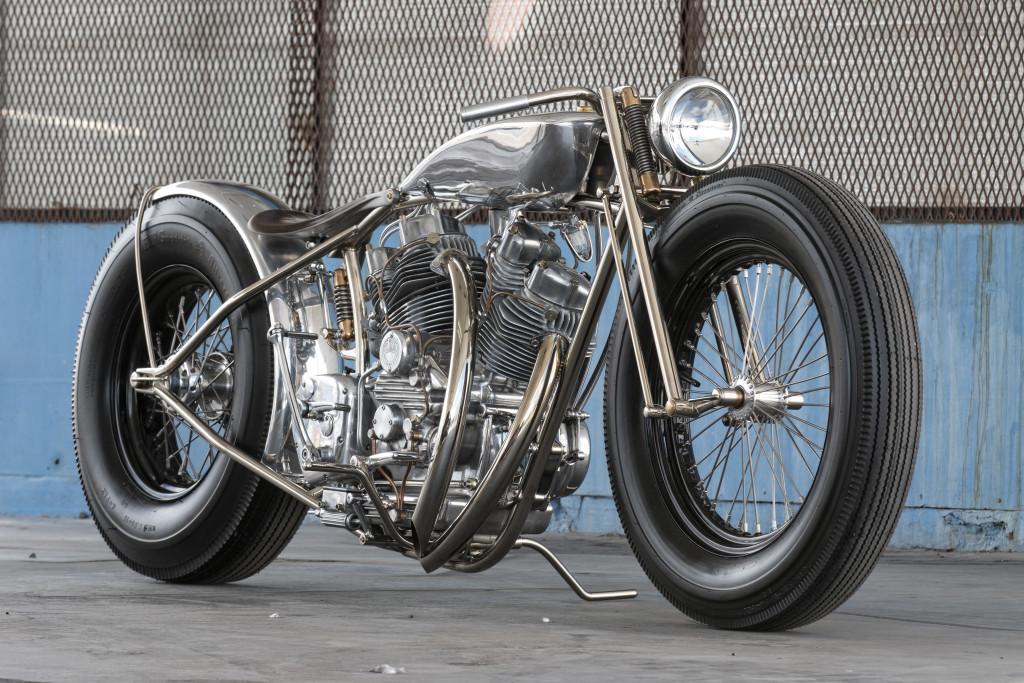 In this case, Hazan was inspired by a particular engine. Admittedly he's not the first builder to be so motivated but the craftsmanship that followed from that point is so distinctive that it makes a specification list unnecessary. Why? Because 95% of the pieces on this bike are hand crafted.
Hazan calls the bike the Musket, the same name the engine builder gave to the motor when he developed it. Hazan had seen a picture of the Musket engine online and contacted the builder, a man from Ohio who had worked on the project for over 10 years. "He actually carved the bottom end of the engine out of a block of wood; that took him a year," explained Hazan. "Then he had a cast made and machined everything on a Bridgeport mill. It is really a hand made engine."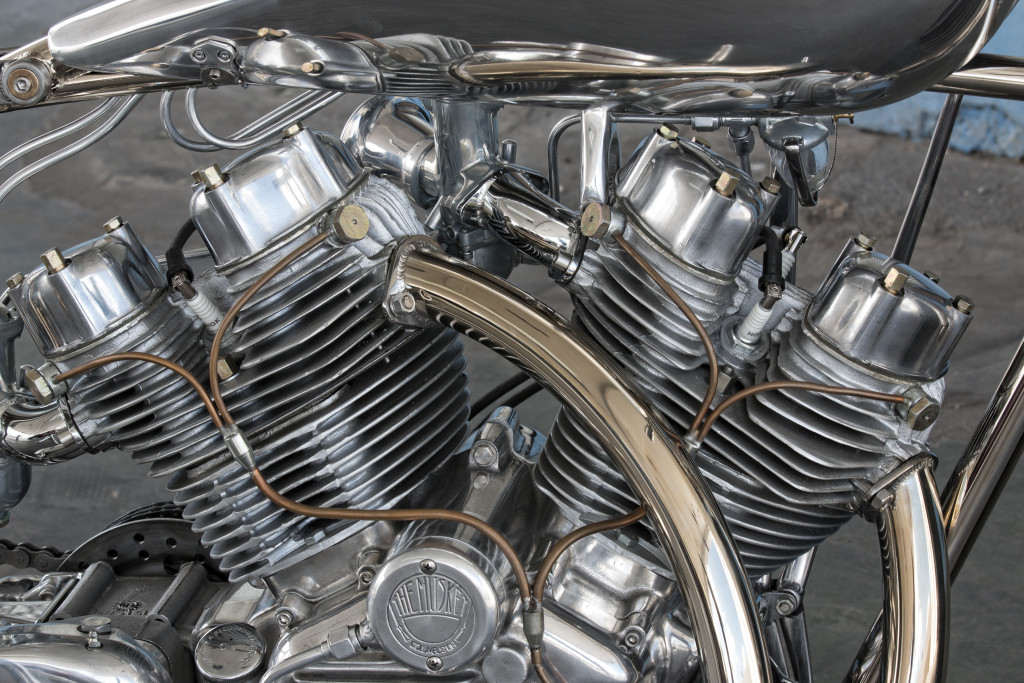 Hazan bought the second Musket engine produced intending to build a bike around it for a customer who had given him total leeway on design – every builder's dream scenario. After adding the kickstarter he altered the carb mounts to accept Amals for their better aesthetic proportions. "They get a bad rap but they work great. Especially with this engine, I wanted something that was elegant looking and sized right," Hazan explained.
He constructed a rigid frame which was nickel plated then spent 10 days making four different tanks from multiple pieces until he was satisfied. He bent the exhaust pipes out of stainless in those perfect curves and fabricated the front end from scratch.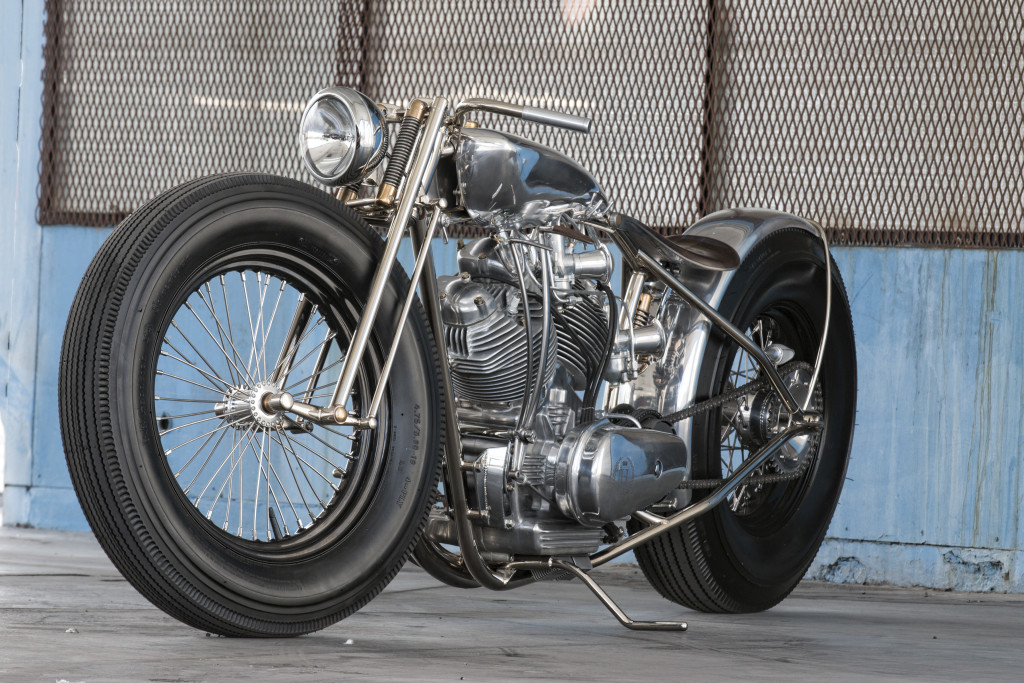 Despite their slight appearance, these major components are quite strong and capable. "Everyone thinks it's frail but I used quarter-inch thick wall tubing on the forks themselves and the other parts were carved out of inch-thick plate steel," said Hazan. "It's solid!"
Taking a clever approach to braking, Hazan cut open primary drive, spaced the drive out, eliminated the gear oil and hid a disc brake in the transmission. The bike is actually slowed through the chain. "Other people have done sprocket brake type setups but I don't think anyone has put the disc brake in the trans," he said, adding it runs fine dry; he simply oils the chain now and then if it looks like it needs it.
And that's the beauty of building a custom like the Musket; there's more latitude. "It's not a race bike so I wasn't crazy worried about spring rates and dampening. It just needed to ride well," he said. "For a rigid, it's pretty smooth."
Aiding the ride are wide tires, which along with the wheels are the only components that were bought instead of made. Generic Harley-Davidson wheels came from eBay but even they were modified. Hazan used part of a Harley hub on the rear then machined the rest out of a block of aluminum.
An artfully engineered spring under the seat adds suspension, too. Speaking of the seat, it's a separate work of art, fabricated by the builder from steel inlaid with mahogany of almost equal thickness. Though Hazan enjoys woodworking, it doesn't mix well with metal working. Fortunately he has access to a wood shop on the 10th floor of the building housing his own shop in downtown Los Angeles, a city he calls home since moving from Long Beach, New York about two years ago.
Hazan works by himself in a second floor warehouse space that has lots of big windows and a freight elevator, located in a neighborhood he describes as okay in the daytime and a little sketchy at night. In a word: perfect. He chose the area because it reminded him of his old New York digs, before gentrification and skyrocketing rents.
He wasn't in LA long before he discovered another east coast transplant nearby, Lock Baker of Eastern Fabrications. As it happened, when the shipper arrived to pick up Hazan's bike for the 2015 Motorcycles As Art Exhibition at the Buffalo Chip, the driver said Lock's place was his next stop. Said Hazan, "I had no idea, but it's nice to have a neighbor like that."
Essentially self-taught, Hazan has had to fill the gaps in his skill set as necessary and claims his biggest assets are being a fast learner and having an ironclad work ethic that dictates you learn something by doing it until you get it right. "I'm just kind of lucky that I can visualize things," he said. "A lot of the details happen later, after you get the general idea."
And that's the nugget of the Hazan Motorworks approach to bike building: engineering to get the desired look. "It's not that I put looks over something else, that's where I start. I think of what I want to see then I think of what will work."
Hazan Motorworks
www.hazanmotorworks.com
maxwellhazan@gmail.com