American Flat Track's Brad Baker slated to take on Marc Marquez at the Superprestigio in Barcelona this weekend
FansChoice.tv to stream the event in the U.S. this Saturday from 12:00–3:30 p.m. ET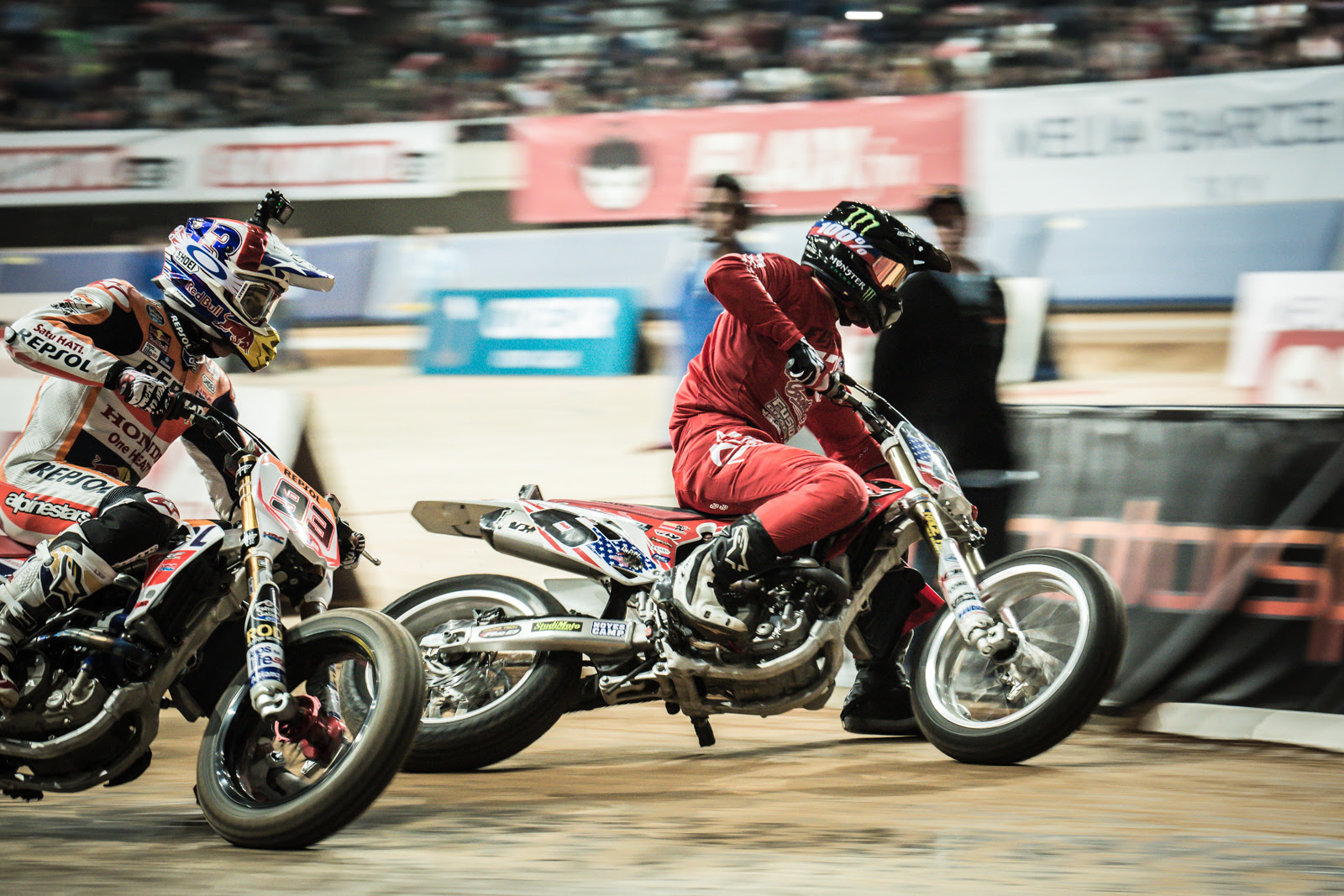 DAYTONA BEACH, Fla. (

Dec. 13, 2016

) – It's that time of year… Time for the long awaited rematch between American Flat Track's Brad Baker and MotoGP's Marc Marquez at the fourth running of the Superprestigio at Palau Saint Jordi in Barcelona, Spain on

Saturday, December 17

.

Once again, FansChoice.tv will live stream the event in the U.S. this Saturday from 12:00 p.m. ET – 3:30 p.m. ET, free of charge thanks to a collaborative effort between American Flat Track and RPM-MKTG, the promoters of the Superprestigio.

Three-time MotoGP™ World Champion Marquez will once again aim to beat Baker at his own game. The 2013 Grand National Champion remains undefeated against Marquez, topping the international superstar in both Superprestigio I and III. In 2014, during the second running of the international dirt track spectacular, Baker was sidelined after a crash in practice and Marquez scored a win over three-time Grand National Champion Jared Mees. Mees was invited to take part in this year's grudge match overseas, but unfortunately he's still on the mend from an injury suffered in off-season testing.

A true All-Star event, the short track exhibition features an invitation-only field comprised of champions and top motorcycle talent from around the world, and a variety of disciplines. Alongside Marquez, the list includes additional road racing World Champions, including 2014 Moto3 World Champion Alex Marquez, 2010 Moto2 World Champion Toni Elias and 2011 FIM 125cc World Champion Nico Terol. Joining the group of A-list road racers for his Superprestigio debut is former World Superbike racer and fan favorite Ruben Xaus.

In addition to Baker, dirt track racing's international contingent includes National Champions Alan Birtwistle (2016 British DTRA Champion) and Ferran Cardus (2016 RFME Copa de España de Flat Track Champion). Cardus, the inaugural champion of Spain's national flat track series, has been training with Baker in recent months and has also been invited by American Flat Track to compete in the AFT Singles class at the 2017 season opener, the DAYTONA TT, on March 16.

For complete entry lists and additional information on this weekend's Superprestigio, please visit the following links:
Entry List: Superprestigio Category – http://dtxbarcelona.com/2016-superprestigio-class-riders/?lang=en
Entry List: Open Category – http://dtxbarcelona.com/pilotos-cat-open-2016/?lang=en
Event Schedule: http://dtxbarcelona.com/timetable-superprestigio-2016/?lang=en
Additional Information: http://dtxbarcelona.com/?lang=en
Live Stream: Viewers in the U.S. are invited to tune in and follow the action as FansChoice.tv will live stream the event in the U.S. this Saturday from 12:00 p.m. ET – 3:30 p.m. ET
How to Watch:
FansChoice.tv
is the official home for live streaming coverage of American Flat Track events. The site also provides coverage of IMSA's development and single-make series, and NASCAR's touring and weekly series. Catch all the action at
http://www.FansChoice.tv
.
About American Flat Track:
American Flat Track is the world's premier dirt track motorcycle racing series and one of the longest-running championships in the history of motorsports. Sanctioned by AMA Pro Racing in Daytona Beach, Fla., the series is highly regarded as the most competitive form of dirt track motorcycle racing on the globe. For more information on American Flat Track, please visit www.americanflattrack.com, follow us on Twitter, like us on Facebook or live stream the on-track action on FansChoice.tv.