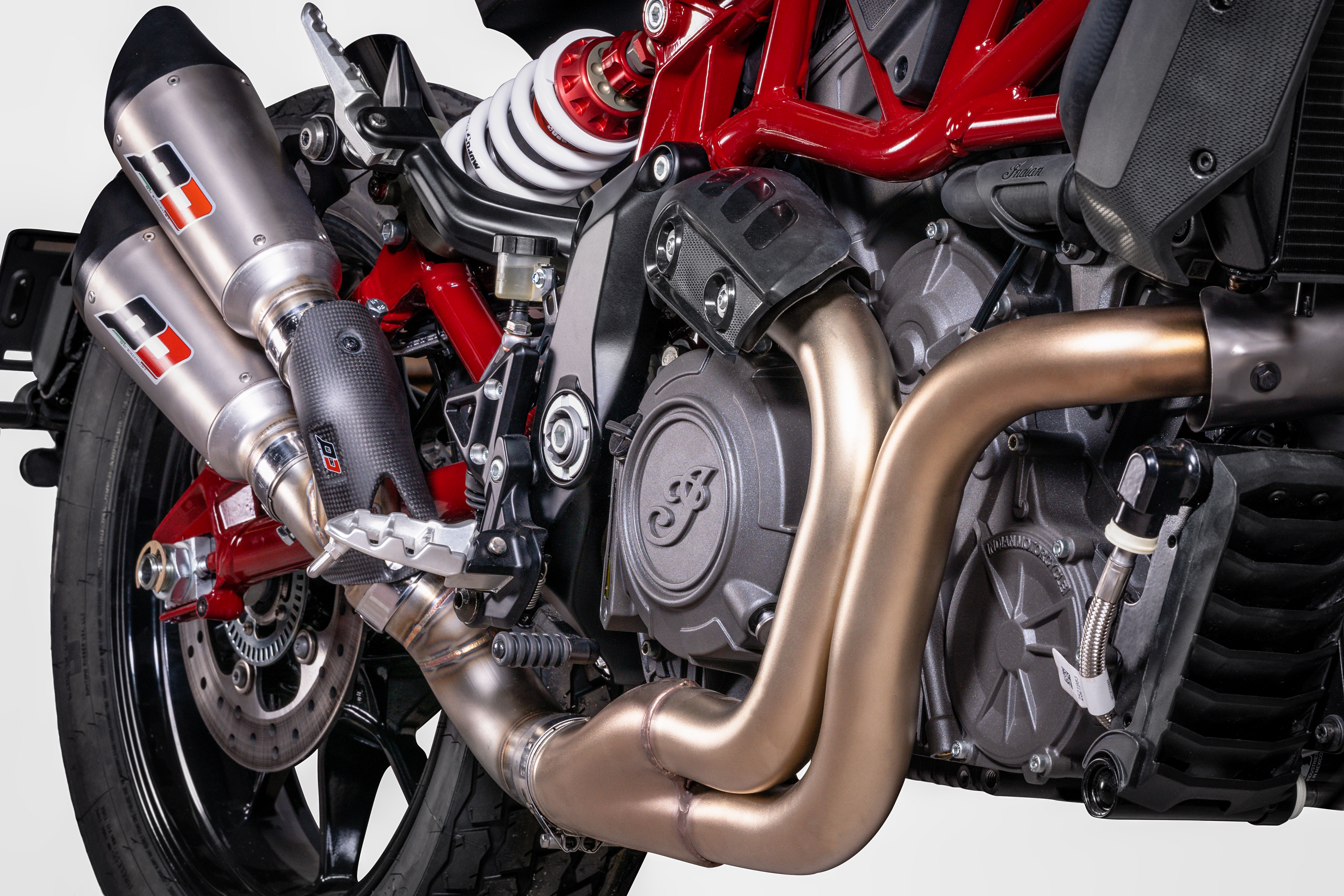 Aeromach USA, LLC, a motorcycle parts manufacturer and distributor located in Charlotte, N.C., is pleased to announce they are the US distributor for QD exhaust for the new Indian FTR motorcycle. QD, is based in Vercelli, Italy, southwest of Milan.
"We are excited to add this line of quality products to our offerings for the new FTR motorcycle," said Paul Aiken, owner of Aeromach. "We have been selling QD exhaust for the Indian Scout and when I met with the team from QD we immediately decided we needed to sell these beautiful Italian mufflers in the US and according to feedback from our customers they agree."
The slip-on mufflers feature a carbon fiber heat shield and can be mounted directly to the factory resonator or with the available QD-70005 "cat-delete" pipe to remove the resonator. A reflash unit will follow shortly to reflash the bike's ECU to compensate for the exhaust change when removing factory resonator.
Retail price for the QD-700012 and QD-70015 mufflers is $875, the QD-70005 Cat-Delete is $298.  They can be ordered at many dealers in the US as well as online from Aeromach's website www.aeromach.net
About Aeromach
Aeromach USA LLC is based in Charlotte, North Carolina and is a manufacturer of billet aluminum motorcycle accessories including mirrors, handlebar risers, levers and other accessories for Indian, Harley-Davidson, Victory and metric cruisers. Aeromach is also the US representative for Highway Hawk motorcycle accessories from Germany and QD exhaust from Italy.
About QD Exhaust
QD Exhaust is an industrial company that has an operational unit of 2,300 square meters consisting of administrative and design offices, a production department and a warehouse with an average stock able to promptly satisfy market demands. The production standard is guaranteed by an integrated quality control process, the product testing procedures in the various stages of production progress guarantee the highest quality level in the category.
For more information contact:
Aeromach USA LLC
Paul E. Aiken, 800-990-9392