MANCHESTER, CONN. (August 14, 2014) — Hot Leathers was busy at all 10 locations during the 2014 Sturgis Motorcycle Rally, as an official licensed merchandiser for the Sturgis Motorcycle Rally® and the Buffalo Chip. Hot Leathers has continued to support numerous annual charity events. They donated original logo designs and apparel for charity events, staged a national model contest and designed the 75th Sturgis Motorcycle Rally official logo to give back to the local community.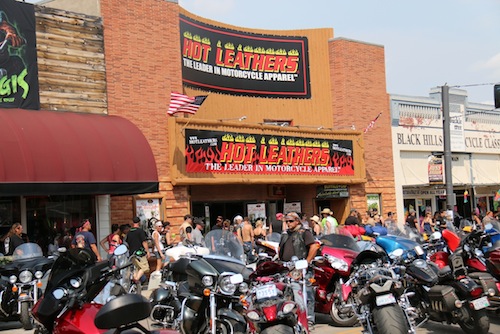 Hot Leathers designed numerous products of official licensed merchandise for the 2014 Sturgis Motorcycle Rally® and bikers sought out Hot Leathers great merchandise. The #1 design graphics were see everywhere and riders wanted commemorative gear to mark the 74th Sturgis Motorcycle Rally®. Hot Leathers' official 2014 Sturgis Motorcycle Rally® merchandise is still for sale at
http://www.hotleathers.com/Sturgis-Rally-Merchandise-C82.aspx
As they do at every rally they set up at Hot Leathers supported worthy events with original and unique designs. Sturgis has some great events to support including the annual Legends Ride and the Michael Lichter Motorcycles as Art Exhibition entitled "Built for Speed" and the Biker Belles ride, celebrating women riders from around the world. In addition Hot Leathers provided the official licensed clothing and accessories for the Buffalo Chip. Riders who visited the Chip wanted gear to remember their trip to the Chip. In addition the City of Sturgis unveiled the 75th logo on Main Street, which was designed in house by Hot Leathers Vice President of Product Development Paul Resnick.
"We always enjoy Sturgis. We had a great time seeing riders from around the world and getting them what they need. We are looking forward to the 75th and everything that the Sturgis Motorcycle Rally will have to offer." Said Andy George, Executive Vice President for Hot Leathers.
Hot Leathers conducted a model search leading up to this year's Sturgis Motorcycle Rally® and chose two new couples as the Hot Leathers Models to feature in their upcoming advertisements, promotional materials, Internet marketing and catalogs. Images were shot on the streets of the Sturgis Motorcycle Rally®  and on location at Hot Leathers stores by talented, well-known photographer Curt Lout.
To see more photos and videos of Hot Leathers' 2013 Sturgis experience go to the Hot Leathers Facebook page as well as on their website at www.hotleathers.com. Hot Leathers has been serving the motorcycle community for more than 30 years and is the leading motorcycle apparel and merchandiser in the country. Want to stay updated on all the Hot Leathers events, specials, follow the Hot Leathers trailers around the country and get the first glimpses of Officially Licensed Merchandise? Then be sure to "Like" Hot Leathers on their Facebook Page at https://www.facebook.com/hotleathers. You can also follow them on Twitter at http://twitter.com/#!/HotLeathers.
###
Ken Conte
Rise Above Consulting
970.227.2588
1717 Deweese Street
Fort Collins, CO  80526
A locally owned full service public relations and marketing company specializing in media relations and brand building.