Scenic Motorcycle Tour for Charity Set for May 4–6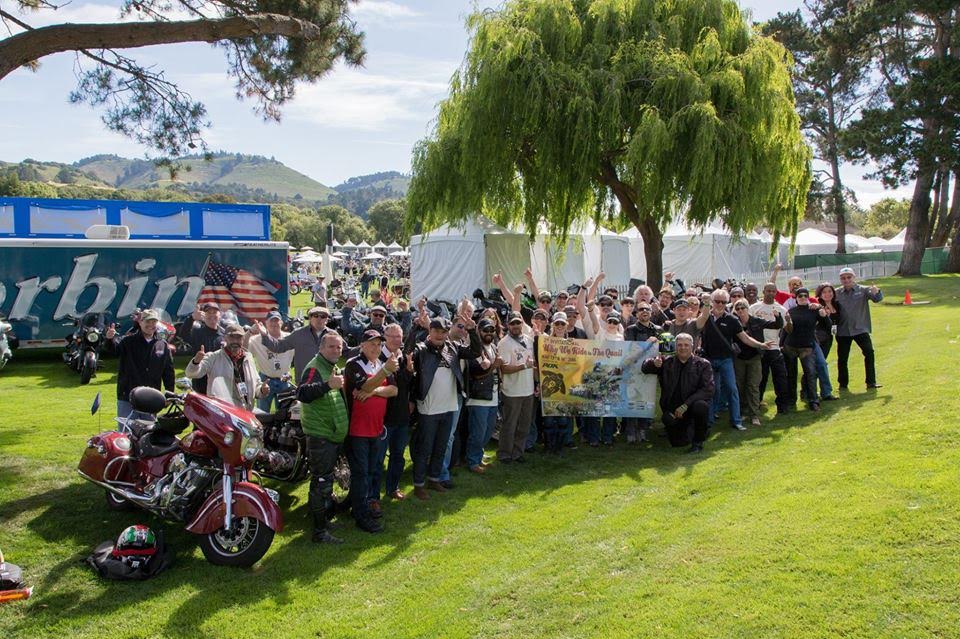 Moorpark, CA, – (21 April 2017) – The "Why We Ride" film, released in 2013 has become the #1 motorcycle movie in America because it is a story about who we are. It told the stories of individuals with a desire to dream, to discover and to explore. The movie hit an emotional nerve with riders and it has spawned an entire social movement within the industry. Director, Producer Bryan H. Carroll and Producer James Walker decided they needed to do something with this passion group of fans and out of that brainstorm came  Why We Ride MOTOvational Events. The 3rd Invitational WHY WE RIDE to the Quail is the largest annual charity event and will take place May 4, 5 and 6. The ride begins in Moorpark and heads to picturesque Pismo Beach, CA, moves up into the wooded hillsides and gorgeous valleys of Paso Robles wine country, following the Carmel River along the most seductive canyon road in California, and arriving at the beaches of Monterey in time for The Quail Motorcycle Gathering. All proceeds go to the Pediatric Brain Tumor Foundation.
"Three years ago we thought we would attract only 'motorcycle people' on the ride ," says Bryan Carroll, producer of Why We Ride Films, organizers of the event. "Quickly we realized that like the movie, our audience was really people who ride motorcycles, which is a very different approach and made a huge difference. That approach expanded our sponsor base, and is responsible for an bigger ride this year – and being able to contribute more to our charity. I'm proud of our team for seeing our potential for good, and pushing harder every year."
That huge difference is resulting in people of all stripes with a common love of motorcycle riding coming together and taking part. Of course, everyone loves a good cause, but the diversity of sponsors and participants really illustrates how the Hollywood and motorcycling communities have united to benefit those in need, namely children with serious medical issues. A combination of top motorcycle and riding accessories manufacturers have joined with the biggest and best equipment makers and creative service providers in Hollywood, and the unique nature of the 3-day ride (the only one of its kind) allows companies to demo products along the way.
"One of the reasons we have multiple OEMs sponsoring us is because this is about why we ride not what we ride," says Carroll. "I wanted to bring my two passions to this ride, which is making movies and anything with an engine in it, and this year's sponsors have captured that."
Participants in the charity ride enjoy a bevy of perks (in addition to the awesome ride), including cocktails and vittles at the WWR Riders Dinner, gift bags, special guest speakers and VIP access to The Quail Motorcycle Gathering, including private ride to the event, exclusive parking and private lounge access.
Sponsors for The 3rd Invitational WHY WE RIDE to The Quail include (please link this to www.MOTOvational.com): Company 3, Refuse Specialists, Indian Motorcycle, Nuviz, Newbox Solutions, Kawasaki Motorcycles, Macro Space, Aerial Vuz, Gnarlynow Entertainment, Lightning Entertainment, Harley-Davidson Motorcycles, Klock Werks, D73, Motorcycle Mover LA, 805bling, Doffo Winery, LA Motorcyclist, FastHouse, Formosa Group, Fotokem, Lucky Fools, Harvest Construction, Egrafz, Alpinestars, EPS-Cineworks, AMA, idPlatforms, Bill Bavelas Family and Tim Mitchel Family.
About Why We Ride Films: Why We Ride Films is the production team behind Why We Ride, a feature length documentary film. Since its December 2013 release, it has quickly become the most critically acclaimed motorcycle movie of all time. Independently distributed by producer/director Bryan H. Carroll and producer James Walker—recipients of American Motorcyclist Magazine's 2014 Motorcyclists of the Year award—Why We Ride's aim is to use the power of cinema not only to entertain but also educate, inspire and celebrate the world of motorcycling with audiences worldwide. To learn more about Why We Ride, visit WhyWeRide.com.