Last year Cleveland got a pounding and the Polar Vortex had just begun to extend its icy fingers down from the Great White North. This year the weather was a balmy 60 degrees and the vortex is remembered like yesterday's news.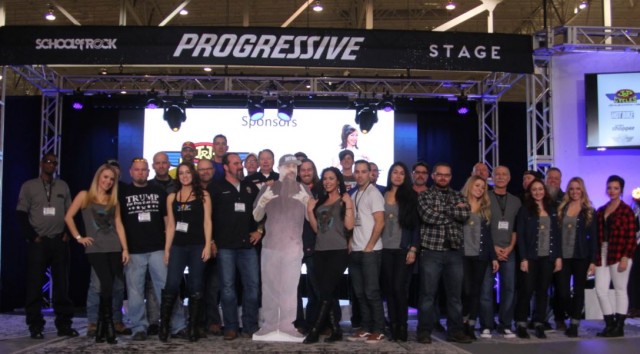 Lines snaked outside the entrance into the International Motorcycle Show at the IX Center in Cleveland. The quality of the custom builds were stellar this year. It's unfortunate that there is only 1 winner in each of the four classes as there were so many deserving motorcycles.
Dell Battle won the Hot Bike Editor's Award for his 1991 Sportster named 72 Style Sporty. Court House Custom won the Street Chopper Magazine Editor's Choice award.
Jesse Srpan took the SHO DOG award and received a solo bag from The Leatherworks for his work representing his company at the International Motorcycle Show.
J&P Cycles Ultimate Builder FreeStyle Class
Whenever Jeremy Cupp from LC Fabrications rolls a bike into a competition, you know he will be standing someplace on the podium. Cupp entered his bike Seven into the open class that allows for any type of drive train and any 2 or 3 wheel motorcycle as defined by the DMV. The Grottoes, Virginia native took top honors and rolled out of Cleveland with a check for $2,000 and a champion anvil ring from Speakeasy Original. We will be seeing him in Chicago at the US Championship competing for King of the Builder and a $10,000 payday.
Cupp used a Ducati topend, a Buell Blast case and a Triumph gearbox to create his own custom mill. He fabricated the frame, oil, gas tank, rear fender and engine shield. He also fabricated just about everything else but the tires and spokes. The bike got its name "Seven" because Cupp said that it's the seventh proper motorcycle to roll out of the LC Fabrications garage.
1 – # 250 – Jeremy Cupp, LC Fabrications – 2015 Custom named Seven
2 – # 775 – Wayne Burgess – 2010 Shovelhead named Spitball Magoo
J&P Cycles Ultimate Builder MOD Harley Class
The MOD Harley class requires Harley-Davidson engine cases and frame.  The neck may be cut to rake or stretch the frame.
The black and red paint on Dell Battle's latest custom bike, 72 Style Sporty, really pops. The 1991 Sportster features tall billet wheels, custom exhaust, intake, custom tank, controls and swing arm. Air ride front and back allows the bike to look aggressive while at rest.
At the awards ceremony Dell jumped up on stage for his photo op and his $1,000 payday. Dell is heading to Chicago for the US Championship and the KING of the Builders award.
1 – # 925 – Dell Battle, Danerous Dezigns – 1991 Sportster named 72 Style Sporty
2 – # 150 – Demetrius Clarke, John Speed & Custom – 2007 Harley
J&P Cycles Ultimate Builder MOD Retro Class
MOD Retro is an open class for any build with a motorcycle based drive train1984 or older. It requires an OEM driveline with stock, modified or aftermarket frame.
Ed Kubiez worked with Jeese Basset at The GasBox to create an exceptional custom build of a 1965 BSA. The bike features 6" stretch and 4" lowered custom frame with Invader wheels and a rear perimeter brake system. Kustomtech handles the controls and a Hurst shift lever guides the shifting. Updates include a sectioned Superglide tank and late model dual carb heads.
1 – # 175 – Ed Kubiez, The GasBox – 1965 BSA
2 – # 100 – Austin Andrella, Austin Martin Originals – 1969 Triumph named Ole 69'er
Ed Kubiez's next event is the US Championship in Chicago.
J&P Cycles Ultimate Builder MOD Custom Class
The MOD Custom class sports OEM engine and frame. Neck may be cut to rake or stretch the frame. Hard tail sections, stretched swing arms and wide tire kits are acceptable.
Rich Worley road up from South Carolina to showcase his 2016 Indian Scout named Mad Max Scout. It features paint by Rusty Nash and Mick Forest, circuit breaker ignition, custom seat and handmade brass parts.
1 – # 550 – Rich Worley, American Biker – 2016 Indian Scout named Mad Max Scout
2 – # 350 – Justin Seely, KWS Motorsports – 2006 CBR1000rr named Wolverine
Rich Worley's next event is in Chicago for the US Championship.