Nash Motor Co. X On The Roam X Vermont
WWII Inspired Glove – US Made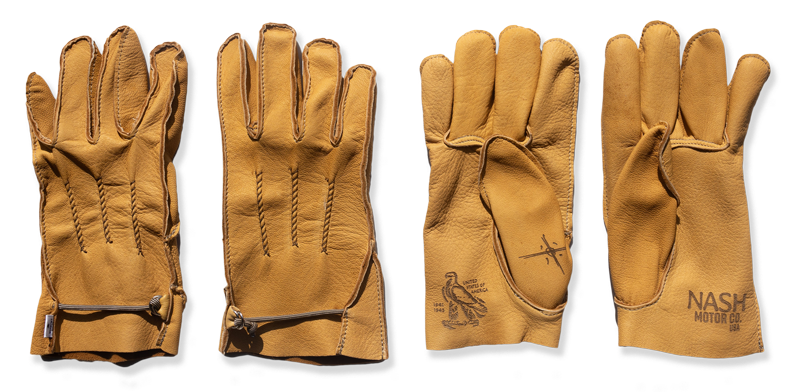 These gloves are produced using the same equipment that made them during WWII! 100% MADE IN THE USA.
For years we have followed and admired Vermont Glove, a 4th generation, family-owned, US manufacturer of the highest quality and most durable leather gloves on the market. We proudly announce our glove collaboration with Vermont Glove, Jason Momoa's On The Roam, and Nash Motorcycle Co!
Vermont Glove is an over 100 year old American glove manufacturing company. They are family-run and continue to manufacture the highest quality work gloves on the original machines used back in the 1920's and 50's. They continue to produce a quality US product while focusing on the future as they transition the company to running off 100% renewable energy, reducing their carbon footprint, only using US material supply chains, and building their gloves 100% in the United States of America.
We will offer a limited amount of pairs for purchase. These pre-sale orders will start shipping January 2022. Each pair is handmade in Randolph, Vermont, USA.
The glove: durable and beyond comfortable gloves perfect for riding, working, whatever you can throw at them!
Durable 100% goatskin leather so your gloves stay soft and dexterous
Hand-stitched leather with heavy-duty nylon thread
Outside glove seams for superior comfort
Double-stitched fingertip seams for protection & durability
Vein protector for longevity
Whip overlock chain stitch detail on outer portion of gloves
Paracord cinch system for an adjustable fit