How would you like to hang out with Arlen, Cory and Zach Ness at his shop while they're  customizing your brand new 2015 Victory Gunner? Only in your dreams right? Well, miracles do happen and if you're the lucky winner of the Victory Custom Ness Sweepstakes your dream will come true. One lucky winner is going to win a new Victory Gunner, meet Arlen Ness at his shop in California, plus have that bike personally customized. No catch, no strings – just a dream opportunity Victory is excited to make available to one very lucky motorcycle enthusiast.
You can enter the Custom Ness Sweepstakes at www.victorymotorcycles.com from now to March 26th. Entrants must be 18 to enter and there no purchase necessary. The lucky winner gets a brand new 2015 Victory Gunner, up to $5000 in parts, have it personally customized by the Ness Family. The winner will also receive a 3 day/2 night trip to Dublin, California, where you'll meet Arlen, Cory, and Zach Ness. Together you'll craft your new custom Gunner with the best-known, hottest bike-building teams in the world of custom motorcycles.
The new 2015 Victory Gunner was unveiled at the Chicago Progressive International Motorcycle Show and is Victory's hottest new bike. It's a bobber, boasting a powerful 106ci V-twin, a lowered seat height, and lean-angle engineering that makes it ride like no other bobber currently on the market.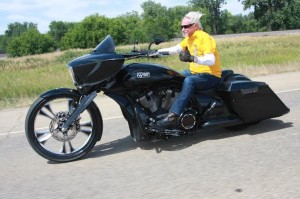 "I don't know a biker alive who doesn't love to trick out their bike. And the Ness Family? Come on! These guys are legends in customization," says Steve Menneto, VP-Motorcycles at Victory Motorcycles. "Offering up a new Gunner and the chance to get to spend time with the Ness's, and then have the bike personally customized – this is as cool as it gets."
Arlen Ness also commented, "The new Gunner is already a beautiful bike; this is gonna really be a fun one to work on. Victory makes amazing bikes, and the Gunner absolutely holds up to the brand's standards.  Let's get this thing started; we're ready to meet the winner of the Custom Ness Sweepstakes!"
Source and images: Victory Motorcycles   Posted by Sam Kanish