If you happen to be in Vegas this weekend and you're a motorcycle aficionado stop on by the South Point Casino and Exhibit Hall where Mecum Auctions will present MidAmerica's 24th annual Las Vegas Motorcycle Auction. This 3-day event is the most anticipated antique motorcycle auction of the year. It draws participants from all 50 states and around the world. This year 750 antique and collector motorcycles cross the auction block spanning a full century of production from 1903 to 2003.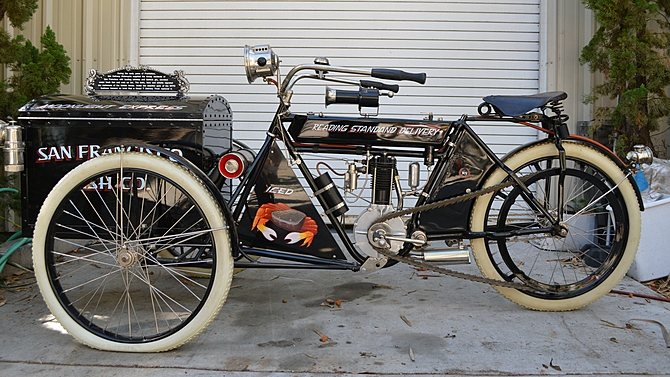 No less than 10 private collections from some of the hobby's well-known enthusiasts will be up for bid. Among them is an assemblage of 40 motorcycles from The Shane Van Pelt Collection, most of which will be offered at no reserve, as well as a great selection from the personal collection of Don Andress, owner and operator of the Las Vegas Harley-Davidson dealership. A lineup of 44 excellent examples from the David Silver Spares Collection will be offered all at no reserve, and an additional 21 motorcycles at no reserve from The Buddy Stubbs Collection will also cross the auction block.
"The consignments to be offered this year are, in every sense of the word, treasures to the antique motorcycle world," comments Ron Christenson, president of Mecum's MidAmerica Motorcycle division. "They will truly excite even the most seasoned motorcycle collector as they cross the auction block. And with our largest offering ever, there is undoubtedly something that will please virtually any motorcycle enthusiast."
The auction is open to buyers, sellers and spectators with general admission tickets available at the gate for $20 per person, per day or $50 for a three-day pass; children ages 12 and younger receive complimentary admission. Bidder registration is $100 and includes admission for two to all auction days. Doors open daily at 8 a.m. with the auction beginning on Thursday, Jan. 8 at 4 p.m. and Friday and Saturday, Jan. 9 and 10 at 10 a.m. A live stream of the entire auction will be presented at Mecum.com with portions also broadcast on NBC Sports Network.
An exclusive preview party sponsored by Las Vegas Harley-Davidson will be held Wednesday, Jan. 7 from noon to 9 p.m. and on Thursday from 10 a.m. to 2 p.m. Hors d'oeuvres and cocktails will be served from 5 to 9 p.m. on Wednesday, and shuttles from South Point to LVHD will be provided during both preview periods. All registered bidders are invited to attend the preview sessions at no additional cost. To register as a bidder for this and all Mecum auctions, visit www.mecum.com or call (262) 275-5050.
Schedule:
* 24th Annual Las Vegas Antique Motorcycle Auction; Jan. 8-10, 2015; South Point Casino and Exhibit Hall; 9777 Las Vegas Boulevard South, Las Vegas, Nevada
* Admission: $20 per person, per day or $50 for three days; children 12 and younger receive complimentary admission
* Preview: Gates open daily at 8 a.m. with early preview for registered bidders on Wednesday at noon
* Auction: Motorcycles start at 4 p.m. on Thursday and at 10 a.m. on Friday and Saturday
* TV Schedule: Monday, Jan. 12 from 6-8 p.m.
Source and Photo Courtesy of Mecum Auctions
Posted by Sam Kanish