"This is a summer when we appreciate our freedom more than ever."
Santa Fe Springs CA – June 2, 2021 – In a time when Americans are beginning to feel the satisfaction of gathering in groups and expanding their summer travel plans, 
Vance & Hines
launches its own celebration of freedom with the new VO2 America Air Intake. Featuring Vance & Hines' proven intake technology along with a unique stars and stripes design, the new product expands the company's line of top-selling air intakes. Launch is timed to celebrate America's renewed feeling of freedom in advance of the July 4 Independence Day celebration.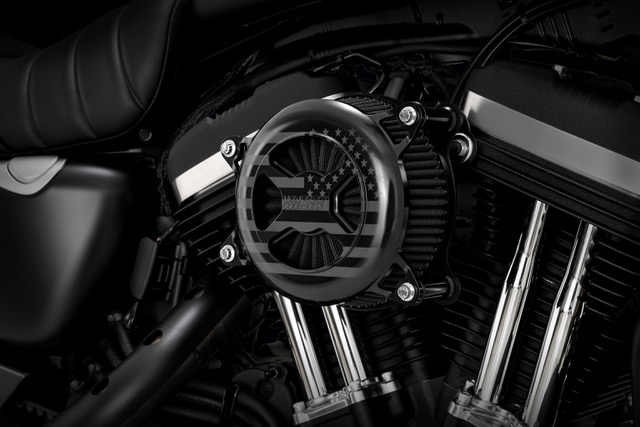 "After what we all experienced last year, this is a summer when we appreciate our freedom more than ever," said Vance & Hines President Mike Kennedy.  "Freedom to ride our Harley's, freedom to head out on the open road, freedom to enjoy the rallies and races that we love to attend."
The VO2 America is designed with performance and style features similar to the company's other air intake products, including a CNC-machined billet cover, ARP hardware and a high-capacity washable air filter element. The limited-edition VO2 America includes a subtle stars and stripes design which is laser etched onto the billet cover. The design is understated and will enhance the look of any recent model Harley-Davidson Big Twin motorcycle.  
The VO2 America retails for $499.99 and will begin arriving at motorcycle dealers this week. It fits Harley-Davidson motorcycles with Milwaukee 8 and Twin Cam engines.
About Vance & Hines
The Vance & Hines brand has always been about enhancing the exhilaration of the motorcycle ride. It started over 40 years ago, when Terry Vance and Byron Hines were two young enthusiasts in the fledgling Southern California motorcycle drag race scene. Terry always wanted to go faster and Byron knew how to make that happen. In short order, their on-track success and innovation drew the attention of other racers, riders and motorcycle manufacturers, which ultimately translated to commercial demand for their products and services. Today, the Company's mission and activity is the same; make bikes go faster on the racetrack and take those learnings to make impactful products for riders around the world. Since the Company's inception in 1979, it has run factory race programs in partnership with Suzuki, Yamaha, Ducati and Harley-Davidson in drag racing, road racing and flat track. Vance & Hines is based in Santa Fe Springs CA and has its Racing Development Center in Brownsburg IN. Learn more about the company's history and products at 
www.vanceandhines.com
.