New program seeks to inspire, motivate, and support next generation of riders.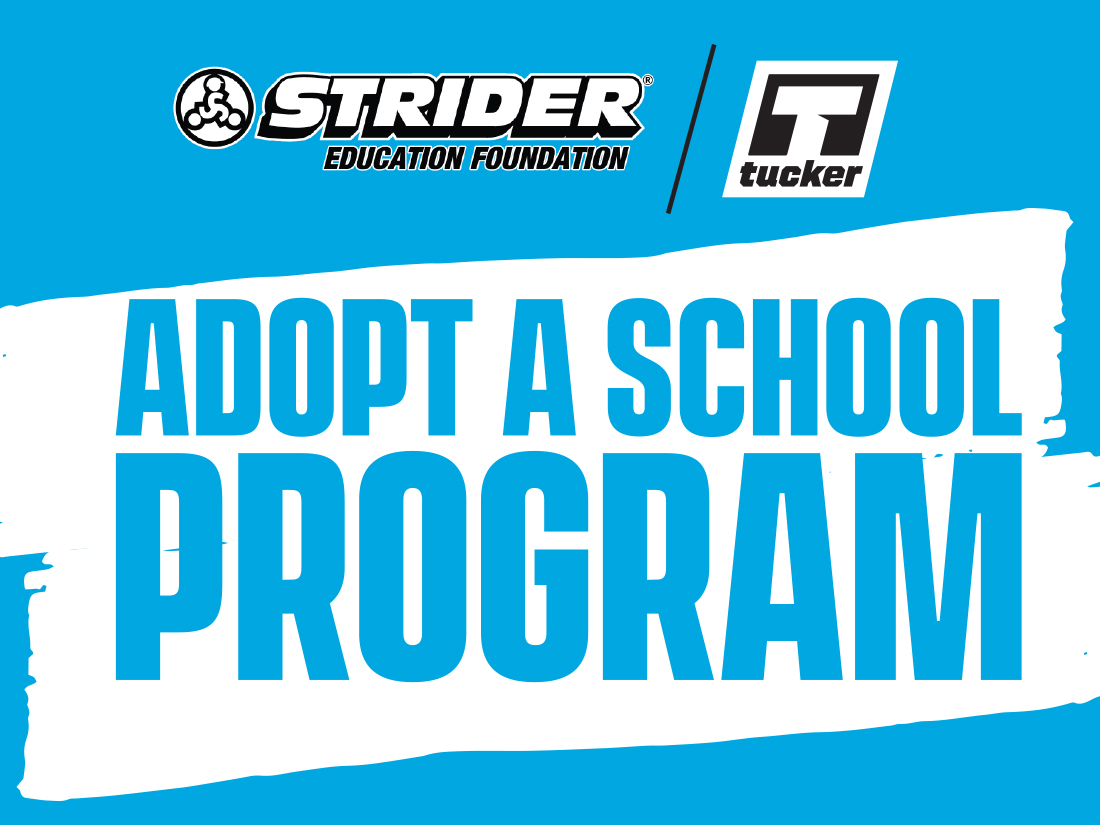 Tucker is pleased to announce a new partnership with Strider Sports whereby the two companies will work together to bring an exciting experience to children in the communities where Tucker operates through the Strider Adopt-A-School program.
The goal of this partnership is to strengthen the bond between the powersports business and education communities. Now, more than ever, we need companies to reach back into the communities where they operate to support our children, and that's what Tucker intends to do.
As part of the announcement, Tucker is excited to reveal five schools that have been chosen as recipients of Strider bikes, Tucker apparel, and support from Tucker's local employee base. Each school is located near one of the five Tucker distribution centers.
The five schools tentatively chosen to receive support include:
Cannon Elementary School – Grapevine, TX
RideOut Elementary School – Middleburg, FL
Houston Elementary School – Visalia, CA
Mid-Valley Elementary Center – Throop, PA
Liberty Elementary School – Bolingbrook, IL
In addition to the support from Tucker, each adopted school will receive the following support from Strider:
Strider Education Foundation Kindergarten PE Curriculum
Staff training and certification for unlimited staff
2-in-1 Strider 14x Sport Bikes to use with the Kindergarten PE Curriculum
Continuing support from the Strider Education Foundation
Together, with Strider, Tucker seeks to inspire, motivate, and support the next generation of riders. More information will follow once the program has been launched in each elementary school. Tucker and Strider: Building future riders—from pedals to motors!
#pedals2motors #tuckerandstrider2019 #strider #strideon
For more information about Tucker, visit www.tucker.com. To become an authorized Tucker dealer, visit the Tucker Dealer Partner page at www.tucker.com/become-a-dealer.
About Tucker
Featuring the most powerful portfolio of parts, accessories and apparel brands in powersports, Tucker is the go-to supplier for retailers across the nation. In addition to an unmatched product selection, Tucker is proud of its relentlessly customer-centric culture and unwavering pledge to on-time delivery. Because of its uncompromising commitment to continuous improvement, Tucker has been earning the trust of the best dealers in the industry for over 50 years.
About Strider Sports International, Inc.
Strider creates and inspires future generations of riders by giving children as young as six months old the best first-bike experience. Strider Bikes revolutionized the bike's design to develop a child's balance first and pairs each balance bike with a proven learn-to-ride process. Children across the globe are starting on a Strider Bike and becoming two-wheeling virtuosos – before they're out of diapers.
Founded in 2007, in Rapid City, South Dakota, Strider has sold more than 2 million bikes and is distributed in more than 75 countries. Visit www.StriderBikes.com, Facebook or Instagram.