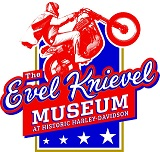 The ultimate collection of the Legendary Daredevil's Authentic Artifacts
Virtual Reality Jump, Snake River Room and Evel's Fully-Restored "Big Red" Mack Truck Rig
FOR IMMEDIATE RELEASE
Topeka, KS — Experience the singular showcase of genuine artifacts belonging to the most legendary, death-defying daredevil of all time. The new Evel Knievel Museum is a world-class facility containing the most complete Evel Knievel collection in the world including actual leathers, helmets, and hidden-cache canes, X-rays showing the metal pins that held Evel together, and rare, never-before-seen jump video and photos.
But that's just the start. On display are Evel's own jump bikes—motorcycles that sometimes launched him toward horrific crashes. These include bikes Knievel piloted at Wembley Stadium and Caesar's Palace featuring their original sheetmetal, painted by Evel's artist George Sedlak. See the X-2 Sky Cycle launched at Snake River, perched on Evel's ramp and installed over dirt brought in from the original location. Peek inside "Big Red," Evel's traveling rig and dressing room, resplendent in red, white & blue metalflake vinyl in the original stars and stripes motif.
A centerpiece of the collection is the most iconic Bell helmet in the world: the 1966 Bell Star worn by Evel Knievel for the Caesar's Palace jump—and subsequent crash. Hidden from view for decades, it's still beautifully battered and likely saved his life that day.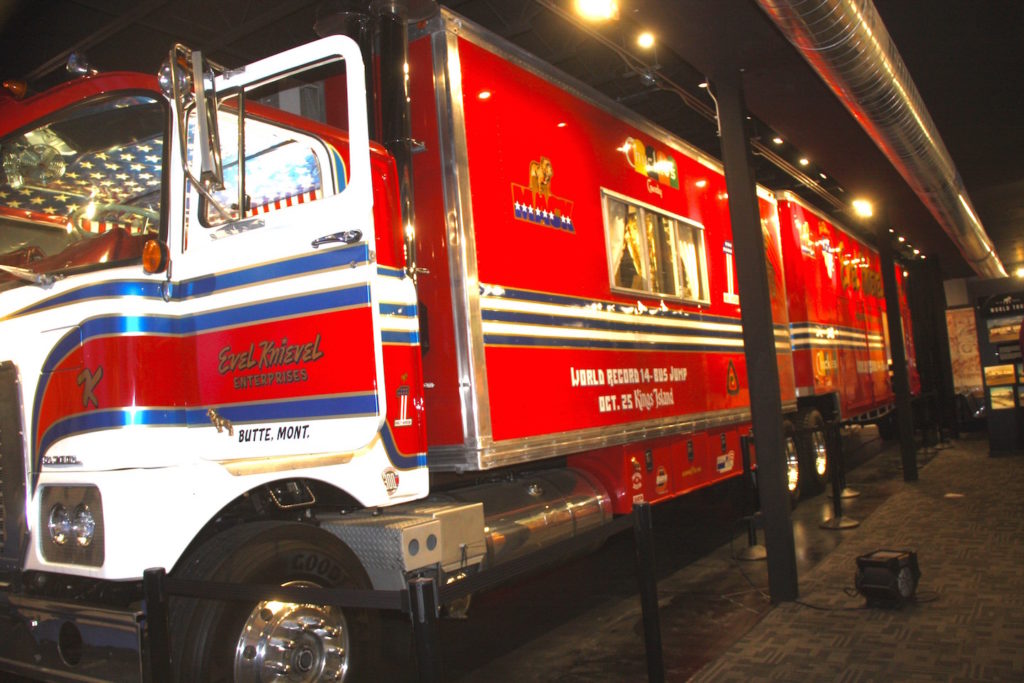 Said Museum Co-Founder Mike Patterson, "Evel was such a riveting figure in the 70's. He did things no one had ever done. I'll never forget seeing him jump when I was just four-years-old and he still inspires today's extreme sports athletes."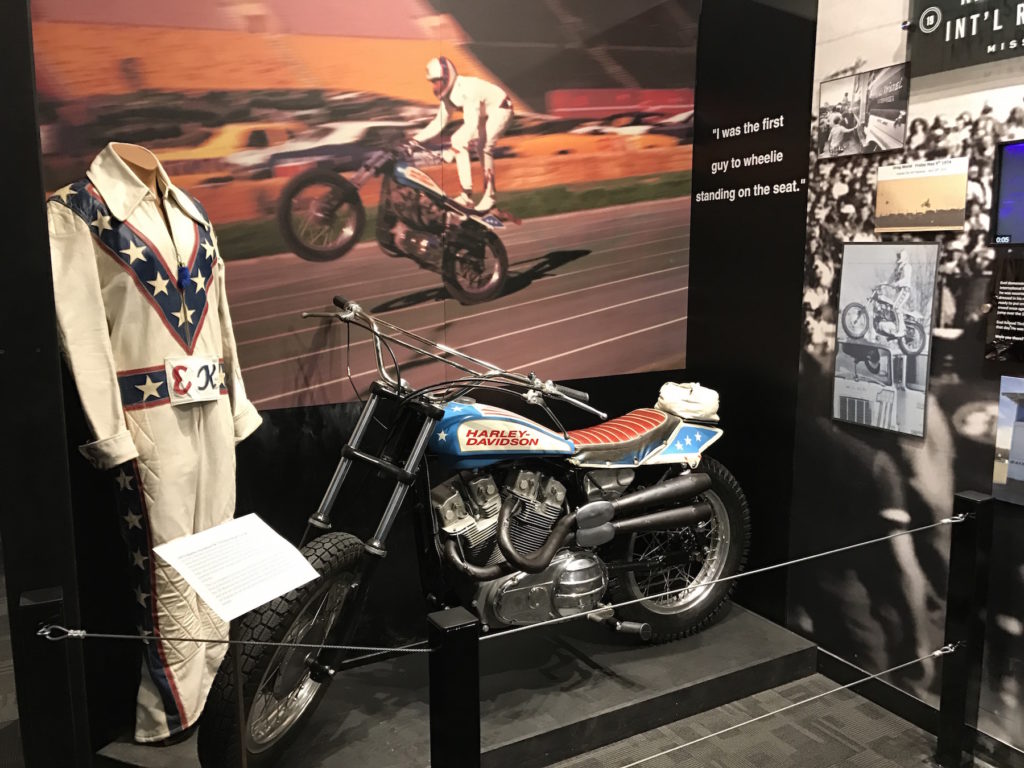 The collection was amassed over four years by actor, producer and entrepreneur Lathan McKay. "It's been an arduous but magical road," said McKay. "This museum is the fulfillment of a dream for many people." He termed the worldwide hunt for Knievel memorabilia, "Evel Archaeology."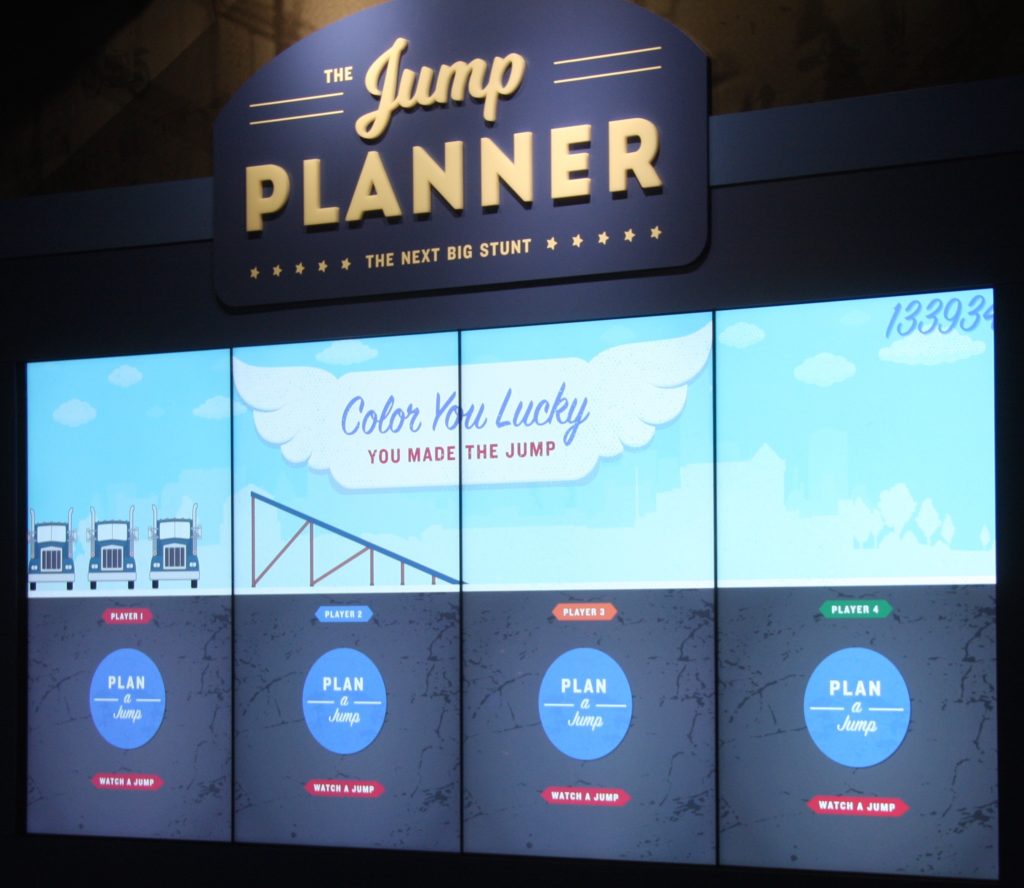 Visitors can view clips of Evel's Hollywood stints in a 1970's-era movie theatre complete with marquee and costumes. Giant touch screens target Knievel's broken bones, connecting injuries to the jumps that caused them with video of the actual events. The "Plan A Jump" wall allows four players to choose bike, wardrobe and obstacles, plus speed, ramp angle, distance and other variables before launching, offering STEM educational opportunities. But crash or succeed, no visitors are damaged in the playing of this game!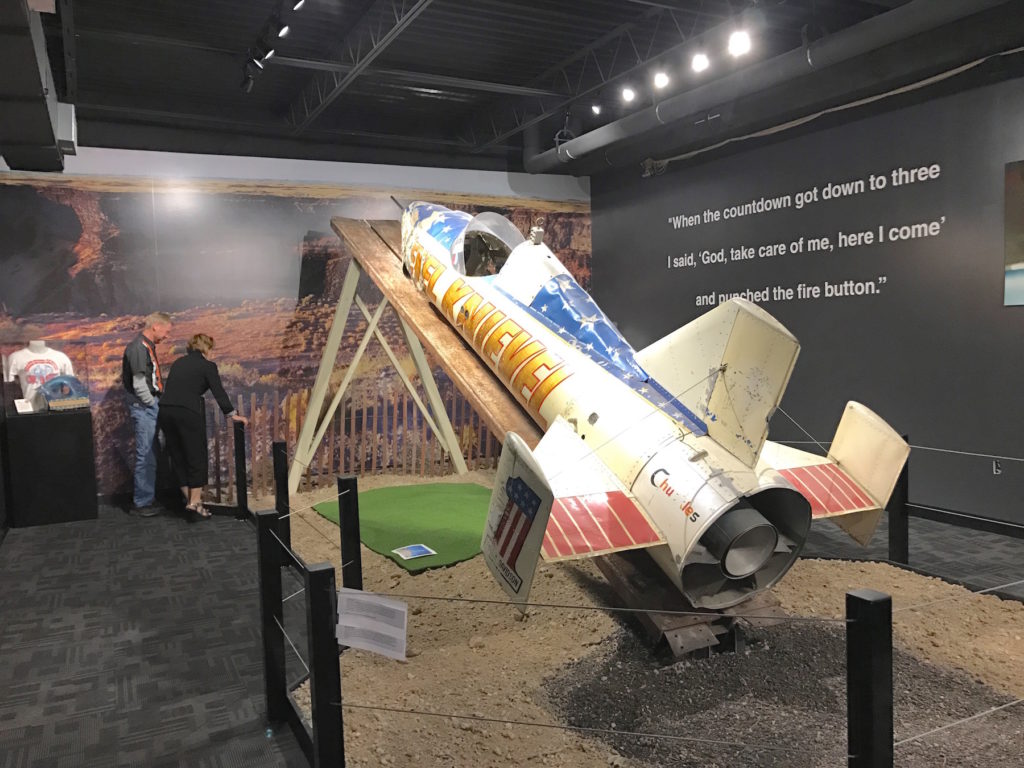 Museum guests can even experience the rush of being a daredevil. Put on the virtual reality goggles and headset to pilot a jump bike perched on Evel's actual ramp for an immersive jump experience, complete with rushing wind and rumbling impact.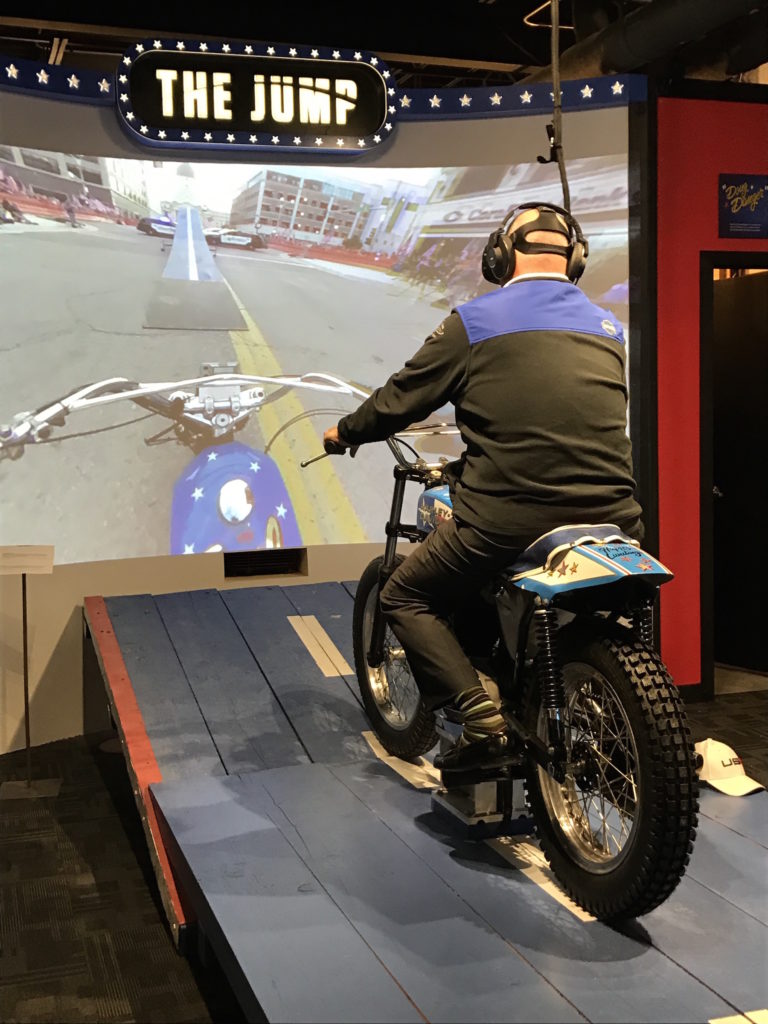 Promising the thrill of a lifetime, the Evel Knievel Museum is unparalleled in scope and depth. It's a fitting tribute to confidence, individualism and epic courage—characteristics that describe the bold life of Evel Knievel. Visit the Evel Knievel Museum. There's no describing it, you simply have to experience it!
Features of the Evel Knievel Museum Include:
• The bikes that launched a legend: Evel's actual motorcycles
• His genuine leathers and helmets
• Fully-restored Mack Truck Rig "Big Red" – cab, dressing room and trailer
• Snake River Experience Room featuring the actual X-2 Sky Cycle
• "Plan A Jump" interactive wall. Will you nail it or crash?
• "Bad To The Bones" touch screens including Evel's actual X-rays
• Virtual Reality Jump Experience
• "Big Red" Gallery with restoration film, crew recollections
• 1970's-era movie theatre with marquee, seating and décor
• Evel's gold checkbook, safe and moneybag
• Film and crash videos of many famous jumps
• The kid's room, the garage, the family room
• Children's letters to Evel from decades ago, unopened until now
• Many never-before-seen personal items including Evel's jewelry
• EK's Cadillac, Indy Racecar and other rotating-loan vehicles
"Anybody can jump a motorcycle. The trouble begins when you try to land it."
"I'm not a stunt man. I'm not a dare devil…I'm an explorer."
"I created Evel Knievel, and then he sort of got away from me."
—Evel Knievel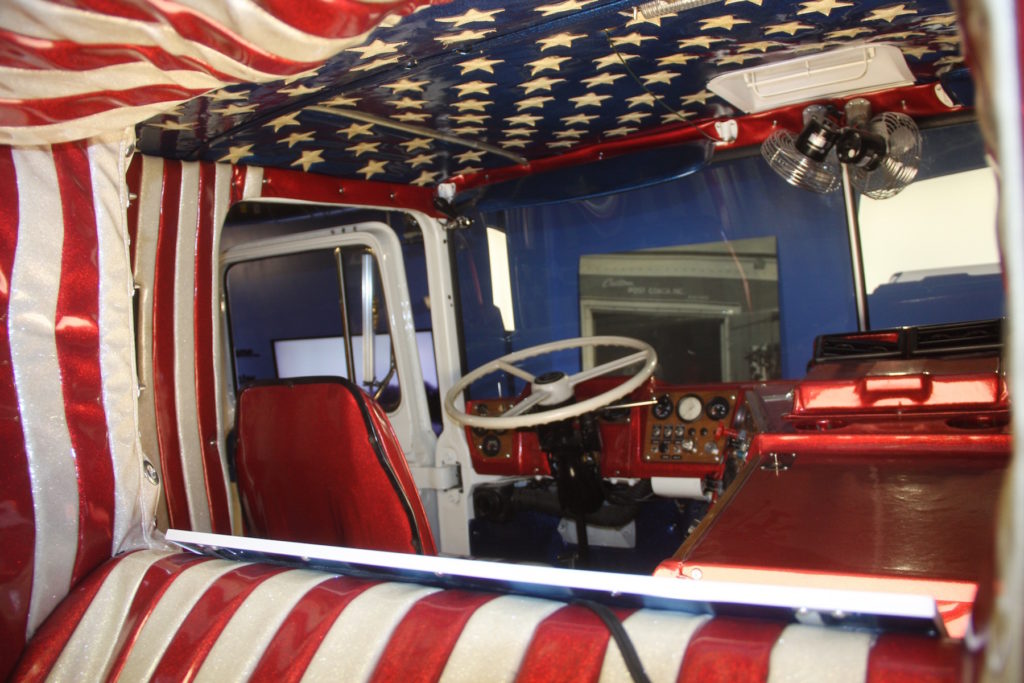 The Evel Knievel Museum: 2047 SW Topeka Blvd., Topeka, KS 66612, 785-234-6174, http://evelknievelmuseum.com/ Open Tuesday through Saturday, 10:00 a.m. to 6:00 p.m.
Media Contact: Marilyn Stemp, marilynstemp@gmail.com, 828-205-8482.
About the Evel Knievel Museum: A permanent tribute to an American icon, this new facility is the preeminent destination for would-be daredevils and dreamers of all ages. After three years of "Evel Archaeology," collector Lathan McKay joined forces with Historic H-D owner Mike Patterson who added 16,000 sq. ft. to his dealership, to establish the museum.
About Historic Harley-Davidson: HH-D of Topeka is a third generation franchised Harley-Davidson dealership set in America's heartland. Established in 1949 it's one of 10 oldest family owned dealerships in America and prides itself on straightforward transactions and unparalleled customer service. Including Henry's Grill, H.O.G. village, and now the new Evel Knievel Museum, it's a don't-miss stop on your next road trip.
Historic Harley-Davidson, 2047 SW Topeka Blvd., Topeka, KS 66612, 785-234-6174, http://evelknievelmuseum.com
About Evel Knievel: Robert "Evel" Knievel was an American pop-culture icon who made headlines from the mid '60s to the early '80s for his daring motorcycle jumping and risk-taking attitude. A man of unabashed courage and brashness, he derived as much fame from the jumps he failed to make—and the injuries he sustained—as the many he completed. The ultimate daredevil, his fearlessness was imprinted on the imagination of the generation that witnessed his antics and inspired the next one who regard him as the godfather of extreme sports.