It's no secret: we love the Donnie Smith Show. We cover it every year for Iron Trader News, as we did for decades at IronWorks. Why? Because it's the most genuine bike show attached to the biggest swap meet in the Midwest and it has kicked off the riding season here for the last 30 years. Midwest builders work all winter on bikes they debut at the show and with expanding features and greater reach every year, nationally-known custom builders are catching on to the grass roots authenticity this show radiates.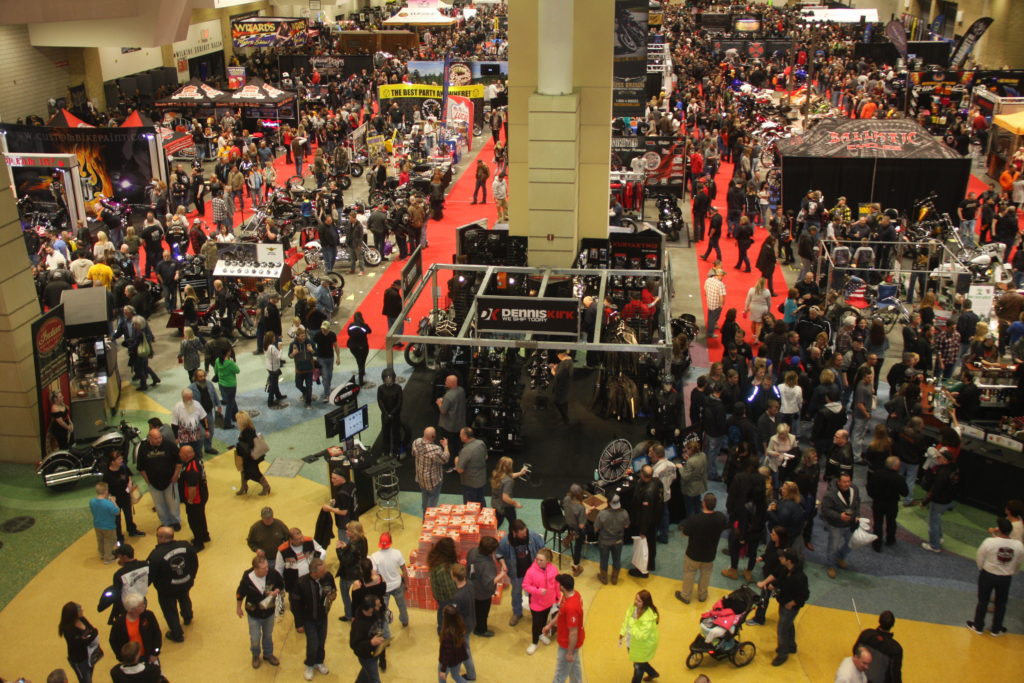 With the bike show and massive swap meet as the mainstays from the beginning in 1987, visitors now find national companies such as S&S, Metzeler, Magnaflow, Kuryakyn, Dennis Kirk and Lucas Oil. The Hot Rod & Classic Car show added several years ago keeps growing and a Tattoo Expo joined the list in 2017.
Student-built shop-program bikes turn out to line up among the most eclectic bunch of show entries you'll find anywhere. High end, one-off builds from the likes of Gilby and Dan Roogsvold, Panheads, Knuckles, military tribute bikes, big wheel baggers, café racers and bobbers,– they all roll in to the St. Paul River Centre. There's always a slew of old school Shovel and Sporty choppers and a ton of top shelf custom paint work. The list of builders is a roster of the best names in custom motorcycling, including Donnie Smith, of course, who celebrated his 75th birthday over the weekend with much fanfare.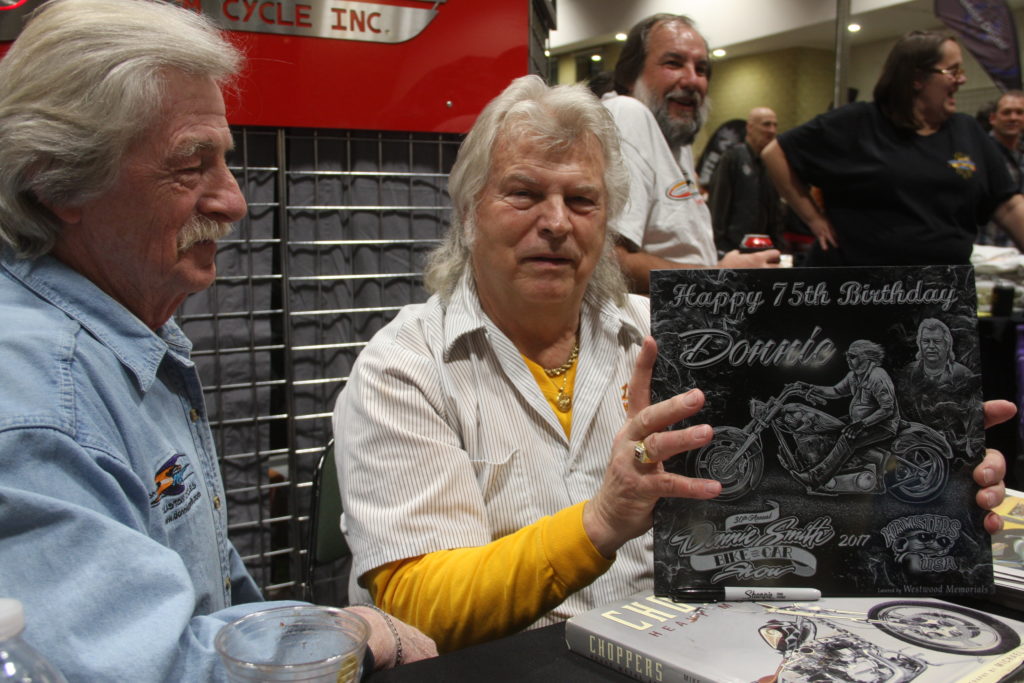 Entries from car and truck customizers have increased in both number and quality, filling the Roy Wilkins Arena to capacity this year. Rat Rods – on both car and truck platforms – were especially prominent.
Industry-impacting custom bikes were unveiled by S&S Cycle and Kuryakyn, both connected to happenings at the Sturgis Buffalo Chip. The S&S build is an FXRT-styled, 143 cu. in. Dyna Low Rider for the Legends Ride, and the Kuryakyn build showcases new bolt-on lines and custom paint for the Rock, Rumble & Rebellion promotion.
As before, Happy Hour rocked on the show floor at 5:00 p.m. on Saturday with blues guitarist Corey Stevens in the house this year; and he brought the house down! The Red Bull After Party at Eagle Street Grill was a cool scene, bringing vendors, builders and influencers together for the first time.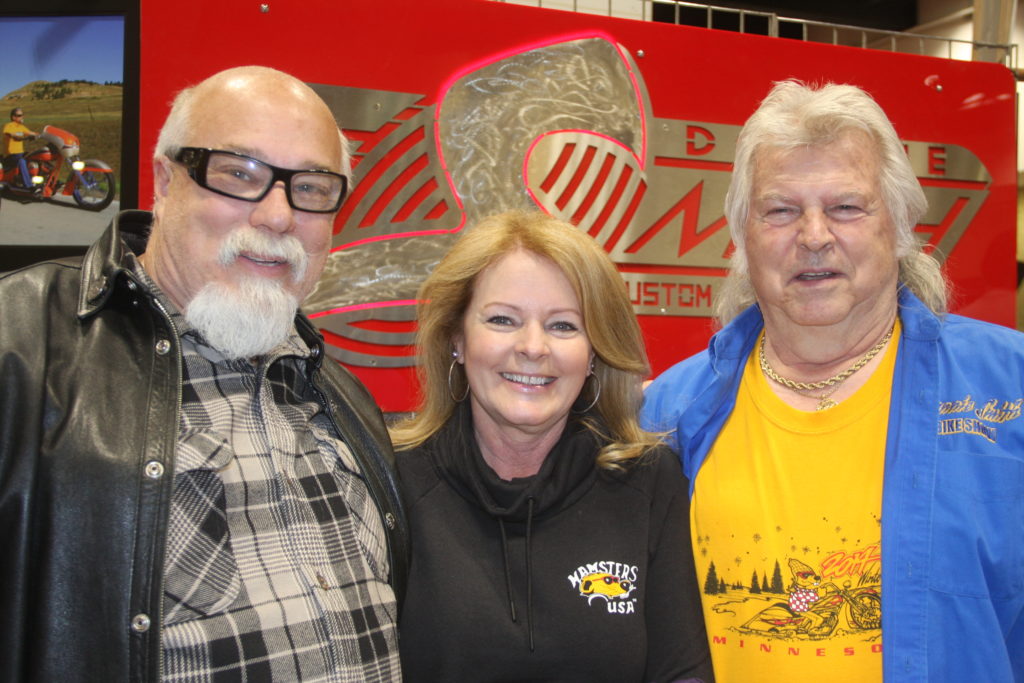 We could go on – but we've already admitted fandom. So read instead what others say (below) and scroll through the pictures (also below). You'll learn for yourself why the Donnie Smith Show is the best in the Midwest – and keeps getting better!
What people say:
It's the camaraderie and the wide array of styles and passions. It brings us all together. It opens my eyes and the eyes of my students. It sparks new ideas!
– Kevin Baas, Technology Instructor, Kennedy High
As a first time vendor it's been incredibly rewarding, It's great having such a passionate audience of riders – men women both, a lot of families, too, so we're getting the next generation of riders. I like the diversity of the regional demographic in this part of the country with so many loyal, intense riders.
– Chris Magee, PR and Mktg
It's a business showcase where we create alliances and see what the trends are. This is where we find out what everybody's been up to. It stays fresh. This is always just a huge market for us.
– Cejae Phillips and Kurt Petersen, Lil Evil Incorpor8ted
Everybody comes to the show because it's the kickoff to the season. This is what everybody's looking for, where they find all their buddies they haven't seen all winter. This is a great social event. I come down here every year and even had a booth here for my shop back in the day. I see people I don't see anywhere else.
– Jeff and Forest, Kuryakyn
It's an impressive bike show, one of the better shows in this part of the country. There are always fresh ideas here, not the same things like at other shows, I like that. We have a good presence here.
– Bill Barber, National Motorcycle Museum